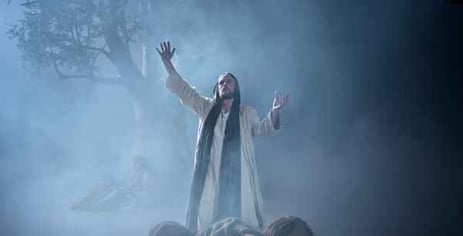 In 2022 you can watch the Oberammergau Passion Play, a once-in-a-decade performance put on by a tiny German village perched high in the Bavarian Alps. You'll see a cast of thousands of local children, adults, and animals reenact the final days of Christ's life in an elaborate tradition dating back nearly 400 years.
It is the oldest, most famous, and most popular Passion Play in the world. The play is expected to draw over half a million people across its 103 shows scheduled for 2022.
About Oberammergau
The town has reenacted the Passion Play in honor of a vow their ancestors made in 1634. Oberammergau was decimated by the bubonic plague, quickly losing more than half of its population. Out of desperation, the pious town made a promise that they would hold the Passion Play every decade if God would only save them. Once the vow was made the disease suddenly stopped - not another resident died, and all those who were suffering recovered.
A Rare Postponement
The 42nd Oberammergau Passion Play was originally scheduled for May through October of 2020, but had to be postponed by two years due to COVID. This was only the 7th time in history that the play has been canceled or postponed. The town had been deep in preparations when Germany was locked down in mid-March. After months of work involving nearly half of the town's 5,400 residents, work on Oberammergau's event of the decade was abruptly stopped.
For the people of Oberammergau, the show would go on. Director Christian Stueckl's response was simple. "It's only a postponement. We're going to keep going. A lot of other people are a lot worse off than we are."
For many of the actors, the delay actually has helped them get into character. Because wigs aren't allowed, fifteen months before each season's first performance a hair and beard decree goes into effect. Performers can't cut their hair or beards so that they have a more believably biblical appearance.
For 2022's performance, most of the actors will be sporting years' worth of growth. Germany's salons have been closed, and many men have stopped shaving because they're working at home, so the performers have fully embraced the historical "shaggy" look. According to Stueckl, Oberammergau looks like it's full of hippies.
Facts About the Play
Nearly 2,000 two-legged actors, singers and instrumentalists will perform in 2022. They will be joined onstage by birds, sheep, goats, two camels, two horses, and Sancho the Catalan donkey.
The play lasts for five hours, with a three-hour-long intermission for when the audience (and Sancho) gets hungry. The play consists of 16 acts, with 13 elaborate living tableaux interspersed throughout the performance.
The actors need to have deep roots within the community. They must have been born in Oberammergau, lived there for at least 20 years, or have been married to a local for at least ten years. All of Oberammergau's children are invited to participate.
Oberammergau's theater was built in 1890, and holds over 5,000 audience members. It is renowned for its near perfect acoustics, which an estimated half a million people are expected to enjoy across 2022's more than 100 performances.
Watch the Once-In-A-Lifetime Play with YMT Vacations
Experience this once-in-a-lifetime event with YMT Vacations on Oberammergau & the Sound of Music or Oberammergau & Best of Italy. These tours include far more than just the Passion Play. You'll enjoy two nights in and around Oberammergau, and then continue to either Italy or Austria for fully guided tours of these stunning countries. You can't go wrong with either choice! Call your travel consultant or YMT Vacations at 1-888-756-9072 to book today!
Updated September 10, 2021