---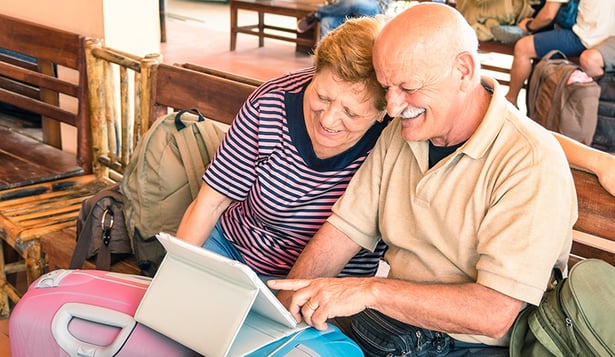 As you prepare to hit the road this fall, make sure to take along your best travel resource, your phone. Small and compact, a Smartphone is the modern-day explorer's north star. Find a restaurant, check the weather, even send a postcard...all with something small enough to fit in your pocket. Here are the travel-related Apps we consider essential for your next great escape:
---
Postagram -- In today's world of email and texting there's something special about an old-fashioned piece of mail. Let your friends and family know you're thinking of them with a personalized photo and message taken right from your phone and turned into an actual postcard -- all for under $1, including postage.
Grab -- When you're running to catch your next flight, Grab will alert you to the restaurants in the terminal, show you the menus ahead of time, map out the locations along the concourse, and even let you order in advance in some locations for a quick grab-and-go before your plane departs.
HappyCow -- Read menu descriptions and user-generated reviews of nearly 11,000 vegan and vegetarian restaurants throughout the world.
Dayuse.com -- When you need to grab a quick shower, take a nap or freshen up after a Transatlantic flight, this App lets you book a hotel room for just a few hours. The rooms are up to 75 percent off the nightly rates at 3,000 hotels worldwide.
Cool Cousin -- There's nothing better than traveling with a local. Cool Cousins provides off-the-beaten-path travel recommendations from savvy residents in 14 destinations.
Localeur -- Find out where hip, in-the-know locals eat, drink and shop in the country's top 25 metro locales.
Rome 2 Rio -- Discover the best route from anywhere in the world to any other destination. Get transportation prices, distances, times, mileage, and route numbers to help you decide the transportation option that's best for your traveling party.
Walc -- Type in a destination and this App will give you directions using easy-to-spot landmarks as well as step-by-step audio directions.
Google Trips -- The travel world can't stop talking about Google's new travel App that pulls hotel and flight data from your Gmail account to create trip portfolios that behave as destination-specific city guides. It also uses your consumer-behavior history to determine your personal preferences and create custom travel recommendations for restaurants, events, and activities.
Weather Bug -- Think of this as your typical weather program on steroids. Track the lightening in your destination or learn the pollen count, discover the forecast 18 days from now or get weather alerts for your area. There's even a game day feature for football season Saturdays back at home.
ItsEasy -- Have your passport renewal forms automatically emailed to you and use your phone as a passport photo camera. Then, simply print the forms, mail them in the provided USPS priority overnight airbill and get your new documents in just two to three weeks. You can even pay the $29.95 service charge and the government renewal fees via the App.
Google Translate -- Hold this App over a menu and the camera instantly translates for you! Need we say more?
XE Currency Exchange -- Track various currency in real time. And because it works offline (so long as you have updated rates before you arrive in country) you do not need to connect to WiFi -- that means you'll know instantly if that purchase in the market is as good a deal as you think.
Sidekix -- Pick your own avatar to follow through the city with this exploration App that uses GPS-technology to help you navigate your destination. As you walk, recommended bars, restaurants, entertainment, and museums will pop up on the screen. Click on them and you'll have access to other customer's reviews. Just beware that you do need data for the results to populate. You can use free WiFi to download specific maps and charge the phone overnight to insure a full battery.
My TSA -- My TSA alerts you to travel delays and calculates wait times for clearing security lines.
---
Use these convenient Apps on your next travel getaway with YMT Vacations. This group tour specialist lets you explore the world with like-minded travelers for low prices and unmatched value. Reliable, guaranteed and expertly run, our journeys let you travel the globe from Alaska to Europe, Hawaii to the National Parks of the United States. To learn more about our tours, unique travel experiences and how you can join us, call your travel professional or YMT at 1-888-756-9072.
---