---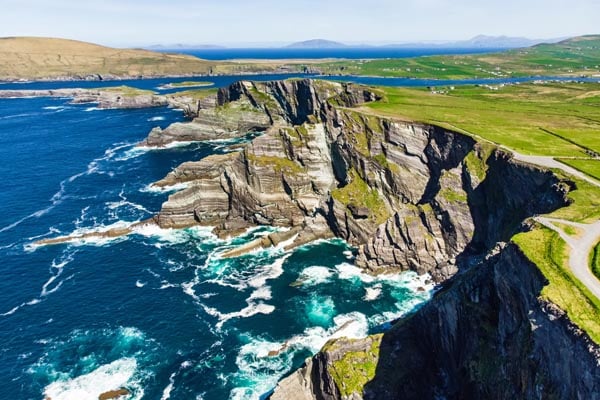 Ireland might be a small country, but it has plenty to offer. From stunning landscapes to bustling cities, there is no shortage of things to do on the "Emerald Isle." Friendly locals, age-old myths, and the pristine beauty of the country will easily charm any visitor.
We've put together this travel guide, complete with details on must-see sights in Ireland.
Traveling to Ireland Tips
It is natural to have questions in the course of planning a trip. For example: How much does a trip to Ireland cost? What are the dos and don'ts of local customs? What are the must-pack luggage items?
Below, you will find details to help plan the perfect trip including:
How to Get Around Ireland
How to Pack for Ireland
Suggested Reading
City-Specific Guides
How to Get Around Ireland
Once you've arrived in Ireland, there are a number of ways to get around.
Rent a Car
Renting a car in Ireland is fairly common. Most rental cars are stick shift so you will have to specify if you want an automatic with your car rental company. Americans are not required to have an International Driving Permit; however, you will need to drive on the left side of the road.
Public Transportation
If you have booked a guided tour but want to venture out on your own at the end of the day, try public transportation. Ask the Concierge Desk at your hotel for detailed instructions on the use of buses and trains. If possible, have your fare ready so you can easily purchase your ticket.
Taxis
If you opt to take a taxi, inquire about the cost of your ride. Additionally, ask your hotel to book a return taxi for a specified time, if that would make you feel more comfortable.
How to Pack for Ireland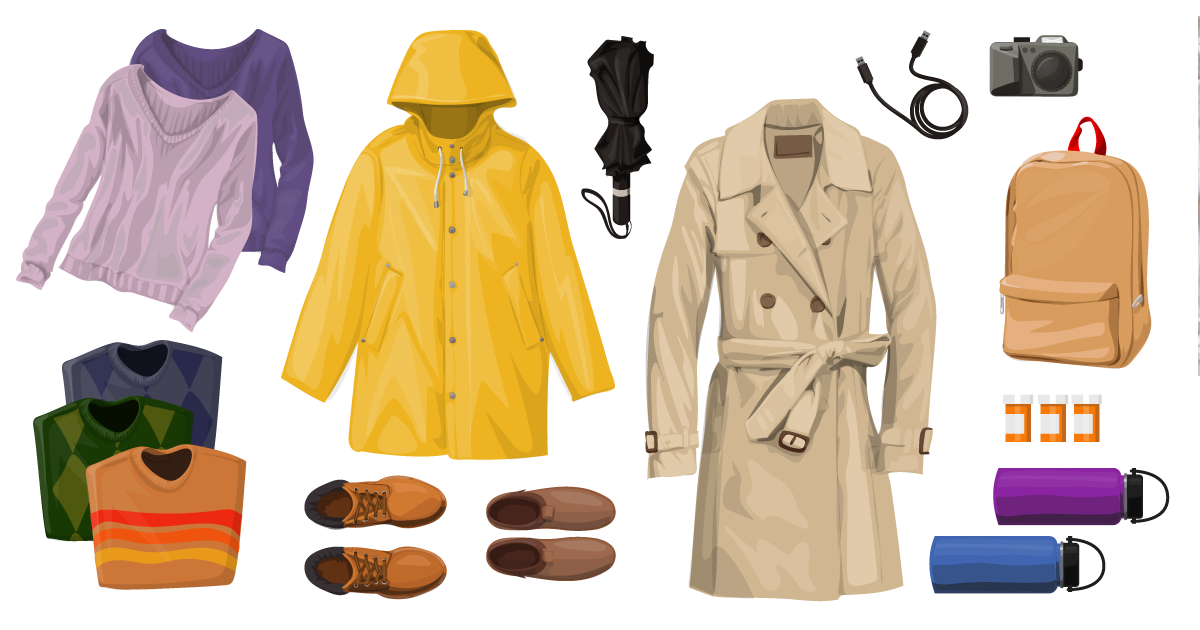 Packing for Ireland can be a challenge, even for frequent travelers. We've put together this essential list of items to pack for your Irish vacation.
The most important thing to keep in mind when packing for Ireland is that the weather is unpredictable throughout the year. Some key items to pack include:
A Raincoat – Take a light option when traveling during the summer months, or a heavier version during the winter. Your raincoat should have a hood to allow you to cover your head when the rain starts to fall unexpectedly.
Water-Resistant Footwear – Keep your feet warm and comfortable throughout your vacation with a pair of water-resistant shoes. You can wear them during tours of the city center or leisurely hikes in the countryside.
Suggested Reading about Irish Culture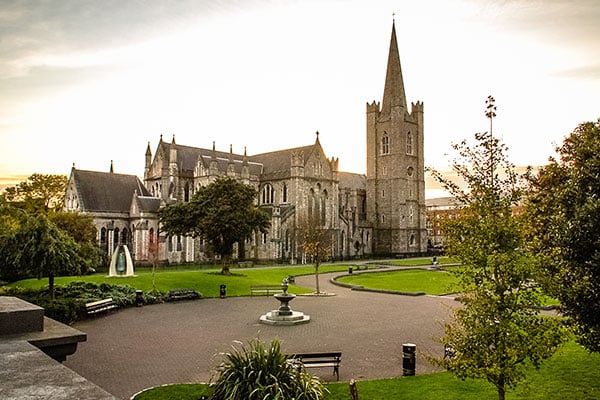 Reading books on Irish culture, history, and lore is a great way to have a deeper cultural understanding of the country. Below are some suggestions to get you started.
Things to Do in Ireland: City Guides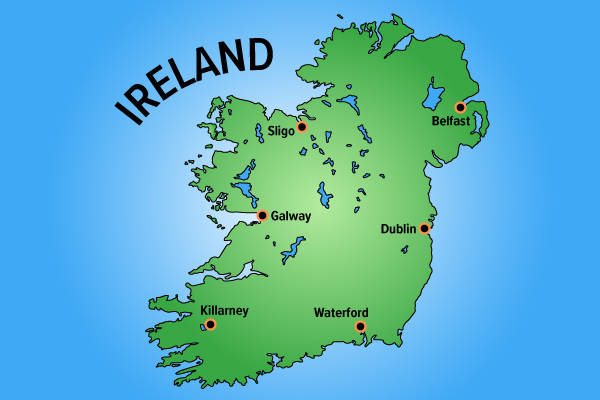 Want to visit the most majestic locations in Ireland? Start by reviewing our city guides below. We've curated a list of the best things to do in several unique Irish cities to help you plan a memorable trip.
Below, you will find recommendations for:
The most popular things to do
Accommodation options based on your budget
The best local restaurants
Bars and pubs to have a drink while chatting up the locals
Irish cities featured on this travel guide include:
Dublin
Waterford
Killarney
Galway
Sligo
Belfast
Best of Dublin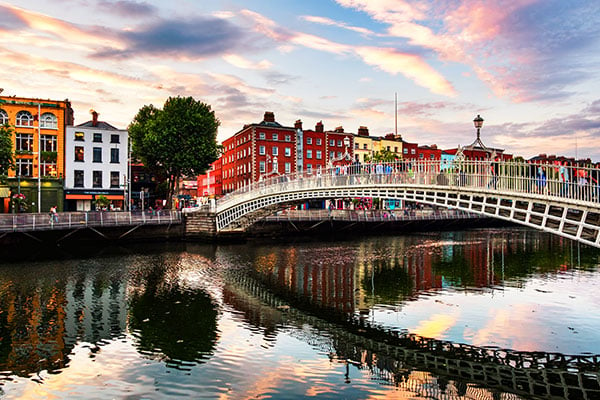 As the capital city of Ireland, Dublin has a rich history. Dating back to Viking times in the 8th Century, the city bubbles with culture and creativity. There is no shortage of landmarks to visit.
Things To Do in Dublin, Ireland
Here are some of the most popular things to do during your stay in Dublin.
Learn Local History at the Bank of Ireland
This building was the Irish Parliament House until 1801. The Bank of Ireland purchased the building in 1803 and as a condition of the sale, it could never be used for political assembly again.
Take a Tour of Leinster House
Originally the headquarters of the Royal Dublin Society, Leinster House has served as the parliament building of the Republic of Ireland since 1922. Public tours are available on the days when the Irish legislature is not in session. Special public events also take place throughout the year, including Culture Night in September and Open House Dublin in October.
Visit the Tomb of Jonathan Swift at St. Patrick's Cathedral
One of the most popular tourist attractions in Dublin, the cathedral has been a part of Irish history for over 800 years. The best-known spot to visit is the tomb of Jonathan Swift, author of Gulliver's Travels and former dean of the cathedral. It is a must-see in Ireland as it is the largest and tallest cathedral in the country.
Stroll Through the Grounds of Trinity College
Founded by Queen Elizabeth I, the college is located in the heart of Dublin. Walk through the campus to marvel at the architecture and landscaping. The Old Library building houses the world-famous Book of Kells.
Visitors should note that due to conservation plans, the Book of Kells has been removed from public display until early March 2020. Ticket prices have therefore been reduced by 15% until then.
Observe the Architecture of Henrietta Street's Georgian Mansions
Property developers constructed areas throughout the city that resembled the European Palladian style. This was done primarily between 1714 through 1830. The style became known as Georgian. Henrietta Street was among the first of these areas. The wide street was known for its palatial red brick homes.
Visit the Temple Bar Neighborhood
This neighborhood is the center of Dublin's cultural universe. Street artists, open-air markets, and exhibitions create a carnival-like atmosphere. Stroll through the narrow alleyways and discover cute boutiques, quiet cafes, and fun pubs.
Stroll Through Dublin Castle
The Castle was originally built as a military fortress. Today, it is used for important State receptions and Presidential inaugurations. This popular tourist sight is open 7 days a week. Visitors can opt for a guided tour or a self-guided tour.
Shop on Grafton Street
A narrow, winding road, Grafton Street has been at the heart of Dublin's social life for more than a century. It is the place to go for shopping, eating, or hanging out. Find unique souvenirs for your loved ones back home. Tourists can count on striking up conversations with locals, who also frequent the area.
Take a Break at St. Stephen's Green
The most beloved park in central Dublin, St. Stephen's Green is a great place to take a break between sightseeing and shopping along Grafton Street. The 22-acre park has maintained paths for easy outdoor walks. There is also a small lake and garden. Hours vary based on season.
Where to Stay in Dublin
While there are plenty of options to choose from, the following accommodation options are great for any budget:
2-Star Option: Jacobs Inn
Jacobs Inn is a hostel that offers the conveniences of a hotel. The Inn is conveniently located around the corner from the central bus station. Modern and clean, the hostel is efficiently run. A simple breakfast is included in all rates.
3-Star Option: Clayton Hotel Leopardstown
Clayton Hotel Leopardstown offers modern simplicity with a traditional twist. This property welcomes guests with a restaurant, free WiFi, and a fitness center. There is also easy access to both the city center and Dublin Airport.
5-Star Option: The Westbury Hotel
Located in a prime position between Trinity College and St. Stephen's Green, this property offers luxury and style. Located on Grafton Street, The Westbury has fantastic restaurants, a bar, and gym. Guest rooms showcase the best of Irish design with custom-woven Irish carpets and crisp linens.
Where to Eat in Dublin
There are wonderful restaurants in Dublin you can try while you are exploring. Try one of these popular establishments:
L. Mulligan Grocer
This eatery was originally a 20th-century pub with quirky touches. Today, it is also a restaurant that uses classic Irish ingredients like Gubbeen chorizo and farmhouse cheeses. If you've never had a Scotch egg, this is the place to try it.
Hatch & Sons Irish Kitchen
Located in The Little Museum of Dublin, this establishment overlooks Stephen's Green. A traditional Irish breakfast and lunch are the main offerings here. Try a traditional dish such as beef and Guinness stew or one of the smoked fish platters.
Chapter One
A Michelin-starred restaurant, Chapter One is the perfect "special occasion" restaurant. The chef uses the best ingredients found in Ireland's waters, fields, and farms. There are other Michelin-starred restaurants in the city, but Chapter One beings and ends with pampering.
Where to Drink in Dublin
Because Dublin has so many bars and pubs, it can be overwhelming to decide where to go for a pint. Here are two to get you started:
The Palace Bar
Old-fashioned pub dedicated entirely to Irish whiskey. It is unchanged by the passage of time with original stained-glass windows and an aged mahogany bar. Choose from more than 100 Irish whiskeys, including the pub's own brand.
9 Below
This is one of Dublin's new and most luxurious bars. The wine list is exceptional, but it's all about the cocktails at this stylish bar. While the cocktail menu changes with the seasons, two winter favorites are Mademoiselle and Lillet Bit of You.
Best of Waterford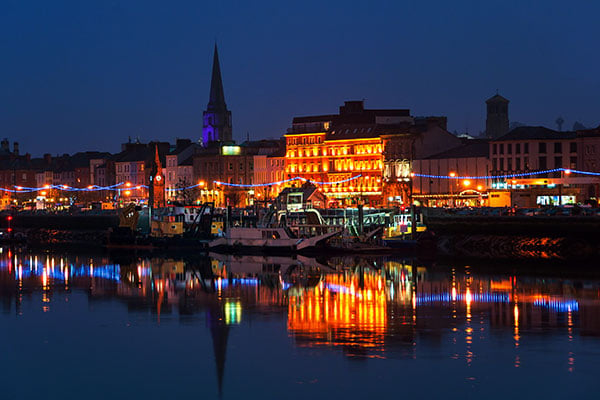 Waterford is Ireland's oldest city with history that dates back to Viking times. It celebrated its 1100th anniversary in 2014. Today, it remains a busy port city and is home to the world-famous Waterford crystal.
Things To Do in Waterford, Ireland
These are some of the most popular places to visit during your time in Waterford.
Tour the Rock of Cashel
The Rock of Cashel is one of Ireland's most visited sites. Stop by for a tour on your way to Waterford. It is a collection of medieval ecclesiastical buildings set on an outcrop of limestone. The 12th-century round tower is part of the oldest surviving building on the Rock.
See the Production Process at the House of Waterford Crystal
Observe the centuries-old tradition of making Waterford Crystal with a factory tour. You'll see each step of the production, from the development of wooden molds to the shaping of the glass. There is even a live demonstration of crystal blowing. Browse through the largest collection of Waterford Crystal once the tour is complete.
View the Exhibition at Reginald's Tower
A Waterford landmark and Ireland's oldest civic building, Reginald's Tower has been in continuous use for over 800 years. At various stages in its history, the tower has been used as a mint, prison, and military store. It now houses an exhibition and visitors can take a guided tour.
Stand Before Napoleon's Mourning Cross at The Bishop's Palace
This Museum houses a display of Waterford artifacts from 1700 to the 20th century. Items of significance include the only surviving Bonaparte 'mourning cross', which was 1 of 12 produced upon his death in 1821.
Learn About the History of Waterford at the Medieval Museum
The museum pays tribute to life in Waterford during medieval times. Housed in a modern structure, it is the only museum in Europe built upon and protecting National monuments. These include the 13th-century Choristers' Hall and the 15th-century Mayor's Wine Vault.
Admire the Cathedral of the Most Holy Trinity
Built in 1793, the Cathedral of the Most Holy Trinity is Ireland's oldest Catholic Cathedral. It has seen many changes in structure over the years, including a new altar and a complete re-flooring of the building. It is worth a visit to see the stained glass windows, paintings, and beautiful pulpit.
Where to Stay in Waterford
Enjoy some rest and relaxation after a day of sightseeing at one of these accommodations.
2-Star Option: Portree House
Portree House is an elegant townhouse situated in the city center. It is just a few minutes' walk from both the bus and train stations. The House has 22 en suite bedrooms, a large guest lounge, and free parking for guests.
3-STAR OPTION: TOWER HOTEL
Centrally located and newly renovated, the Tower Hotel is one of Waterford's best midrange options. Modern rooms, irresistible views of the River Suir, and an excellent suite of leisure center activities make this a great bet for visitors of all ages.
3-Star Option: Fitzwilton Hotel Waterford
Fitzwilton Hotel is centrally located in the center of Waterford City. Stroll to the Viking quarter and other key attractions within minutes. The hotel features spacious rooms, free parking, and free WiFi.
5-Star Option: Waterford Castle
Set on a 310-acre private island, Waterford Castle is completely detached from the mainland. The resort features elegant rooms with stunning views. It is the perfect place to recharge from the stresses of your daily routine.
Where to Eat in Waterford
The city is home to a variety of restaurants and will thrill your taste buds.
McLeary's
One of the most popular restaurants in Waterford, McLeary's is known for a quality dining experience at an affordable price. The menu includes plenty of meat and seafood dishes. Try the Seafood Pie or the Steak.
L'Atmosphere Restaurant
Known for its generous early bird special, this high-quality French establishment serves up big dishes in a cozy setting. This intimate bistro is tucked away between Merchant's Quay and the main shopping area of the city.
Where to Drink in Waterford
With a population of 50,000, Waterford's pub options are varied when it comes to wine and beer selection and traditional irish music.
Katty Barry's
A family-run bar in the center of Viking Triangle, Katty Barry's is a great place to meet locals and people-watch. If you are in Waterford on a Monday night, drop in for a pint and live music.
Phil Grimes
Phil Grimes offers the finest craft beers. They are also one of the few pubs that serve cask beers. Options range from Pilsner to Hobgoblin to the homebrewed Galway Hooker.
Best of Killarney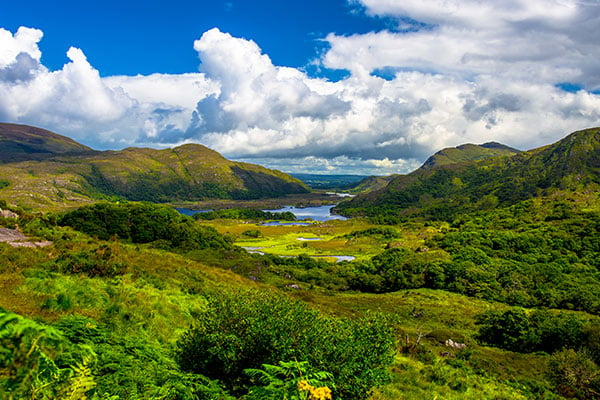 Located in County Kerry, Killarney is a popular area for both foreign and domestic visitors. This beautiful Irish town has gorgeous outdoor spaces and friendly locals. It is often considered a great base for exploring the spectacular scenery of Kerry.
Things To Do in Killarney, Ireland
Check out these popular tourist attractions in Killarney.
Tour Muckross House
Built in 1843, this Tudor style mansion sits on a small peninsula on Killarney's Lakes. The gardens are internationally recognized for their plant collections. Visitors can take a guided tour to see all the highlights of this property.
Experience the Wildlife at Killarney National Park
The first national park in Ireland, the park consists of over 25,000 acres. Visitors can drive through Killarney National Park, making it easy to view wildlife or visit one of the major sights. Rent kayaks or take a carriage ride for a view of waterfalls and other nature sites.
Take in the Scenic View on the Ring of Kerry
The Ring of Kerry offers unbelievable views. Historic sites, pretty towns, and lookout points complement the coastline scenery. There are many places to pull over and admire the beauty of nature.
Flotilla Sailing
If you want to get into the water and explore Killarney and Ireland by boat, we suggest doing a flotilla which is a pre-planned relaxing sailing trip. Sail around Ireland with your family and see this amazing country from a new perspective!
Where to Stay in Killarney
Killarney offers a wide range of accommodations.
2-Star Option: Failte Hotel Killarney
Failte Hotel offers basic amenities. With a lively traditional pub and restaurant, the property is popular with tourists and locals. The property is a 5-minute walk to Killarney Train Station.
3-Star Option: Killarney Oaks Hotel
This hotel is a family-run boutique property, just minutes from Killarney Town Centre. Killarney Oaks Hotel offers large rooms with free WiFi, a restaurant, and bar.
5-Star Option: Killarney Plaza Hotel
Enjoy a relaxing stay at this luxury hotel in the heart of the Kingdom of Kerry. Killarney Plaza Hotel is conveniently located adjacent to Killarney National Park. The property offers stylish bedrooms, great restaurants, bars, and a spa.
Where to Eat in Killarney
Killarney is a haven for food lovers. With fish right out of the Atlantic Ocean and twists on traditional fare, try a meal at one or more of these eateries.
Lake Room Restaurant
The restaurant offers a fine dining experience in a cosmopolitan atmosphere. Enjoy the lake view while you have a gourmet dinner. There is something for everyone with a dedicated kids menu, smoothies, and freshly baked pastries.
Murphy Brownes
Perfect for a relaxing dinner, the menu offers a mix of Irish and International dishes. Service is attentive, without being overbearing. Try the local mussels, Kerry lamb shank, or fish and chips.
Where to Drink in Killarney
With dozens of pubs to choose from, knowing where to stop in for a drink can be a challenge. Start with these options near the town center.
Reidy's
Originally a sweetshop, it was recently converted into a bar. With a large selection of drinks, this is a great place to grab a table and people-watch. Try a Mrs. Reidy, a gin-based cocktail named after the former owner.
The Lane Café Bar
A trendy bar with a lively atmosphere in the town center, there are giant windows overlooking the street. Sample a signature cocktail such as the Respect Your Elders option made with gin, elderflower liqueur, fresh lemon, egg white, and fresh mint.
Best of Galway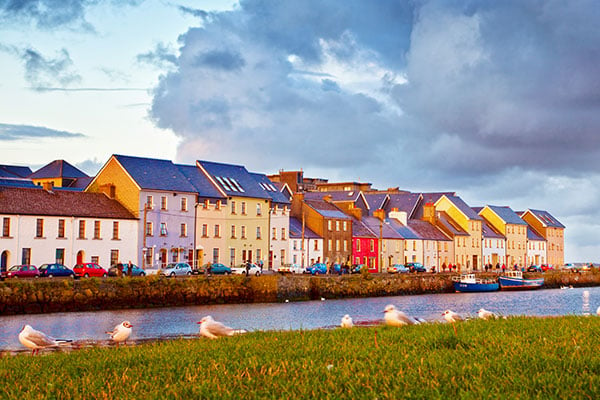 Galway is a thriving, cultural city on the western coast of Ireland. It is affectionately called the "City of Tribes." This is because 14 families controlled trade and politics in the region from the 13th to the 19th centuries. Today, it is both a popular seaside destination and a buzzing cosmopolitan city.
Things To Do in Galway, Ireland
Enjoy your time in Galway by trying some of these activities.
Explore Kylemore Abbey
Originally a castle, Kylemore Abbey has been home to the Benedictine nuns since 1920. The property is massive and includes:
Over 6 acres of Victorian Walled Gardens
Restored Abbey rooms and a Neo-Gothic Church
Extensive woodland and lakeshore walks
Stroll Through the Latin Quarter
Referred to as the cultural heart of Galway, the Latin Quarter is home to the city's best-known shops, pubs, and restaurants. It is a popular destination for tourists and locals and offers a festival-like atmosphere. The Latin Quarter has plenty of pathways for pedestrians and stretches through some of the city's most historic landmarks.
Admire the Architecture at Galway Cathedral
Constructed in the late 1950s, Galway Cathedral has an eclectic style. It includes some Renaissance details mixed with the Romanesque and Gothic traditions. The cathedral houses a variety of art including:
A statue of the Virgin by Imogen Stuart
Crucifixion mosaic by Patrick Pollen
Rose windows by George Campbell
Learn about Galway History at the Spanish Arch
Situated on the left bank of the Corrib River, The Spanish Arch is a historical gem dating back to pre-medieval times. The site housed soldiers who kept watch and manned cannons on the roof.
View the Monuments at St. Nicholas' Collegiate Church
St. Nicholas' Collegiate Church is dedicated to the patron saint of children and mariners. The church has plenty of monuments and memorials that give visitors a glimpse of its rich history. The Church is open all day, every day.
Where to Stay in Galway
Soak up Gaelic history with an overnight stay in Galway. There are accommodation options in the city for every budget.
2-Star Option: Sleepzone Galway City Hostel
This comfortable, modern hostel offers great value budget prices. Sleepzone Galway is just a few minutes' walk from the bus, train, and coach station. Rates include a light breakfast and WiFi.
3-Star Option: The Connacht Hotel Galway
Located about 1.5 miles from the city center, Connacht Hotel Galway features spacious rooms, free WiFi, and a fitness center with a pool. YMT guests will enjoy the hotel's bright and modern design, in addition to the friendly atmosphere.
5-Star Option: The G Hotel & Spa Galway
The G Hotel features luxurious bedrooms, a gym, and an award-winning spa. Grab a drink at the glamorous bar, or make your way to the rooftop garden. Guests are treated to free cupcakes upon arrival.
Where to Eat in Galway
From Michelin-starred food to pub grub, Galway is a foodie paradise.
Cava Bodega
If you're looking for something different, Cava Bodega is a haven for top-quality Spanish food. The restaurant focuses on sharing and interaction. For example, food is passed around the table, family-style, so that guests can fully appreciate the experience of sharing a common experience.
Aniar Restaurant
A Michelin-starred restaurant, the tasting menu at Aniar changes daily. There's no telling what culinary delights you will encounter. Wild and season local foods are the star of each dish. Sous vide and dehydration techniques are used to extract the complex flavors of the most common ingredients.
Where to Drink in Galway
If your schedule allows for it, spend an evening in one or more of Galway's pubs. It may be tough to choose where to go, as there are many options. Here are suggestions that offer quality service, and food.
Tigh Neactain (Naughtons)
There is no other pub in Galway that has such a diverse clientele. You will see actors, artists, business people, tourists, and locals all enjoying each other's company.
O'Connell's
With one of the best beer gardens in Galway, this hidden gem has two outside bars. Grab a seat outside on a nice day while you try a local brew. The garden is also partially covered and heated during the winter.
Best of Sligo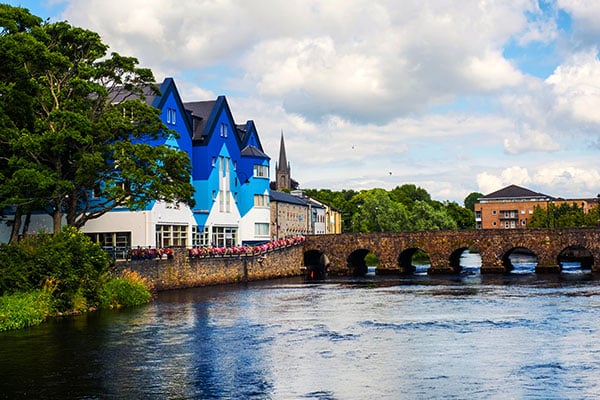 Located in northwest Ireland, Sligo is one of the most picturesque places in the country. Its rugged landscape provides beauty without a large number of tourists. The region has recently become something of a surfers' paradise. This is no surprise, with large waves coming off the Atlantic and spotless beaches to explore. Sligo is also the birthplace of Ireland's most famous poet, W.B. Yeats.
Things To Do in Sligo, Ireland
Check out these sights during your stay in Sligo.
Observe How Pottery is Made at Belleek Pottery
Founded in 1857, Belleek Pottery is one of the oldest working potteries in the world. Guided tours are available of the complete production process. Many of the unique tools and techniques are still used today. Tourists can meet with craftspeople and even try their hand at various steps in the pottery-making process.
Witness Megalithic Monuments at Carrowmore
This Bronze Age graveyard consists of a large group of megalithic monuments. There are 30 surviving tombs, the earliest dating back to 3700 BC. That makes Carrowmore among the largest and oldest cemeteries of megalithic tombs in Ireland.
Take in the Scenery at Benbulben
Once a large plateau, Benbulben is a 526-meter shale and limestone mountain. It was formed as a result of the erosion. Often described as "Sligo's Table Mountain," a looped access trail makes it possible to climb. However, it is advised that tourists have a local guide to accompany. This is because certain parts of the trail require an elevated ascent, while other areas dip under the canopy of the forest.
Discover the Carvings at Sligo Abbey
Known locally as the Abbey, this Dominican Friary was founded in the mid-13th century. Sligo Abbey contains a great wealth of carvings including:
Gothic and Renaissance tomb sculpture
Well preserved cloister
The only sculptured 15th-century high altar to survive in any Irish monastic church
View Contemporary Art at The Model
The Model art gallery and cultural center is one of the country's premier centers for contemporary art. The site consists of a restaurant, performance space, and bookshop. As an added bonus, the top-floor artist's studios have impressive views of Sligo.
Learn About Irish Emigration at Ulster American Folk Park
On your way out of Sligo toward Belfast, learn about the history of emigration from Ireland to America at the Ulster American Folk Park. Understand the reasons behind the exodus and how settlers adapted to their new world. Highlights of the experience include:
40 acres that bring the story of Irish emigration to life
A real Ulster street, complete with original shop fronts
Costumed characters
Where to Stay in Sligo
Here are accommodation options in Galway for any budget.
2-Star Option: The Red Cottage & Stables Guest Accommodation
This boutique guesthouse delivers hospitality with style. Located just minutes from Sligo town, The Red Cottage provides concierge service, a tour desk, free WiFi, and luggage storage.
3-Star Option: Yeats Country Hotel
Enjoy this property located in a charming village on the shores of the Atlantic Ocean. Expect beautiful sea views, a luxury spa, and a heated swimming pool. The Yeats Country Hotel is perfect for relaxing at the end of a day of sightseeing.
4-STAR OPTION: SLIGO PARK HOTEL
Just a mile outside of Sligo, the lushly landscaped Sligo Park Hotel feels like an emerald oasis. Newly updated, it offers contemporary styling and dining options in a truly stunning garden setting.
4-Star Option: Clayton Hotel Sligo
Overlooking the majestic Benbulben Mountain, Clayton Hotel offers a contemporary experience. All rooms are decorated to create a tranquil atmosphere of modern luxury and sophistication. Guests at the Clayton Hotel Sligo have a full range of facilities including restaurants, bars, a fitness center, and spa.
Where to Eat in Sligo
The diverse range of food found in Sligo may surprise food aficionados. There are plenty of restaurants that celebrate fresh ingredients from the county.
Montmartre
Montmartre offers an elegant, yet intimate dining experience. The menu consists of French dishes made from locally sourced Irish ingredients. But don't skip the dessert. Try a selection of sorbets and ice cream, such as the brown bread ice cream.
Coach Lane Restaurant
Located in the heart of Sligo town, Coach Lane offers a wide selection of dishes in a relaxed dining atmosphere. The menu includes a section dedicated to Irish grass fed dry aged beef. However, seafood lovers and vegetarians also have a variety of options.
Where to Drink in Sligo
Explore the Sligo pub scene with a visit to one of these fine establishments.
Caheny's Pub and Off-License
Look no further than Caheny's Pub for reasonably priced wines, beers, and spirits. The establishment dates back to the 1890s. Read more about the history of Caheny's.
The Snug Bar
With an intimate setting beside the Garavogue River, the bar offers live nightly music for your enjoyment. Adding to the fun atmosphere, travelling musicians are welcome to perform any night. Guests can choose from a large range of craft and world beers.
Best of Belfast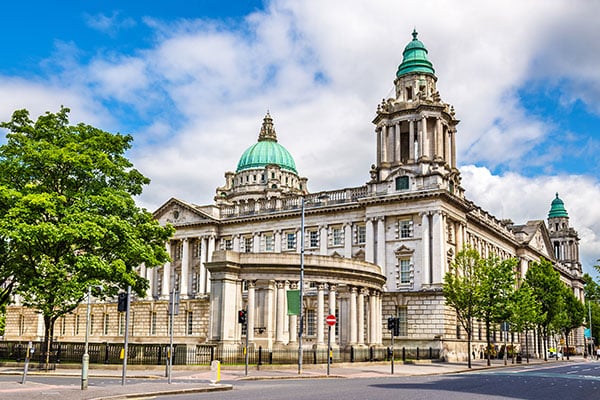 Belfast, Northern Ireland is part of the United Kingdom. Visitors should expect to use the pound for currency, though many large stores will accept Euro. When entering Northern Ireland, UK nationals may show any form of a photo ID. Foreigners will be required to show their passports.
Belfast is the capital of Northern Ireland. The city has undergone a remarkable transformation in recent years, allowing for a booming tourism sector. Hotel development, restaurant openings, and political stability have contributed to growth. Visitors continue to increase each year, with good reason. Expect a warm welcome, enthralling history, and a light sense of humor.
Things To Do in Belfast, Ireland
Embark on some of the best things to do in Belfast with these popular suggestions.
Walk on the Stones at Giant's Causeway
Declared a UNESCO World Heritage Site in 1986, Giant's Causeway is an area of about 40,000 interlocking basalt columns. Located about an hour and a half outside of Belfast, plan ahead to ensure you have enough time to enjoy the site. The top of the columns form stepping-stones that lead from the cliff foot and disappear under the sea. Visitors can walk the stones for free, or simply admire the view.
Explore Titanic Belfast
This attraction opened in 2012 and extends over nine galleries. Using special effects, dark rides, and interactive features, guests can explore the Titanic story. Learn about her:
Conception in Belfast in the early 1900s
Construction and launch
Catastrophic demise
Take in the Views at Belfast Castle
Set on the slopes of Cavehill Country Park, Belfast Castle is located 400 feet above sea level. Its location provides unobstructed views of Belfast and Belfast Lough. The castle boasts an antique shop, visitor's center, and restaurant.
Learn About Government at Stormont Parliament Buildings
The Parliament at Stormont is one of the most interesting buildings in Belfast. Once a home for the government of Northern Ireland, it now seats the Northern Ireland Assembly. The buildings are open to the public Monday to Friday, from 9am to 4pm. Visitors can take a free tour and explore the beautiful surroundings.
Enjoy the Serenity of the Botanic Gardens
The Botanic Gardens contains exotic tree species and plant collections from the southern hemisphere. Many of these species can still be seen in the park. The Gardens are popular with residents, students, and visitors. The Palm House at the Gardens is one of the earliest examples of a glasshouse made from curved iron and glass.
Take in a Show at the Grand Opera House
Since it's opening in 1895, the Grand Opera House has delivered an unrivalled array of entertainment. Hosting some of the greatest names in theatre and music, the Opera House continues to offer popular shows.
Walk Through the Titanic's Dock and Pump House
Visit the last place Titanic rested on dry ground at the Dock and Pump House. Experience life in 1912 by descending 44 feet into the huge dry dock. Walk in the footsteps of men who worked in the shipyard a century ago.
Where to Stay in Belfast
Enjoy a wide variety of hotel options in the center of Belfast.
2-Star Option: Hotel ETAP Belfast
This budget hotel is located in the heart of Belfast's city center. Offering essential comfort at a modest price, this property is a great option. Amenities at Hotel ETAP Belfast include free WiFi and a 24-hour front desk.
3-Star Option: Park Inn Belfast
Park Inn by Radisson Belfast is a 3-star property. Guests can expect bright, modern rooms, with a large flat-screen TV. The hotel has a gym, sauna, and steam room. Enjoy leisure time after a day of sightseeing with a stroll to nearby bars and restaurants.
4-STAR OPTION: THE MALONE HOTEL
Found in the heart of Belfast's vibrant entertainment, The Malone combines everything you could hope for during your stay in the city. This hip, upscale renovated Victorian townhouse hotel provides you a lovely homebase from which to enjoy Belfast.
5-Star Option: The Merchant Hotel
This option offers comfortable rooms, free WiFi, a spa, and rooftop gym. All rooms are decorated with original artwork and feature blackout blinds. The Merchant Hotel is a short distance from popular Belfast attractions. These include the Ulster Museum and the Titanic Quarter.
Where to Eat in Belfast
Belfast has experienced a culinary renaissance in recent years. Visitors will have no trouble finding tasty and affordable food options.
The Ginger Bistro
This mid-range restaurant offers exceptional seafood dishes. It is located near the Opera House, making it a great spot for a pre-performance dinner.
Holohans at the Barge
Located on a moored barge on the waterfront, the menu at Holohans changes seasonally. Enjoy authentic Irish cuisine, including its famous boxty. This dish consists of a potato pancake filled with food.
Where to Drink in Belfast
From classy to kitschy, tourists must visit a few Belfast bars even if only to people-watch.
Apartment
An upscale bar with a roof terrace, Apartment has an impressive cocktail list and wine menu. Offering amazing views of Belfast City Call, it is a great place to get away from the crowd. Start with the refreshing Ciroc Sling, which will reenergize you after a long day.
Crown Liquor Saloon
A National Trust Heritage site, the interior will leave you mesmerized. With stained-glass windows and an altar-like bar, the Crown Liquor Saloon is one of Belfast's most unique bars.
Money-Saving Tips For Visiting Ireland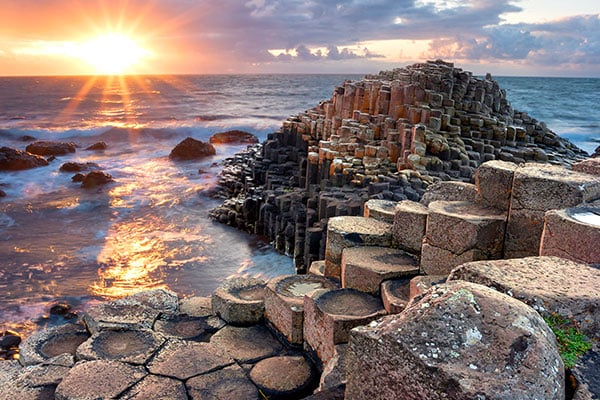 Traveling internationally can quickly become expensive. Incorporate some of the following money-saving ideas to cut down on the costs of your Ireland trip.
Visit Free Attractions
Save on the cost of admissions by visiting sights that are free. For example, national museums and galleries are free to enter. If your trip coincides with the first Wednesday of the month, you can get free access to some of the best cultural and heritage sites in the country.
Increase the Size of Your Travel Group
The more people you have in your travel group, the lower the "per person" price. This is especially true for shared accommodations.
Travel During Shoulder-Season
Book your travels to Ireland during the low season. Flights during the spring and fall months will be cheaper than the summer months. Hotels may also have deals to entice visitors to book during this time, which can add up to hundreds of dollars in savings.
Book a Tour
Another way to save money when planning is by looking at vacation packages to Ireland. Your booking may include:
Airfare
Accommodations
Some meals
The cost of admission to popular tourist sights
Pickup from the airport and transport to the hotel if you purchased airline tickets with the tour company
Once you've paid for your package, the only costs you will incur are additional excursions, meals, and souvenirs.
Experience Irish Hospitality
Save yourself the time and stress of planning your trip by booking a guided tour to Ireland. Experience the rich culture of this Emerald Isle firsthand. You'll have a great time with your local Irish guide. To learn more about YMT Vacations guided tours to Ireland, call our Travel Consultants at 1-888-756-9072.
---