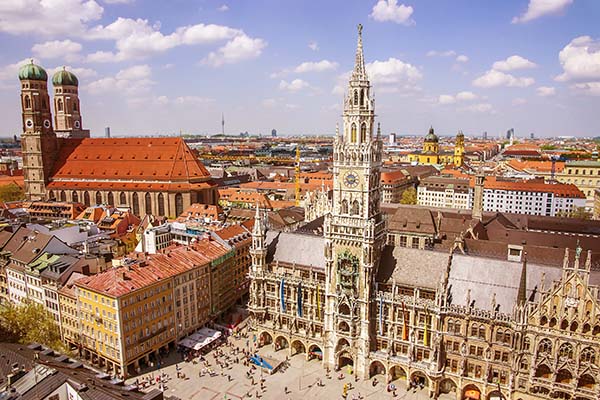 Deciding what to do in Munich is as fun as it is fascinating and overwhelming. Where will you go in this special city that perfectly fuses the past, present, and future? Its past is demonstrated by its many historic sites, from churches to centuries-old taverns. Its present is shown by its modern architecture and sophisticated culture. As for the future? This cutting-edge city is full of technology and progressive policies. One of the richest cities in Europe's wealthiest nation really shows how a thriving city should look.
Best Things to Do in Munich
We've gathered a list of ten things you must do in Munich, as well of two of its best-loved annual events. Whether on your own or on a guided tour in Munich, Germany, here are the places and experiences you can't miss.
1. Marienplatz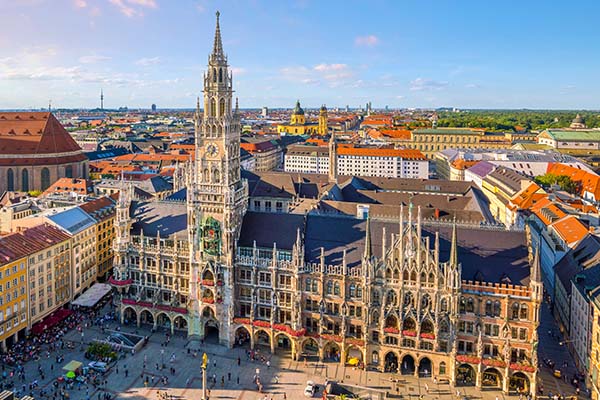 Marienplatz is the historic square at the heart of Munich's Old Town, or Altstadt. It has been the anchor of the city since Munich's founding 1148. You can find many of Munich's most iconic sites in and around the Marienplatz. New Town Hall and Fischbrunnen are real standouts. However, Rathaus Glockenspiel, the clock tower at the top of Old Town Hall, offers Munich's quirkiest show. The 32 characters and 43 bells of this remarkable cuckoo clock emerge for two fifteen-minute performance a day. You don't want to miss it!
2. Nymphenburg Palace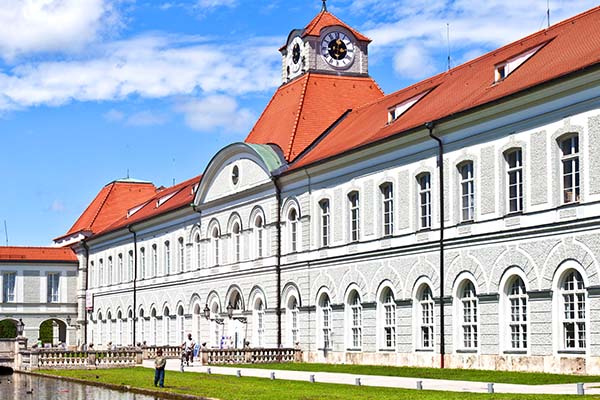 Nymphenburg Palace is one of the finest examples of Baroque architecture in Germany, and a must see when you visit Munich. It was built in the 17th century as an elegant summer home for the Wittelsbach family, who ruled Bavaria for nearly 1,000 years. The palace still contains much of its original furnishings and decorations. In addition, the expansive gardens surrounding the main residence are some of the finest in the city.
3. Munich Residenz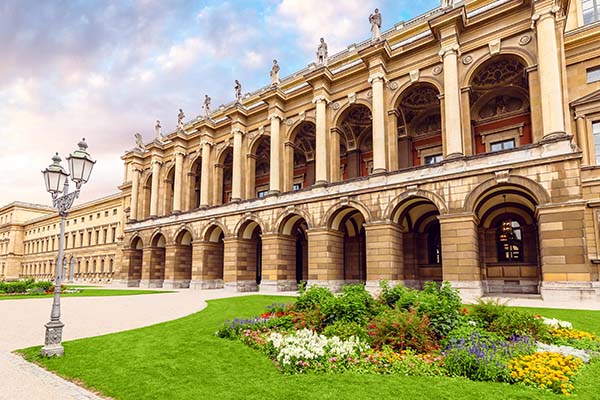 Munich Residenz was where Bavaria's laws and lawmakers lived for 400 years from 1508-1918. The palace was originally built as a medieval fortress in 1385. Over the centuries, the Wittelsbach dynasty built countless additions onto the site. It eventually became the largest urban palace in Germany—more than fit for a king.
The complex sustained considerable damage during WWII but has been repaired and returned to its original glory. Visitors today can enjoy its museum, treasury, many of its richly decorated rooms. It is right next to the breathtaking Hofgarten, one of Munich's most beautiful public gardens.
4. Olympiapark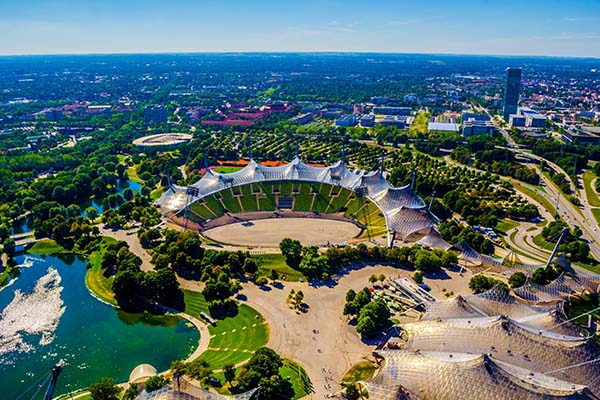 Olympiapark is recognizable as the setting for the 1972 Olympics, but it is so much more than that. This expansive public park features rolling green hills, old growth trees, a lake, ice skating facilities, and more. Guided tours are the best way to see the Olympiapark. Additionally, there is a very popular beer garden. This is Munich, after all!
5. Frauenkirche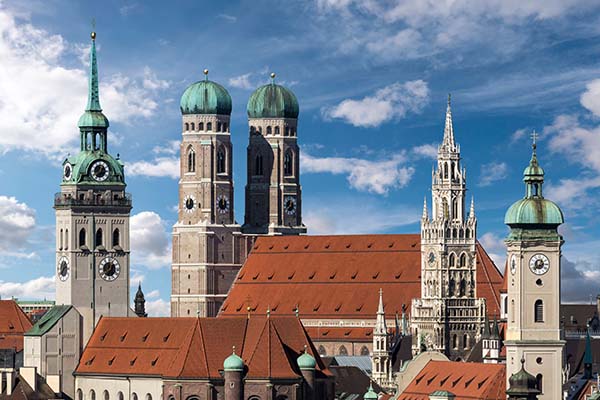 Munich Cathedral, also known as Frauenkirche or Cathedral of Our Dear Lady, is the largest and grandest in the city. The red brick Gothic cathedral was built in 1488 and erected its iconic sandstone domes in 1525. Frauenkirche is one of the most beloved churches in the city. It was heavily damaged in WWII, but over many years of work was rebuilt and returned to its former glory.
6. St. Peter's Church Munich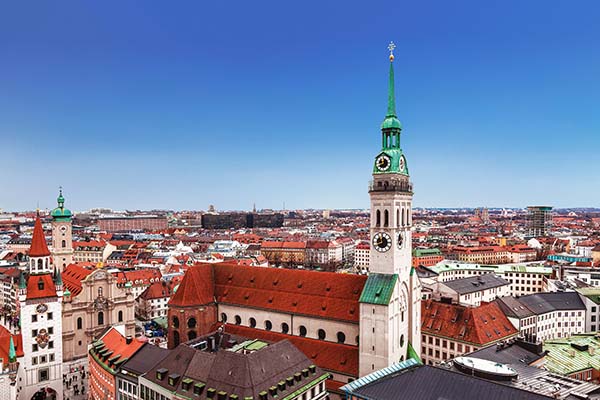 St. Peter's Church is Munich's oldest Catholic church. Located atop a small hill in the heart of the Old Town, is has been a feature of the city since the 12th century. Because St. Peter's has been expanded and repaired many times, its exterior is a unique mix of Baroque, Gothic, and Rococo architecture. Those willing to make the 306 steps hike up the church tower will be rewarded with the best views in Munich.
7. BMW Museum Munich
Car lovers can't miss the BMW Museum, a striking exhibit dedicated to the "ultimate driving machines." Housed in a unique circular building, the museum shows the history and innovations of this iconic car brand. See vintage cars, learn about the mechanics of BMWs, and take a look at current BMW models and ambitious prototypes.
8. Deutsches Museum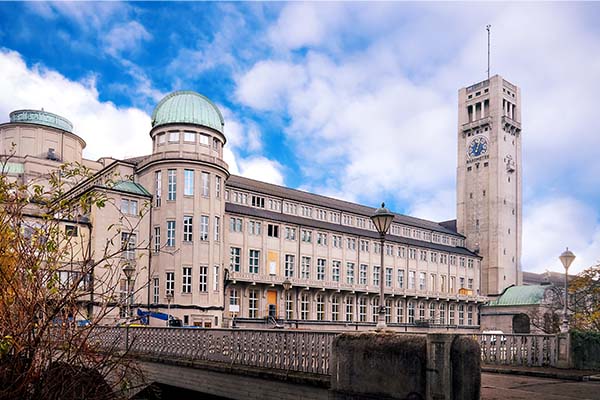 The Deutsches Museum, or German Museum of Masterpieces of Science and Technology, is the largest museum of its kind. Built in 1904 on a tiny island in the Isar River, its beautifully done exhibits stretch across four buildings. Its massive collection covers a wild diversity of fields and subjects. From music to space travel to bridges, the museum is dedicated to all sorts of fascinating science and technology.
9. Local Foods and Biergartens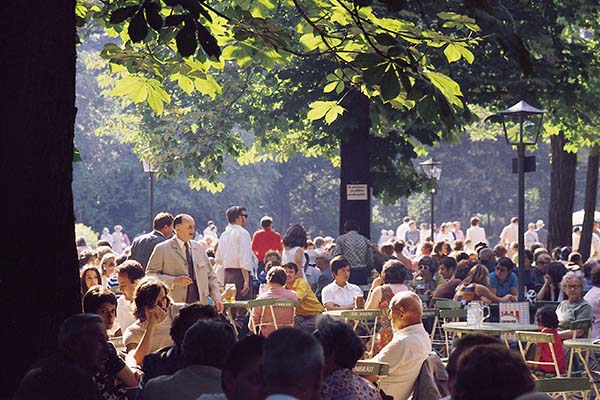 Nothing is more German than enjoying brats and beer in an outdoor biergarten. Viktualienmarkt offers one of the city's best opportunities to enjoy local foods in a bustling outdoor setting. This daily market has been offering fresh produce, cooked meals, and local beer since 1804. Augustiner-Keller is another great stop for beer lovers. It is a famous restaurant serving traditional Bavarian cuisine and a wide selection of local beers in the perfect biergarten setting. Another great choice is Hofbräuhaus. This cavernous tavern is Munich's most famous place to grab a brew and practice your German with locals.
10. Dachau Concentration Camp Memorial Site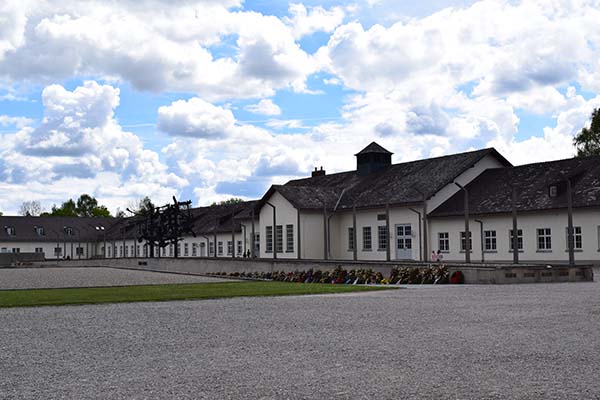 Dachau was the Nazi's first concentration camp. Located about 20 miles outside of Munich, it operated from 1933-1945 and imprisoned an estimated 200,000 people. The Nazis used Dachau as their "model" concentration camp. Many of the Third Reich's most horrific practices were established here, and then spread to other sites. The Memorial Site consists of a museum, memorials, and several original and replica buildings. A Dachau Concentration Camp guided tour is an experience you will never forget.
Seasonal Events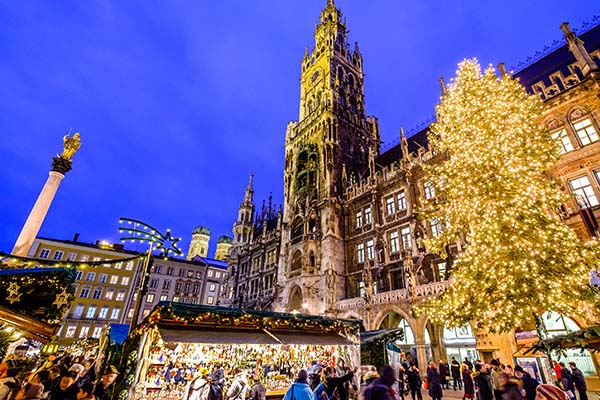 Two of Munich's biggest annual events are Oktoberfest and Christkindlmarkt.
Christkindlmarkt, Munich's main Christmas market, has taken over the Marienplatz each fall and winter since the 14th century. It is famous for having stalls packed to the brim with festive goods, and for serving mulled wine.
Every September and October, Munich plays host to the world's largest beer festival. Approximately 6 million people flood the city to visit its legendary Oktoberfest. This beer festival and fun fair dates back to 1810 and is as raucous now as it was in the past.

Visit Munich with YMT Vacations
Munich is full of history, culture, and countless enjoyable activities. From cathedrals to beer gardens, Munich has so much to do and see! If a visit to Munich, Germany is on your bucket list, why not join YMT Vacations? To make your reservation for a Munich tour, call your travel professional or YMT Vacations at 1-888-756-9072