---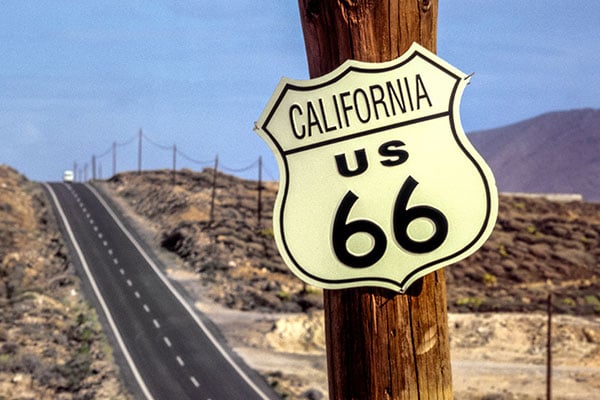 Affectionately known as "The Mother Road," Route 66 is a popular tourist destination. People are eager to "get their kicks on Route 66" and experience a simpler time.
Established in 1926 as a transcontinental highway, Route 66 served as the main route for families migrating west during the Great Depression and Dust Bowl. Later, the road transported families eager to see the Grand Canyon and visit Disneyland. As the road's popularity grew, so did the number of attractions, diners, gas stations, and motels that sprang up along the route.
In the 1950s, the Interstate Highway System was introduced and Route 66 began to lose its relevance as a main road to the west. However, many vacationers still wanted to experience Route 66 and its quirky Americana attractions, so the road gained a new life thanks to tourism. Today, Route 66 retains its quaint charm and remains a popular tourist destination where there are plenty of "kicks" to be had.
1. How Long Does It Take to Drive Route 66?
Route 66 begins in Chicago, IL, and ends at Santa Monica Pier in Los Angeles, CA, covering eight states and 2,448 miles. How long does it take to drive the route? That depends on several factors, including the number of stops you make and the weather. But you should plan for at least two weeks.
In 1985, Route 66 was decertified, and not all sections of the road survived. While you can no longer drive the entire original route, you can certainly drive many sections that have been preserved for a taste of nostalgia.
2. What Is the Best Time to Travel Along Route 66?
Summer is the most popular time to travel Route 66, but it is also the busiest and hottest. The winter months are not ideal, as the weather is unpredictable and many roadside attractions, restaurants, and motels close during this time.
It's more comfortable to travel during the spring or fall. You will have less traffic to deal with on the road and less severe heat, especially the further west you travel. Most spots remain open during these months.
3. What Are the Must-See Route 66 Sights?
Roadside attractions still dot the landscape along Route 66. You will not want to miss the Gateway Arch in St. Louis, the National Route 66 Museum in Elk City, OK, or Cadillac Ranch in Amarillo, TX. But there is also loads of fun to be had doing the simple things. Enjoy an old-fashioned milkshake at a charming diner. Take in a movie at a historic drive-in. Discover the perfect souvenir to remind you of your epic road trip.
Motoring down Route 66 begs for a rocking playlist as a soundtrack for your adventure. Add your favorite road-trip songs and warm up your vocal cords so you can belt out classics like "Born to Run" by Bruce Springsteen, "On the Road Again" by Willie Nelson, and of course, "(Get Your Kicks On) Route 66" by Chuck Berry.
4. What Should You Bring on a Route 66 Road Trip?
Route 66 is brimming with unbelievable photo opportunities, so if you have a quality camera and not just your cell phone, bring it along with extra storage for your pictures. You will not be sorry. No long road trip is complete without car games. Throw in Mad Libs, word searches (for when you're not at the wheel), and quiz games to help pass the time while driving.
Not all roadside attractions take credit or debit cards, so bring cash just in case. Be sure to pack light if you are traveling by tour bus and to save room for souvenirs. Other Route 66 road trip must-haves include:
GPS

Umbrella

Sun protection

Coins for parking meters

Reusable water bottle

Flashlight

Route 66 guidebook

Journal and pen
Visit Route 66 with YMT Vacations
Ready to plan your next vacation and experience Route 66? Let us help and take care of all the details by booking YMT's Historic Route 66 tour, a 13-night tour of popular sights and attractions along America's "Mother Road." For more information, call your travel consultant or YMT Vacations at 1-888-756-9072.
---