---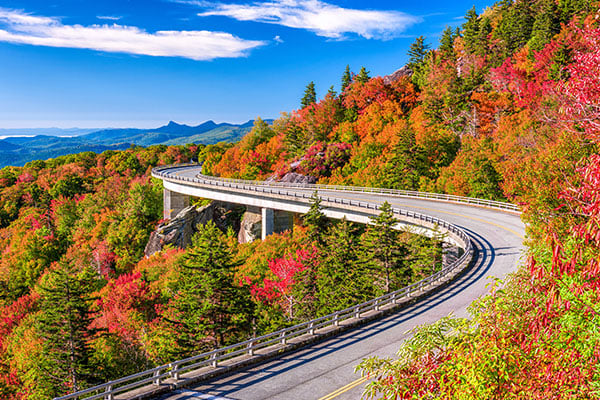 The Blue Ridge Parkway has some of the best views in the eastern United States. You will enjoy incredible mountain vistas, idyllic valleys, thundering waterfalls, and more as you travel through Virginia and North Carolina along this wonderful winding road.
A mecca for nature lovers, it has a diversity of animal and plant life including over 100 different types of trees.
In addition, it is peppered with culturally and historically significant sites. You can see evidence of the Native Cherokee People, bootleggers, moonshiners, and musicians all along the route.
Blue Ridge Parkway History
The Blue Ridge Parkway is a 469-mile long scenic route through the Appalachian Mountains of Virginia and North Carolina.
It was built in 1936 as a "Depression Project" to create jobs in one of America's poorest regions. It was designed to be the ultimate country road, and maintains this distinction even today by imposing a strict 45 mph speed limit and banning gas stations, billboards, and large semi-trucks
The Regions of the Blue Ridge Parkway
The Blue Ridge Parkway is divided into four sections; the Ridge and Plateau Regions of Virginia, and the Highlands and Pisgah Regions of North Carolina. Each region has some very special qualities and distinct benefits that can be experienced over just a couple of days.
Ridge Region
Virginia's Ridge Region encompasses the northernmost section of the Blue Ridge Parkway. It spans from mile marker 0 at Shenandoah National Park to mile marker 106. You can expect to see gorgeous rolling hills and the beautiful hardwood George Washington and Jefferson National Forests.
Plateau Region
The relatively flat Plateau Region spans from mile markers 106 to 216. It is the perfect place to explore traditional farms and listen to stellar live music. The banjo and fiddle are essential instruments in the Plateau Region's bluegrassy, ballad-heavy style of music.
Highlands Region
The Highlands Region is found mostly in North Carolina, crossing just over the state line into the far south of Virginia. It spans from mile markers 217-340.
The Highland Region is the perfect place to experience Appalachian culture. You will find many tiny towns that hold close to the traditions of decades past.
Pisgah Region
The Pisgah Region, named after Mount Pisgah, is the Blue Ridge Parkway's southernmost section. Spanning mile markers 340 to 469.1, the Pisgah Region is found entirely within North Carolina. It ends at the border of the Great Smoky Mountains National Park.
The Pisgah Region provides some of the Blue Ridge Parkway's most rugged nature. It includes remote wilderness areas and an abundance of interesting rocks, which are a favorite souvenir for rockhounds.

Blue Ridge Parkway Points of Interest
There is beauty everywhere you look on the Blue Ridge Parkway. You will encounter a new breathtaking vista, scenic overlook, sprawling park, or historic site around every curve. With so much to see over its nearly 500 miles, it's best to plan your itinerary in advance.
Here are some of our favorites:
Humpback Rocks, VA

Humpback Rocks is a vital stop in the Ridge Region, found at mile marker 6. The name itself refers to a rock outcropping that is accessible from a popular hiking trail.
In addition to the visitor's center, you can also take a fascinating look back into turn of the century Virginia's toughest years at Humpback Rocks' impeccably recreated Outdoor Farm Museum. The outdoor museum is a fascinating representation of mountain farm life, and consists of numerous historic buildings constructed around 1890. A single-room log cabin and several outbuildings built in the late nineteenth century were collected from the surrounding area and placed at Humpback Rocks during the Blue Ridge Parkway's construction.
During the Summer months, historical reenactors demonstrate mountain life for visitors.
Floyd, VA
Floyd, Virginia, at mile marker 165.2, is a great place to catch some live music and learn about native Appalachian arts and crafts.
This stunning town is a mecca for artists and musicians. The robust art and music scene has transformed Floyd and the once-humble surrounding area into a renowned destination.
Blue Ridge Music Center
The Blue Ridge Music Center can be found at mile marker 213 near Galax, Virginia.
This National Park Service facility and attraction is dedicated to the preservation of American music. You can enjoy an outdoor amphitheater, Visitor Center, museum, and gift shop.
On most Saturdays during the Spring, Simmer, and Fall you can catch stellar Roots of American Music concerts in the center's outdoor amphitheater.
Moses Cone Memorial Park

In 1901, Moses Cone built the 20-room Colonial Revival mansion bearing his name at mile marker 294. He and his wife Bertha were preservationists and philanthropists, and the Cone family donated the estate to the National Park Service in 1949. Since then, countless visitors have fallen in love with the elegant, beautifully curated grounds and facilities of the Moses Cone Memorial Park.
Explore the historic estate and walk the 3,500 acre grounds. The Cones lovingly filled their property with white pine forests and hemlock hedges, a 10,000-tree apple orchard, and several well stocked lakes.
Linville Falls, NC

The nature found in the Highlands Region is famously lush, especially at Linville Falls, found at mile marker 316. The Linville River flows down from Grandfather Mountain. At Linville Falls it tumbles 90-feet into to Linville Gorge, the deepest gorge east of the Grand Canyon. Easily accessible, this is one of the biggest and best waterfalls on the parkway.
Linville Falls is also surrounded by a stunning array of greenery. Look around at towering hemlock trees, dense stands of colorful rhododendron, and shockingly vibrant wildflowers that thrive on the easy hiking trail to the falls.
Three Knobs Overlook
Pull over at mile marker 338 to see one of the best Blue Ridge Parkway overlooks.
The magnificent Seven Mile Ridge seems to stretch forever in front of you. The looming Black Mountains rise high behind them. Dense forest surrounds you. Look out for evidence of local history.
Farmers created a path along the ridge over a century ago, and have used them ever since.
Biltmore Estate

The Biltmore Estate, found off of mile marker 388.8, is one of the Blue Ridge Parkway's must-see sites.
The magnificent Gilded Age mansion is the largest private home in America. Its 8,000 acre grounds are as exquisite and impressive as any you'd find in Newport or other turn of the century playgrounds of the wealthy.
Be sure to book tickets in advance to visit this luxurious property built in 1895 for George and Edith Vanderbilt.
Museum of the Cherokee Indian
The Blue Ridge Parkway is built on Cherokee land. Discover their story at the Museum of the Cherokee Indian found at the southern end of the parkway at mile marker 469.
This incredible museum showcases 13,000 years of Cherokee history using innovative exhibits, including computer generated animation and special effects, life-sized figures, artwork, and historic artifacts.
Visit Blue Ridge Parkway with YMT Vacations
Seeing this great American roadway is an experience not to be missed—especially when the adventure is led by YMT Vacations' experienced Tour Directors.
Join us on our brand-new Blue Ridge & Smokey Mountain Tour, a wonderful new journey through the south.
To make your plans to join this once-in-a-lifetime trip, call your travel consultant or YMT Vacations at 1-888-756-9072.