---
Making the Most of an Inside Passage Tour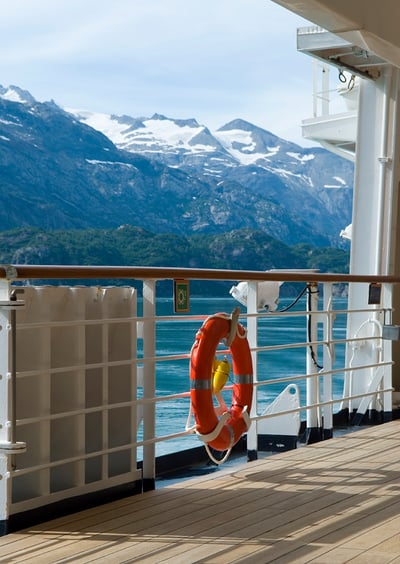 It's finally time to check off that Bucket List item you've been dreaming of: an Alaska cruise. But before you pack your bags and head off to the Last Frontier, here are a few insider tips to make the most of an Alaskan Cruise on the Inside Passage:
Make it a land and sea journey — "Cruisetours" are the combination of an Alaskan cruise with a land tour. This combined itinerary not only gives you the chance to see everything from rugged coastline and marine wildlife to calving glaciers and fascinating port towns, it also allows you to fully experience the Alaskan interior. You can explore Mt. McKinley and see the "Big Five" of Denali National Park, but you'll also get the best bang for your buck by condensing two trips into one plane ticket.
Cabin Notes — When considering your cruise budget, it's tempting to cut costs by requesting the cheapest cabin category. However, since the highlight of the trip is what can be seen out the window, doesn't it make sense to splurge for an exterior cabin, preferably one with a verandah? It's also important to consider the direction of your sail. If you're sailing south, you'll want a port side room (that's on the lefthand side if you are facing forward) while northbound sailings mean you should aim for the starboard side. Booking your cruise package early will give you the most options and savings.
If cost is key — While an exterior cabin on an upper floor is certainly preferable, sometimes cost is the determining factor. If saving money is your top priority, opt for an inside stateroom on the lowest deck level.
Think ahead — Shore excursions fill up fast so it's best to plan ahead and make reservations early. However, this is also where you can spend a lot of money. To save yourself some cash, chose only your favorites or, instead of purchasing excursions, just walk about the small towns on your own. Another option is to add a land tour after your cruise is over since these feature excitingAlaskan destinations for a packaged price.
Motion Sickness issues — Since there is a stretch of open water between the Inside Passage and Seattle, those prone to sea sickness may wish to consider over-the-counter medications, prescription aides or opting for a cabin mid-ship.
Layer up — As temperatures vary from the mid-60s in the daytime to the 40s in the evening, it's important to wear layers. A sweater or polar fleece that you can remove is a great option, as are jeans and comfortable walking shoes. And since the weather can be unpredictable, you'll also want to bring along a rain parka or water-resistant clothing.
YMT Vacations offers three affordable Alaskan cruise and land tour packages. These itineraries feature cruises on the Inside Passage as well as land tours of the Alaskan Interior, the Canadian Rockies and even a train tour of the West Coast. For information, reservations or to find out how you can save up to $800 per couple, call your travel agent or 1-800-922-9000.