---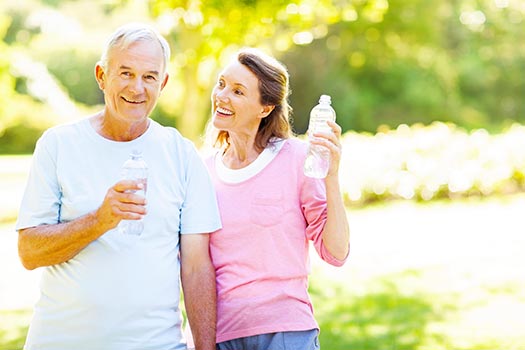 When you vacation in mountain settings like the Canadian Rockies, you may find yourself feeling the effects of such an otherwise spectacular journey. Having a plan beforehand can mean the difference between getting sick and having an unforgettable getaway. It's not uncommon for travelers to have difficulty adjusting to the altitude. The higher you climb, the thinner the air gets, making it hard for your body to get the oxygen it needs. In fact, 75 percent of all people experience mild symptoms of altitude sickness: headache, nausea, dizziness, loss of appetite, fatigue, shortness of breath and tiredness. Whether or not you're planning a trip to the Canadian Rockies or other mountain setting, this advice on how to stay healthy up high is just great information to know:
1. Know where you're going — Many people head off without an idea of how high they're going to climb. Be prepared by knowing the difference in altitude between home and where you'll be vacationing. As a general rule, the closer you live to sea level, the harder the transition may be.
2. Visit the doctor before you leave — You can preempt many of the risks by visiting your doctor beforehand. He or she can prescribe altitude sickness treatments, instruct you on pain relief for headaches and tell you how to calm an upset stomach due to altitude-induced nausea.
3. Acclimate slowly — Spend at least one night around 8,000 feet before going higher to allow your body to adjust. You always want to build up toward higher elevations over several days. Also, if you're hiking or climbing during the day, remember to "climb high but sleep low."
4. Hydrate — Not only should you drink plenty of water throughout your trip, but several days prior as well. And to prevent dehydration, avoid excess alcohol.
5. Eat the right foods — High-calorie diets, especially those made up of complex carbohydrates, allow you to use oxygen more efficiently. Your body may also do better if you eat several small meals throughout the day rather than a few larger ones.
If you do begin to feel short of breath or have a terrible headache that just won't go away, return to a lower altitude. The good news is that most symptoms are mild and can be avoided altogether by just adhering to these simple tips.
Now that you know how to best prepare for and avoid this potentially uncomfortable situation, you are ready to get out there and explore the grandeur and majesty of mountain destinations on one of YMT's fantastic tours, like the Canadian Rockies Tour. This 14-day escorted journey features spectacular national parks, UNESCO World Heritage Sites and exciting urban cities. To make your reservation, call your travel agent or 1-800-922-9000.
---