---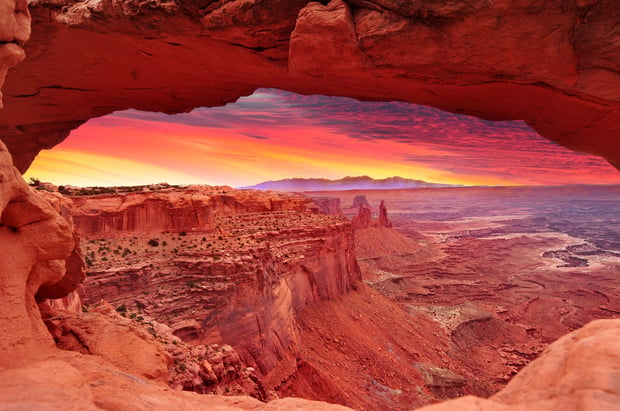 At the Confluence of Canyonlands National Park, the Green and Colorado Rivers collide. From more than 2,000 feet above on a high desert mesa, visitors can view the scene from an Island in the Sky. This vast and rugged outback contains some of the most untamed landscapes in the country, 527-square miles of towering spires and sweeping arches, wandering canyons, and other-worldly vistas. Carved by the rivers and the passing of time, Canyonlands is truly one of America's greatest national treasures. Here's what you'll need to know when visiting:
---
The National Park is divided into three districts, the most accessible being the Island in the Sky. This popular motorist-accessed area winds through rice grass and juniper trees past the park's most-visited sights: Mesa Arch, Grand View Point and the Green River Overlook.
Murphy Point may be the best place to catch the draw-dropping sunsets. A short 1.8-mile walk down a foot trail will take you to the isolated overlook.
Island in the Sky is home to a herd of 400 desert bighorn sheep, the only native herd that remains in Utah. Your best chance to see the animals is to watch for their white rear flanks climbing the rocky slopes near Upheaval Down or close to the Visitor Center at Neck Spring.
The best times to spot wildlife are early and late in the day. Look (or listen) for coyote, white-tailed antelope, golden eagles, deer, beaver, and even an occasional bobcat.
For other wildlife sightings, look close to water sources where animals gather, especially during the hot summer months.
Since the park is known for scorching temps in the summer months, it's best to drink plenty of liquids -- at least a gallon of water per day when hiking. You should also wear sun protection when roaming the park.
Late summer and early fall are known for afternoon thunderstorms, so bring rainwear.
If you're not an adept hiker, you can still enjoy the rugged feel of the park on the paved road system in the Island in the Sky area of Canyonlands.
---
YMT Vacations offers tours of Canyonlands National Park on its National Parks of the Golden West itinerary. To make arrangements to join us, or for information about any of our other exciting journeys, call your travel consultant or YMT Vacations at 1-888-756-9072.
---