---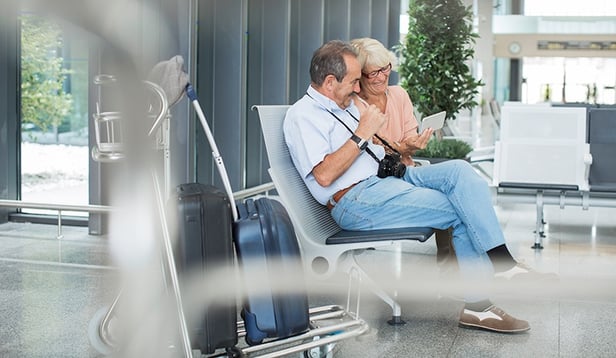 While the Golden Age of Travel may have been replaced by baggage fees and smaller seats, there is still a lot you can do to improve your time in the sky. Here are some tips that just may make your flight easier and a bit more comfortable:
---
Pack Smart -- Simplifying your packing is key. Pick a color scheme that works with just one or two pairs of shoes and allows you to mix and match clothing. Packing smarter will allow you to cut down on excess baggage fees and weight restrictions, spend less time considering what outfit you'll be wearing, and cut down on the number of bags you have to lug around.
Bring Ear Plugs -- Not only will you be able to listen to the in-flight movie with your own comfortable pair, but you'll also be able to block out the noise that comes with flying, making it easier to sleep. It's also smart to carry noise-canceling headphones.


Hit the Airport Lounge -- You can pre-book a seat in the airport lounge for a small fee. If you have a long, international flight this will give you a quiet space to decompress, grab a quick drink, and relax in a comfortable space with uncrowded bathrooms and roomy chairs. Plus, if you're having a problem with your flight, the ticket agents in the lounge are often times more attentive.


Bring Your Smartphone -- Even if you're going to a place with expensive Internet access, it's still a good idea since you can download maps, take pictures during your travels, and take advantage of the Wi-Fi available in most places around the world. A helpful hint is to download bank account information, hotel directions, restaurant reviews, and other information using the access at the airport prior to arrival.


Wear Layers -- It might be a balmy 90 degrees when you leave Miami but if you're flying over the Atlantic, you are sure to get cold mid-flight. Bring along a hoodie, a sweater, or a lightweight jacket as well as a pair of warm socks.


Act Like a Child -- Long flights can leave you bored and searching for something to pass the time. In addition to books and magazines, bring along an adult coloring book and some colored pencils to stick in your carry-on.


Get on Local Time Quickly -- To overcome jet lag, sync your sleeping with the local time zone as soon as you arrive.


Stick With One Airline -- Loyalty to a single airline puts you first in line for upgrades so join the airline's preferred flyer program and fly often with that carrier.


Book Your Flight Using the Name on Your ID -- It may seem obvious but you should always use the legal name that appears on your identification to avoid hassles in customs and security. Never use a nickname to book your ticket.


Call Customer Service First -- When you miss a flight it may seem like standing in line for the gate agent is the way to go. However, calling airline customer service helps you avoid the long line at the desk and can often allow you to speak to someone quicker, giving you the best shot at a seat on the next flight.
---
YMT Vacations lets you explore the world with group tours at low prices and unmatched value. Reliable, guaranteed and expertly run, our journeys let you travel the globe from Alaska to Europe, Hawaii to the National Parks of the United States. To learn more about our tours, unique travel experiences and how you can join us, call your travel professional or 1-888-756-9072.
---