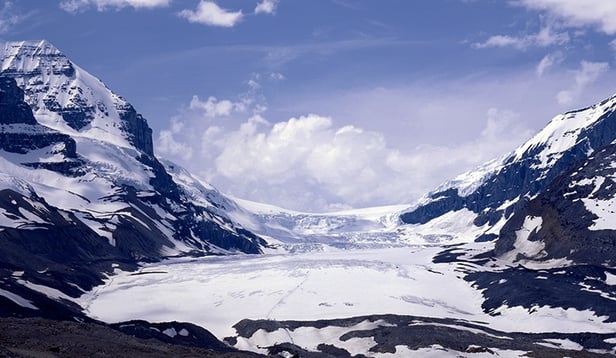 Named for the famous Columbia Icefield and the sheer density of glaciers that pepper the route, the Icefields Parkway is one of the planet's most picturesque drives.
Before you embark on your YMT Vacations journey, here's what you can expect when traveling Highway 93:
Preparing for the Icefield Parkway
Enjoy the Journey -- This stretch of highway proves the saying, 'the joy is in the journey.' Named one of the world's top-rated drives by Condé Nast Traveler, Highway 93 is chock-full of scenic views, amazing sights and majestic wildlife. The benefit of traveling by motor coach on an escorted tour, like the one offered by YMT Vacations, is the wealth of knowledge that our driver-guides possess. Sit back, relax and listen as your driver points out all the places of interest.
Look for Wildlife -- Our driver-guides are pros at spotting the animals of the parkway. Bring along binoculars for better viewing and keep your eyes peeled, especially early in the day.
Bring A Snack -- Since there are very few places to stop along the route, it's a good idea to bring along a lunch or portable snacks to enjoy during the drive. You can also fuel up at the Icefields Center before or after your tour of the Athabasca Glacier.
Go Offline -- In a world of constant connection, the Icefields Parkway offers you that rare chance to unplug from the world. There is no cell reception, so power off the device and enjoy the spectacular views.
Get Up Close -- Since only a small portion of the Columbia Icefield is visible from the road, you'll want to get a closer look. By taking an Ice Explorer Adventure, like the one offered on the YMT Vacations tour, you can actually go out onto the Athabasca Glacier.
Dress Accordingly -- It can be windy, cold and icy out on the glacier -- even in the summer. Wear a light jacket, long pants and good walking or hiking shoes. And because the ice reflects the glare, make sure to bring along sunglasses as well.
Bathroom Breaks -- Since there are very few pit stops along the parkway, take advantage of the facilities found at the Icefields Center. In addition, the upper patio of the center near the cafe provides a different view of the Icefields.
Explore the wonders of Canada with YMT Vacations
You can explore all the wonder and majesty on YMT Vacations' Canadian Rockies Tour. This 14-day escorted journey is an exciting blend of urban cities and rural towns, dramatic wilderness and Old World charm.
With hospitable Tour Directors and knowledgeable driver guides, you'll enjoy all the very best this unforgettable destination has to offer.