---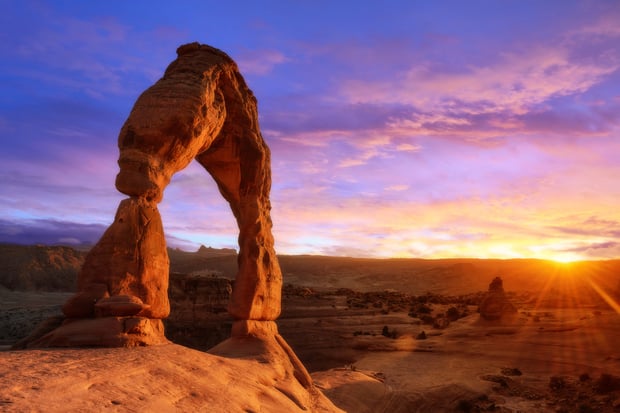 100 Years of Wonder
As the United States prepares to celebrate the Centennial of the National Parks System, travelers will be heading out across our nation to explore the country's natural wonders. We invite you to join YMT Vacations as we discover the history, wildlife and many fascinating things there are to see inside our nation's parks.
---
Longer than a football field, the red sandstone vault known as Landscape Arch spans 306 feet across the desert floor. It is considered to be the longest natural arch in the world and the showpiece of Arches National Park.
With more than 2,000 sandstone arches, the park attracts curious visitors from across the globe, who come to see the carved formations, like Landscape Arch, that pepper the red rock desert. To ensure your trip is the best it can be, here are some tips on what to see and what to know when visiting Arches National Park:
Hot, Hot, Hot -- Since summer temps can easily soar into the 100s, it's important to wear sunscreen, a good brimmed hat and lightweight clothing, especially when hiking.
Bring Water -- Since there are few places to get water in the park, it's best to bring your own...and bring more than you think you'll need.
Power Off -- Expect sparse cell coverage in the park and plan to just enjoy your time in this magical outdoor wonderland. However, in case of emergency, you can find a public telephone at the park's Visitors Center.
Photo Tips -- Low sun angles, like those at sunrise and sunset, afford the best lighting and add brilliant color to the red rock formations.
Photo Ops -- Some of the most popular spots in Arches for photos are Devil's Garden, Landscape Arch, Balanced Arch, Delicate Arch and Windows.
Bring a Snack -- You're likely to get hungry, especially in the heat of the day, so bring along a packed lunch and snacks to enjoy on the tour bus or under the shade of a juniper tree.
Weather or Not -- The fall can bring afternoon thunderstorms while winter months often have snow. Due to the unpredictable nature of the area, check the weather forecast before you arrive and bring suitable clothing.
Hiking Hints -- Check the length and rigor of trail hikes before heading out on foot. The park offers a variety of easy, moderate and difficult hikes as well as ranger-led guided hikes daily. Check with the Visitors Center for more information.
---
Arches National Park is just one of the sights on YMT Vacations National Parks of the Golden West tour, an itinerary designed to celebrate the 100th anniversary of our National Parks System. To make your plans to join us on your next journey, call your travel consultant or YMT Vacations at 1-888-756-9072.
---