---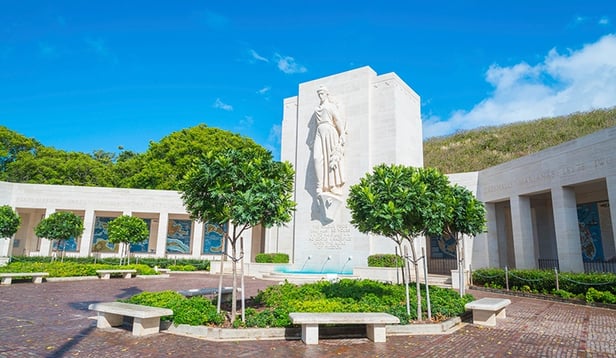 In ancient times, the Hawaiians used a bowl-shaped crater known as Puowaina for human sacrifices. Today, the site, which is shaped like a punchbowl, is sacred for another reason. It is home to the National Memorial Cemetery of the Pacific where 33,000 soldiers lie in rest under rows and rows of stone markers. Here are some tips for making the most of your time at this moving memorial to American sacrifice:
---
For the Best Views -- Upon entering, bear to the left and continue up the hill until you reach the lookout that looks over the cemetery, Honolulu and as far as Diamond Head.
Bring Sunscreen -- Like any place outdoors in Hawaii, the sun shines down pretty hard so make sure to apply sunscreen liberally -- even if it's a cloudy day.
Time Your Trip -- Make a stop at the "Hill of Sacrifice" after you've first visited the USS Arizona Memorial and the Pearl Harbor Visitor Center to better appreciate the sacrifice of these fallen soldiers.
Dress Appropriately -- While there is no formal dress code at the National Memorial Cemetery of the Pacific, this is a graveyard so be respectful in what you wear.
Tours are Best -- Visiting with a knowledgeable tour guide helps you better understand the ancient Hawaiian history, American sacrifice, and other highlights of the place.
Don't Miss the Memorial Court -- This large white memorial in the center of the site features a grand staircase with marble slabs that make up the "Courts of the Missing." The 28,788 names represent soldiers of WWII, the Korean War, and the Vietnam War who are missing or lost at sea.
Lady Columbia -- The lady who sits atop the memorial staircase represents all the grieving mothers who lost their children.
Honor a Tradition -- Many visitors take pride in placing American flags and leis on the graves in the Punchbowl, especially on Memorial Day.
Take a Moment -- Leave a few minutes in your visit to sit on one of the benches at the top and rest a moment while contemplating the site and taking in the views of Waikiki.
---
You can visit the National Memorial Cemetery of the Pacific on YMT Vacations' Rose Parade & Hawaii Tour. This 10-day land and sea journey takes you from the "City of Angels" to the excitement of the Rose Parade to the sands of Waikiki Beach to the unforgettable Pearl Harbor. To learn more, or to make your reservations to join us, call your travel agent or 1-888-756-9072.
---