---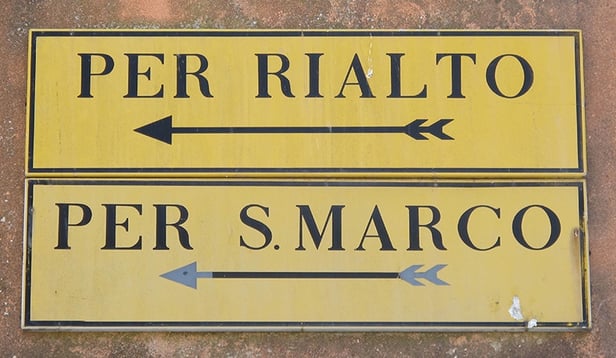 With its labyrinth of intertwining canals and serpentine bridges, Venice is notoriously hard to navigate. Not only are there multiple streets of the same name, but it's common to head down an alleyway only to have it dead end around a sharp corner. But that doesn't mean you can't find your way with the right help. Here are 8 tricks to keep in mind so as not to get lost in Venice.
---
1. Addresses in Venice are made up of a number and the name of the sestiere (or district), not the street name, which can make it very difficult to find your way. Always ask for the name of the calle (alley) and a nearby landmark.

2. Look for major landmarks, like San Marco, to orient yourself. To find your way to a major tourist destination, keep your eye out for the yellow directional signs posted high on the palaces at the beginning of the alleyways or written directly on the walls.

3. With so many visitors in the city, sometimes it's a relief to find an out-of-the-way spot to relax. Simply go in the other direction of where the directional signs point. You'll find osterias (restaurants), local shops, and neighborhoods where you can experience the authentic charm of Venice.

4. Get your bearings. Orient yourself with a few key landmarks and head in that general direction, rather than looking for a specific street or alley.

5. Hop on a Vaporetti. The waterbus can often be slower than walking, and costly, but if you take one upon your arrival, you'll receive a map with basic points of reference for use throughout your trip.

6. Google your location. GPS systems have the most up-to-date maps, making it easier to find your destination. Just remember to look up while you walk or you're likely to run into the bustling crowds, or worse, the watery canals.

7. Be patient. With its maze of twisting narrow alleys it's easy to get lost, and hard to navigate the crowds common in the historic city. Be prepared to go slow and allow extra time.

8. Finally, getting lost is sometimes far more than taking a wrong turn. Losing yourself in a city as magical as Venice can reward you with unforgettable experiences and hidden discoveries you might never have had otherwise. So every now and then, forget the map and see where the evening takes you.
---
You can explore the wonders of Italy, including Venice, on YMT Vacations' Bella Italia tour. This 11-day journey explores the majesty of Florence and the Eternal City of Rome. Enjoy a lake cruise on Lake Maggiore or marvel at Pisa's Leaning Tower. Discover the Umbrian countryside town of Orvieto or Verona, the city of Romeo and Juliet. For make your plans to join this once-in-a-lifetime tour, call your travel consultant or YMT Vacations at 1-888-756-9072.
Check out our previous blog post about Italy for more travel tips: "Roaming the Eternal City: Tips for Getting Around Rome."
---