---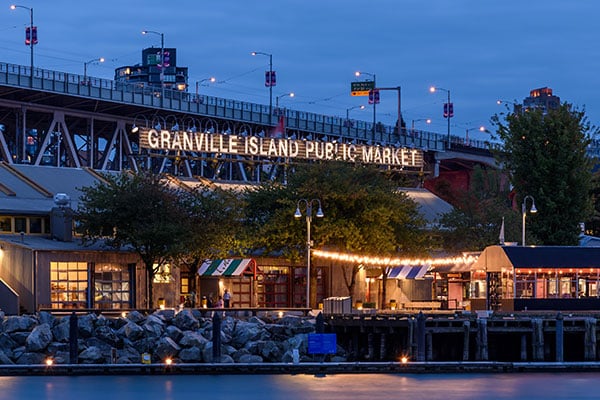 Vancouver, British Columbia is consistently ranked as one of the most livable cities in the world. With an eclectic array of neighborhoods blessed with abundant outdoor activities and magnificent waterfront views, there's a lot to love here -- not the least of which is Vancouver's exciting culinary scene. One of our favorite foodie destinations is Granville Island Market, a bustling public market in a gentrified former industrial area right along the waterfront.
Granville Island
Granville Island is a peninsula jutting out into English Bay across from Downtown Vancouver. Once a blue-collar hub for industrial manufacturing, it has blossomed since the 1970s into one of Vancouver's most charming neighborhoods. The island is tiny—barely 35 acres—but it is home to nearly 300 thriving businesses that employ over 2,500 people. The island can be reached by boat or by a variety of roads and walking and/or bike paths.
What is Granville Island Market?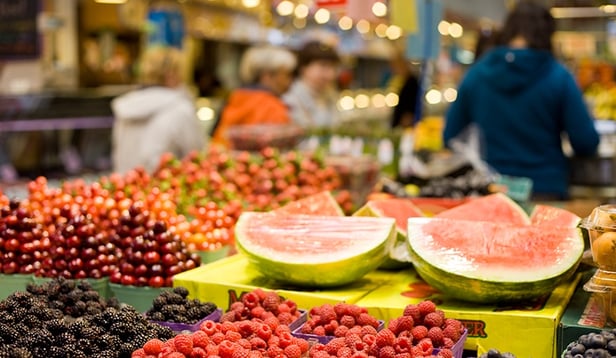 One of the island's biggest draws is the sprawling Granville Island Market, which has been a foodies' paradise since its construction in 1979. The indoor market is home to a dazzling assortment of produce stores, prepared food vendors, and darling little shops selling a wide variety of locally made artisanal goods.
Granville Island Market Hours
It is open daily except for December 25-26 and January 1, with opening hours from 9 a.m-6 p.m. (except for December 24, when it closes at 5 p.m.).
Best Places to Eat on Granville Island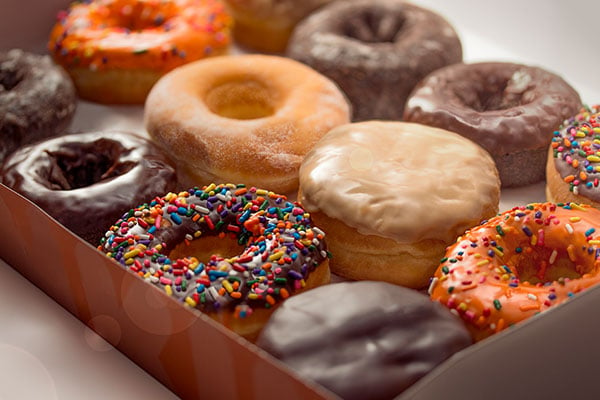 Here are some of the best Granville Island Market restaurants, and other dining options on island that you won't want to miss:
1. Petit Ami
Petit Ami is a beloved local coffee chain that works with a family-owned local grower, roaster, and organic bean broker to deliver delicious and environmentally friendly brews. Enjoy a steaming cup of joe from this lively café, whose single origin or flavorful blends are the perfect way to start your day in Vancouver.
2. Lee's Donuts
Of course, if you're going to have a cup of coffee, you need something you can use for dunking, and in the Granville Island Market, Lee's Donuts is your best bet. Lee's Donuts has been serving up the city's best donuts and since 1979. You can't go wrong with the honey-dipped, mango, or Bavarian cream varieties.
3. Oyama Sausage Company
Oyama Sausage Company is a local butcher specializing in mouth-watering meats like duck prosciutto, bacon, and garlicky chorizo. Straight from their family-run farm, Oyama delivers pasture-raised meats and specialty cheeses that make for the ideal picnic.
4. The Stock Market
On a chilly winter day, there's nothing better than a warm bowl of soup. Located in the food hall, The Stock Market specializes in sauces, chutneys, soups, and stocks that are every bit as good as what you've been craving.
5. Liberty Distillery
Granville Island is known for craft distilleries that celebrate handcrafted spirits and feature them on tasting tours and in sample flights. There are a wide variety of options to choose from. We recommend starting at Liberty Distillery, where award-winning gin, vodka, and Canadian whiskey are distilled on-site using organic local grain. You're invited to shop for spirits, or to enjoy their extensive and highly creative cocktail menu.
6. Granville Island Brewing
Granville Island Brewing was Canada's first microbrewery and the small-batch brews served in its Taproom are the perfect way to end a day on the island.
7. Four Seasons Farm
No trip to Granville Island would be complete without a stroll through the food hall to check out the colorful, local produce. Don't pass up the blood-red cherries and seasonal berries, regional specialties literally bursting with flavor. Our favorite place to pick up raw fruits and vegetables is Four Seasons Farm. They carry a wide selection of wonderfully fresh produce, and they're well known for their helpful staff and reasonable prices.
8. Go Fish
With its location on the water, Vancouver is the spot for fresh seafood. If you're especially craving fish and chips, Granville Island is your best bet. Head to Fisherman's Wharf and Go Fish, easily recognizable by the ever-present line of hungry diners. In addition to the famous fish and chips, the shop's fish tacos, and homemade chowders make the often intimidating line worth the wait.
9. A La Mode
A La Mode is a Vancouver staple that features sweet dessert pies and an assortment of savory potpies, all topped with a flaky, buttery crust just like your grandma used to make.
10. Muffin Granny
Muffin Granny, one of Granville Market's first shops, has been serving stellar baked goods in the market's bustling central food hall since 1979. Their selection of handmade muffins, cookies, and other sweet treats are made fresh each morning. Muffin Granny also offers made-to-order sweet or savory crepes packed with scrumptious fillings. Try flavors like cinnamon apple, ham and cheese, or rich maple syrup.
Experience Vancouver's Granville Island Market
You can explore the Granville Island Market and the many flavors of British Columbia on YMT Vacations' Grand Alaskan Cruise & Tour. To make your plans to join this extraordinary experience, call your travel professional or YMT Vacations at 1-888-756-9072.
---