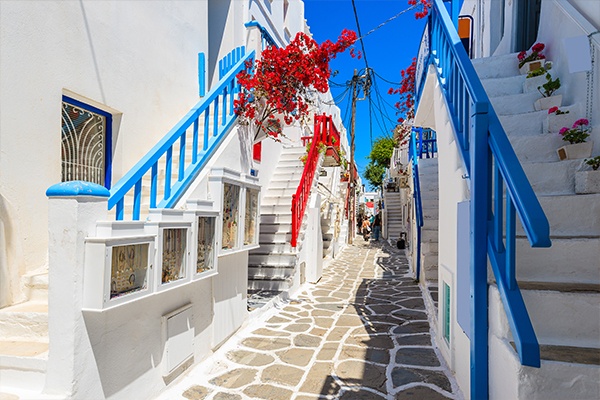 Greece is a bucket list destination where the light is bright, the water is the purest blue and the food, well… don't get me started. From the iconic Acropolis of Athens to the Caldera of Santorini, there's plenty to experience—just imagine sipping cocktails at sunset in Mykonos or sailing the Cyclades islands, strung like a strand of pearls across the Aegean Sea. Here are some tips for how to best explore Greece.
Skip the heels—The cobblestones are quaint but they're not exactly made for stilettos. Save yourself the trouble and forgo heels for a cute pair of wedges or platform sandals.
Water shoes for the beach—Rocky beaches and steep cliffs make for dramatic photo ops, but they're sure rough on your feet. When you head for the coast wear slip-on water shoes. Even if the beach is perfect, the sand can still heat up making flip-flops a must.
Lose some weight—Heavy luggage can be a hassle when hauling suitcases down steep streets and cobblestone alleys—and remember, most cruises require that you carry your own baggage on and off the ship. Opt for lightweight luggage, pack only the essentials and phone ahead to ensure your room already has a hairdryer.
Adapt to Europe—A European adapter is a must to power-up your electronics. Choose one with a built-in USB port for faster charging, and a fuse protector to safeguard from power surges that can ruin your equipment.
Suit up for the beach—It's hard to avoid the beautiful beaches and islands of Greece. Come prepared with at least two swimsuits and a cover-up. Having more than one suit makes sure you're prepared when one is still damp and a cover-up lets you go from the water to lunch while still looking great and feeling comfortable. Don't forget plastic baggies for re-packing wet items.
Prepare for bugs—The summer months are known for mosquitos. Prepare by buying spray, or a repellant bracelet that prevents bites for up to 300 hours.
Layer up—The days in Greece can be hot, but sunset brings a significant drop in temperature. A lightweight sweater will take you from one extreme to the other, and a scarf lets you cover your shoulders to stay warm and remain modest while visiting conservative monasteries and churches.
Bring sun protection—Even if you're not headed to the beach, the sun can still be potent, so make sure to apply sunscreen, reapplying every few hours, and wear a hat.
Prepare for the motion of the ocean—Boat rides are part of the experience, so come prepared with motion sickness pills.
Pack casual—While you will need a flattering sundress or nice pants for dining out, most of the time you'll be comfortable in walking shorts and breezy shirts.
Explore this amazing destination on the Greece & Her Islands tour with YMT Vacations. This 10-day journey features all the highlights—from the original Olympic stadium to the Acropolis to the island of Mykonos. To make your plans to join us, call your travel consultant or YMT Vacations at 1-888-756-9072.