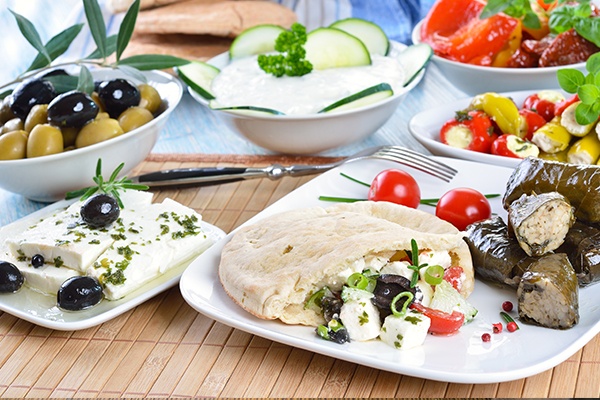 Greece is one of our most popular destinations for countless reasons. The warm weather, the friendly locals, the natural beauty, and absolutely fascinating history all attract their fair share of guests—but it's the food that leaves the biggest impression. Greece is renowned for its fresh, flavorful cuisine—healthy and natural, Mediterranean food is a treat for your palette as well as nourishing for your body. Here are some of our favorite authentic Greek foods:
1. Dips—The mainstays of any Greek meal are the dips: tzatziki (yogurt, cucumber and garlic), melitzanosalata (eggplant), fava beans, and taramasalata (fish roe, potatoes, bread, olive oil and lemon).
2. Olives—Greece's olive trees have thrived for millennia, and most meals feature local olives and are finished with a hearty drizzle of olive oil.
3. Fish—From sardines to squid, octopus to cuttlefish, seafood is a mainstay of Greek cuisine. Pulled fresh from the water, it is unsurpassed anywhere in the world.
4. Lamb—Alongside seafood, lamb is Greek cuisine's other stand-out protein. Fork-tender and full of flavor, enjoy it grilled, stewed with vegetables, or skewered for the ultimate fast food.
5. Cheese—Stored in barrels of brine, the feta cheese is creamy and perfectly salty—great plain or in salads. You'll also like the saganaki fried cheese, sfougata cheese balls, and cheese pie.
6. Revithokeftedes—Similar to Middle Eastern falafel, they are essentially fried chickpeas with Greek spices.
7. Moussaka—Layers of eggplant, minced lamb, pureed tomato, onion, garlic, spices, béchamel sauce and cheese are stacked in this lasagna-style dish.
8. Spanakopita—Filo pastry pies filled with spinach and feta are a favorite throughout the Greek isles.
9. Dolmades—Grape leaves stuffed with rice, pine nuts and vibrant fresh herbs.
10. Baklava—Drizzled with local honey, these flaky filo pastries filled with ground nuts and custard are the classic Greek desert.
You can sample all the flavors of Greece on YMT Vacations' Greece & Her Islands Tour. This 10-day itinerary takes you from Mykonos and Santorini to Athens, and throughout the jewel of the Mediterranean. To make your plans, call your travel consultant or YMT Vacations at 1-888-756-9072.