---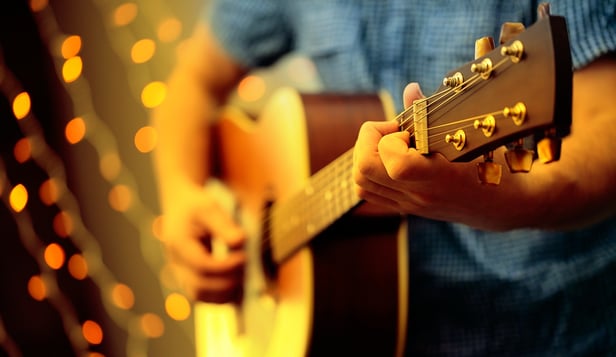 The musical story of Nashville began in the late 1700s when early settlers buck-danced along the shores of the Cumberland River. By the 1800s, this frontier was scored by the fiddle playing of Davy Crockett and the local Fisk Jubilee Singers embarked on the first around-the-world tour. The group caught the attention of the Queen of England who famously claimed the talented singers must come from the "Music City."
---
With a rich musical history, Nashville is now also known as the "Songwriting Capital of the World" for the scores of writers who come here seeking to hone their craft and to collaborate with the best in the business. In fact, it's not uncommon to hear a familiar voice performing a new sound at one of the many venues along Music Mile. Here are some of Nashville's famous musical attractions you won't want to miss:
Ryman Auditorium -- The "church of country music" was originally named the "Union Gospel Tabernacle." Continually sited as the best auditorium in the nation for live music and the location of America's longest-running radio show, the Grand Ole Opry, Ryman has launched and furthered the careers of countless country music legends. For stars used to selling out giant arenas, playing in this small 2,362-seat venue may just be the concert of their lifetimes. Make sure to take the time for a backstage tour, record your own hit in the Ryman studio, or check to see if the stars are performing on the Grand Ole Opry stage.
Attend a Songwriters Show -- The famous Bluebird Cafe and downtown's Listening Room Cafe feature some of the city's best songwriters-in-the-round shows. These intimate performances spotlight the world's best singer-songwriters and offer them a chance to showcase new material.
RCA Studio B -- The famous studio where Elvis Presley recorded more than 200 songs is also the recording site of tunes from Roy Orbison, Dolly Parton, Chet Atkins, and more. As the birthplace of many country classics it's a must on your Nashville travels. Tours depart daily from the Country Music Hall of Fame and Museum.
Visit Honky Tonk Highway -- Grab a longneck and listen to some hot country music in the Lower Broadway clubs that sit in the shadow of the Ryman: Tootsie's Orchid Lounge, Legends Corner, The Second Fiddle, The Stage, Layla's Bluegrass Inn, and Robert's Western World.
Country Music Hall of Fame and Museum -- The world's largest music museum offers a rotating schedule of exhibits highlighting the legends of the past and today's hottest stars.
---
You can hear the sounds of Music City for yourself on YMT Vacations' Southern Music and Dixieland Tour. Not only does this 9-day itinerary let you experience Nashville, but the musical hotspots of Memphis and New Orleans as well. Tour the Jack Daniels Distillery, visit Graceland, and stroll through Oak Alley Plantation before ending your tour in the Big Easy. To make your reservations, call your travel agent or YMT Vacations at 1-888-756-9072.
---