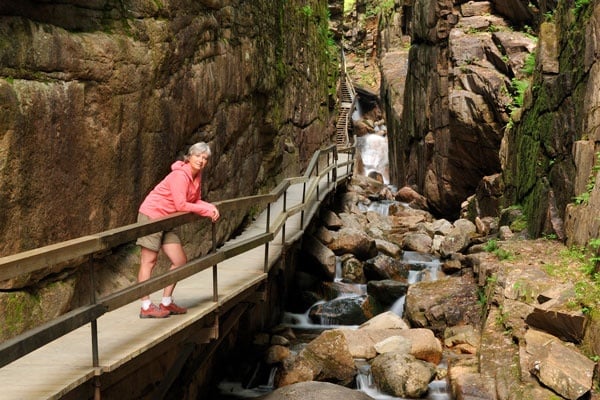 Hidden deep in the White Mountains of New Hampshire lies a granite ravine extending 800 feet with walls soaring up to 90 feet high, cutting a deep fissure through the wooded landscape. First discovered in 1808 by 93-year-old "Aunt" Jess Guernsey on a fishing trip, it is considered to be one of America's most beautiful State Parks.

WHAT IS FLUME GORGE?
Gorges are deep channels created by rivers cutting through the earth's crust for many thousands of years, and Flume Gorge is one of North America's most impressive examples. Rising up from the base of Mount Liberty, Flume Gorge started to form 200 million years ago during the Jurassic-era. Today, visitors can explore the area on wide gravel paths and wooden walkways that snake through covered bridges, past waterfalls and into the heart of the massive gorge. The Flume Gorge trail is 2 miles long and features scenic pools, glacial boulders, and spectacular mountain views.


TOP 7 MUST-SEE SIGHTS
When visiting Flume Gorge, make sure to see all the spectacular natural beauty of this remarkable State Park:
The Flume Covered Bridge—One of the area's famous "kissing bridges," this covered bridge spans the Pemigewasset River and is one of New Hampshire's most charming historic landmarks.
Table Rock—Rushing waters from Flume Brook exposed this large granite outcropping that is 500 feet long and 75 feet wide. Just be sure to be careful if you walk on them, since the rocks can be quite slippery.
Avalanche Falls—From atop the flume you can see the 45-foot waterfall that was created in 1883. It seems a storm washed away a huge egg-shaped hanging boulder that lay suspended between the gorge walls. The boulder has never been found but in its absence the rush of water formed the scenic falls.
Liberty Gorge—Cascading mountain streams flow through a narrow valley creating this picturesque site.
Sentinel Pine Bridge and Pool—Sentinel Pool is a deep river basin surrounded by soaring cliffs. The bridge was formed in part by the fallen Sentinel Pine, then the largest in the state, when it was uprooted in 1938 by a hurricane.
Wolf Den—This narrow, one-way path lets visitors crawl through the rocks.
Glacial Boulders—This boulder field was created when a great ice sheet moved boulders into the area before retreating and leaving the scattered rocks behind.


JOIN US!
You can visit the White Mountains and the Flume Gorge on YMT Vacations' Autumn Leaves Tour. On this 14-day bus tour of the Northeast's most breathtaking autumn colors, you'll enjoy guided tours of historic Philadelphia, quaint Martha's Vineyard, peaceful Lake Placid, the stunning Adirondacks, the mansions of Newport, Rhode Island, and scenic Kingston on the shores of Lake Ontario. From Boston to New York City, our fall foliage tour is the ideal way to experience the bounty of America's stunning autumn foliage. To learn more, or to make your reservations to join us, call your travel agent or 888-756-9072.
---