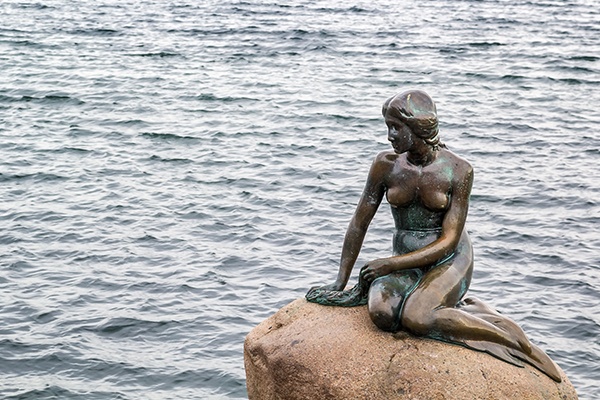 If you're looking for the best reason to visit Copenhagen, you won't find it in a guidebook. Those in the know come here for the attitude, the feeling—what the Danes call hygge.
Something akin to coziness, it's that feeling of homeyness that comes from curling up with a good book, wrapping yourself up in a warm blanket, or gathering together with dear friends. While you may have never walked Copenhagen's cobblestone streets, the warm sense of welcome is something everyone will recognize.
Here are some of the top 9 things to do in Copenhagen:
1. Tivoli Gardens
This classic amusement park has been a beloved Danish tradition since it opened in 1843. In addition to the carnival rides it features a pantomime theater, lush gardens and dozens of restaurants, many of them quite elegant. There are dance halls, beer gardens and vintage roller coasters to thrill young and old alike—especially at night when the park twinkles with sparkling lights and colorful lanterns.
2. The Little Mermaid Statue
Denmark's favorite lady is based on a character from a Hans Christian Andersen fairytale, and is the most photographed statue in the country.
3. Rosenborg Slot
This Dutch Renaissance castle is loved as much for its intimacy as for its grandeur. More than just a house of state, this was where King Christian IV lived.
4. Ny Carlsberg Glyptotek
It's no surprise Northern Europe's largest repository of art was built by the Carlsberg Brewery, since it was the brewery's founder who brought the Little Mermaid to the city in 1913. Today the museum boasts an impressive collection of works by Gauguin, Manet, Monet and Cézanne, as well as the largest collection of Rodin sculptures outside of Paris, and one of only three sets of Degas bronzes.
5. National museet
The National Museum sits inside an 18th-century royal residence hall. It houses an impressive exhibit chronicling Danish cultural history from prehistoric to modern times, including a great section on the Viking period.
6. Christiansborg Slot
Surrounded by water on three sides, this massive granite castle is where the queen receives official guests. Once the royal residence, it now houses parliament and the prime minister's office.
7. The Street Food Scene
Foodies and trendsetters alike will love the scene on Paper Island where the city's first street food market buzzes with excitement. Grab a deck chair by the water and dive into the serious eats and welcoming atmosphere created by the local chefs, artists and musicians who gather here at CPH Street Food.
8. Scandinavian Design
The Scandinavians are known for brilliant interiors and revolutionary design. Pop in the Danish Museum of Art & Design for a look at their greatest achievements.
9. Nyhavn
These vibrant row houses along the waterfront are the most Scandinavian-looking spot in Copenhagen, and perfect place to snap a colorful vacation photograph
Explore Beautiful Copenhagen with YMT Vacations
Copenhagen is just one of the stops on YMT Vacations' Russia & Baltic Sea Cruise and Tour. This 14-day land and sea itinerary takes you to Denmark, Germany, Estonia, Russia, Finland and Sweden.
To make your plans to join the tour, call your travel consultant or YMT Vacations at 1-888-756-9072.