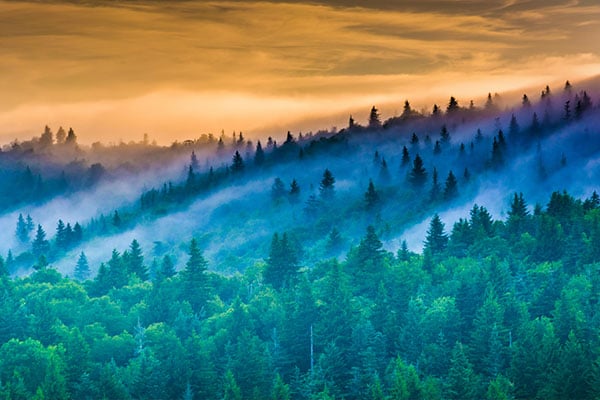 America's national parks are so precious that they are nationally protected and preserved as a birthright for all future generations. These natural wonders make us feel small—and we can't help but marvel at their extraordinary beauty. Popular parks receive over a million visitors annually. The 10 most visited parks welcome more than 3 million people each year.
Top 10 Most Visited National Parks in USA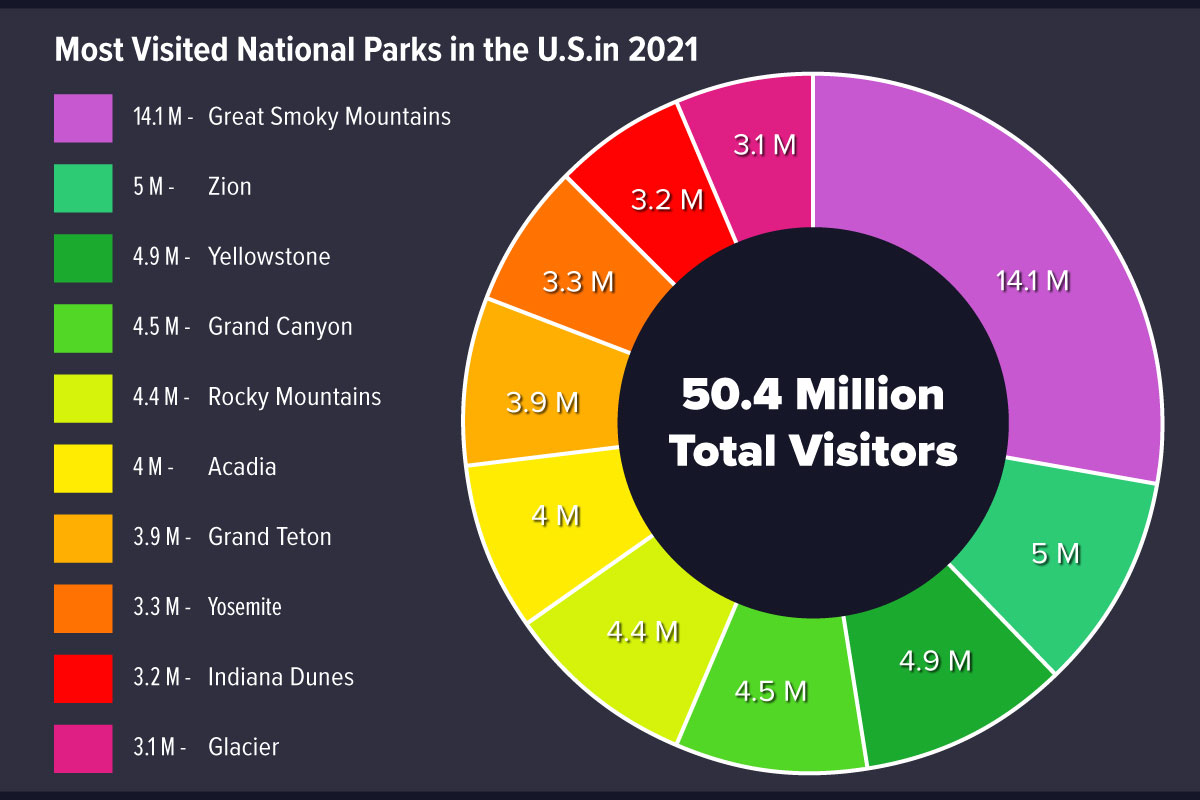 National parks are perennially popular vacation destinations for people around the world. Who doesn't want to look out at the Grand Canyon, or breathe in the clean air of Yosemite, or search for wildlife in Yellowstone? Here are 2021's 10 most visited national parks in the USA.
1. Great Smoky Mountains National Park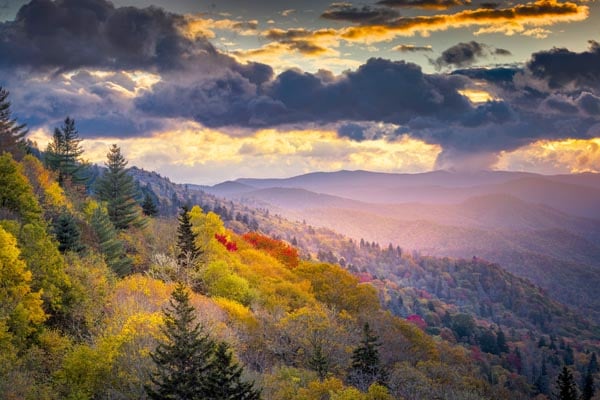 North Carolina and Tennessee
14.1 million visitors
The most visited park in the US is made up of endless forests covering the ancient ridges of the Smoky Mountains in North Carolina and Tennessee. The range is named for the dense fog that curls up each morning, past streams, rivers, waterfalls, and a tremendous variety of plant and animal life. The park also is the epicenter of Appalachian culture, which is preserved within the park's 80 historic buildings.


2. Zion National Park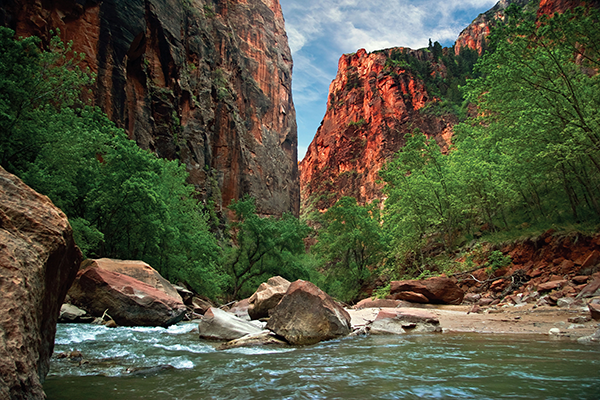 Utah
5 million visitors
A park abounding with color, Zion National Park's red rocks and steep cliffs set it apart as one of the most popular national parks. The crimson sandstone cliffs of Zion Canyon are cut through by the swift Virgin River. Forested paths pass waterfalls, deep pools, hanging gardens, natural rock arches, and narrow slot canyons. Incredibly clear air makes Zion irresistible to amateur astronomers.


3. Yellowstone National Park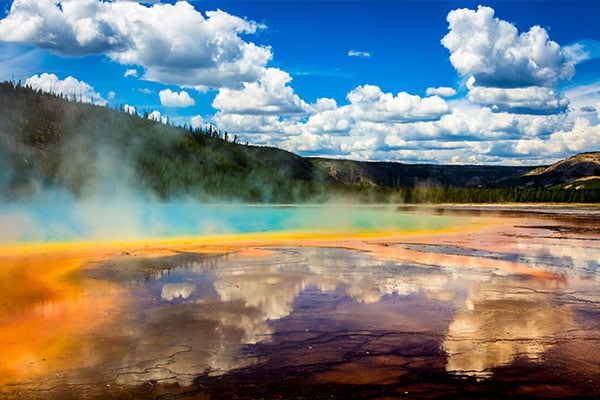 Wyoming, Montana, and Idaho
4.9 million visitors

Yellowstone sits atop a massive dormant volcano, which is the literal source of its most spectacular site, Old Faithful. The park contains half of the world's hydrothermal features, and has the highest concentration of hot springs, mud spots, and of course, geysers. The rest of Yellowstone is just as spectacular, with soaring canyons, alpine rivers, lush forests, waterfalls, and hundreds of animal species. You can see bears, wolves, elk, antelope, and one of America's largest bison herds.


4. Grand Canyon National Park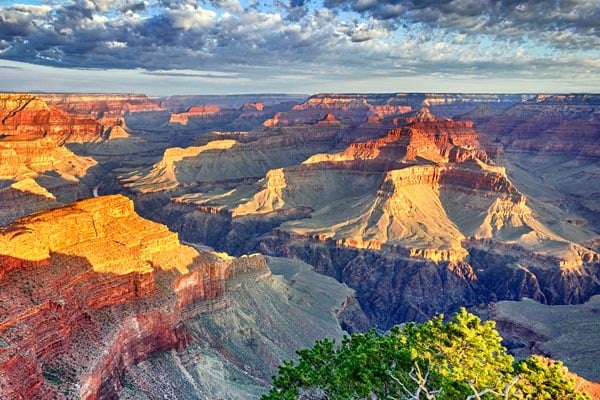 Arizona
4.5 million visitors
The immense Grand Canyon's layered bands of red rock stretch 18 miles wide and a mile deep. The massive canyon fluctuates widely in climate and temperature, which gives it a tremendous diversity in plant and animal life. The Park contains five of the seven life zones, as many as you'd encounter traveling from Mexico to Canada. Pine, spruce, and aspen forests grow at the top of the canyon. The Colorado River winds through the distant desert floor, which is often 20 degrees hotter than at higher elevations.


5. Rocky Mountain National Park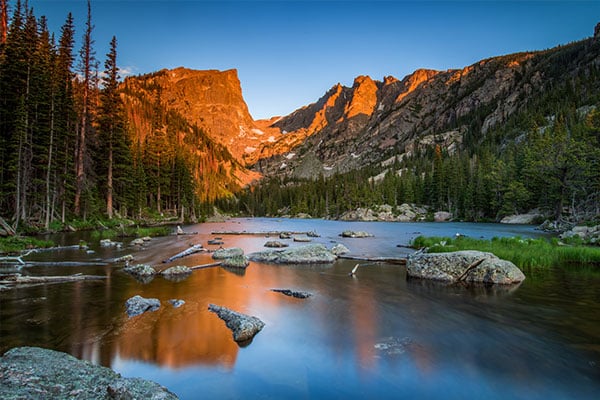 Colorado
4.4 million visitors
Rocky Mountain National Park has a spectacular range of mountain environments. The pristine Rocky Mountains are surrounded by alpine lakes, tundra, rivers, glorious forests, and countless wildflowers. Elevations start at 8,000 feet-high meadows, and go all the way up to 14,259 feet at the snowcapped Longs Peak.


6. Acadia National Park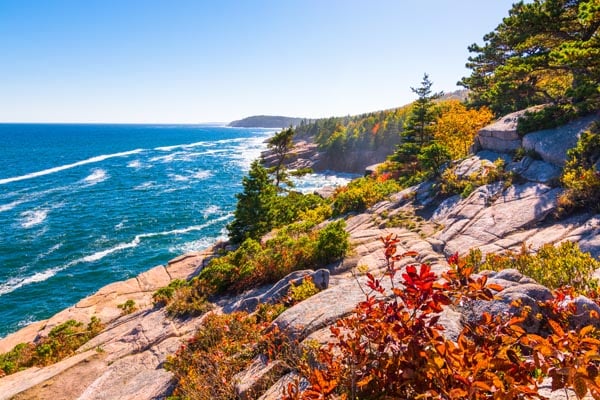 Maine
4 million visitors
Comprised of a cluster of islands and a mainland peninsula, Acadia National Park is the gem of northern New England. Its variety of landscapes include more than 24 granite-domed mountains, woodlands, lakes, ponds, and a rocky ocean shoreline. Overlooking it all is Cadillac Mountain, which at 1,530 feet is the highest point on the U.S. Atlantic coast.

7. Grand Teton National Park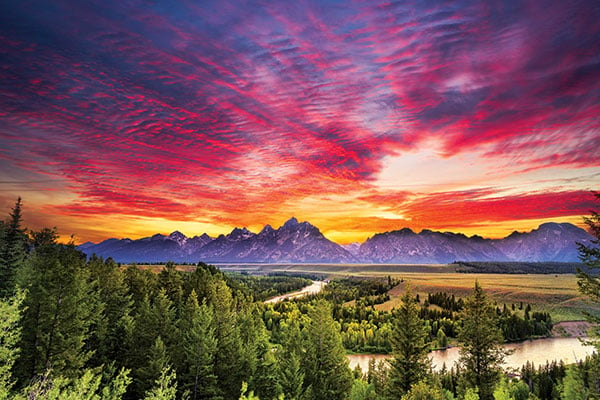 Wyoming
3.9 million visitors
The rich scenery of Grand Teton National Park is centered around the grey granite Teton Mountains, spreading out to the Snake River and the lush Jackson Hole valley. The national park's alpine terrain teems with extraordinary plants and wildlife. Deep lakes, the mighty Snake River, and dense forests blanket Grand Teton's mountainsides.


8. Yosemite National Park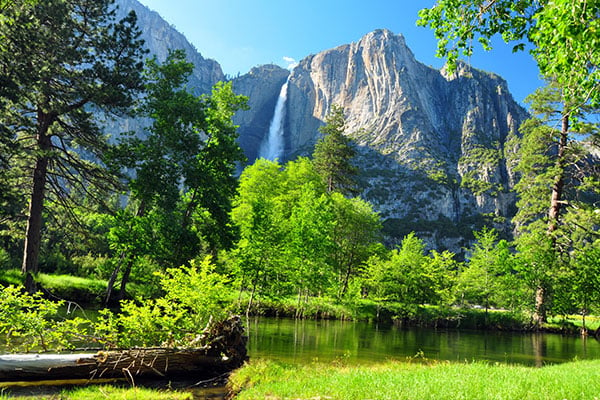 California
3.3 million visitors
Yosemite is the reason the national parks system was created. President Lincoln signed a grant to protect Yosemite Valley from any development in 1864, and the idea grew and spread from there. This stunning preserve in California's Sierra Nevada mountains is known for its towering sequoia trees, thunderous waterfalls, abundant wildlife, and the awe-inspiring granite cliffs of Half Dome and El Capitan.


9. Indiana Dunes National Park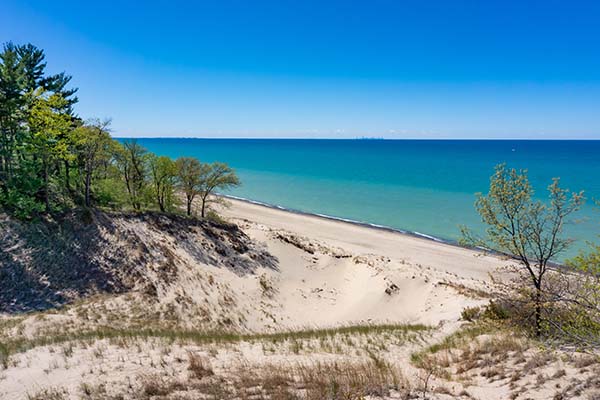 Indiana
3.2 million visitors
Indiana Dunes National Park along the shores of Lake Michigan offers a diverse and unique escape to visitors. It is named for its sand dunes, which include patches of mesmerizing "singing sand." The park also contains prairies, wetlands, forests, bogs, and a complex network of creeks. This midwestern park is also a mecca for birdwatchers, who flock to the site to see rare birds.


10. Glacier National Park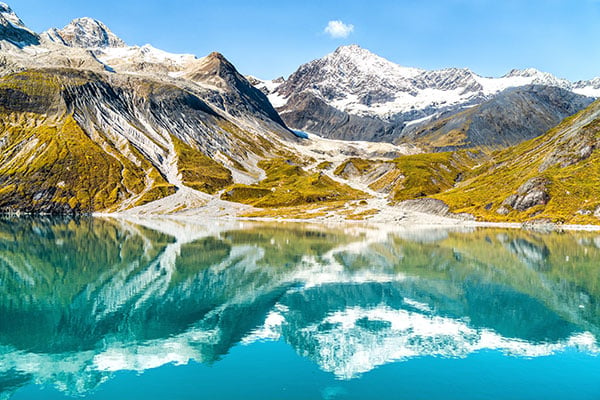 Montana
3.1 million visitors
Glacier National Park in Montana's Rocky Mountains extends well into Canada. Its glacier-carved geography varies wildly in elevation as well as ecosystems. Throughout the park, which ranges from prairie to tundra, are hundreds of lakes and waterfalls. Thick forests and six 10,000+ feet-tall mountain peaks dominate the skyline throughout Glacier. A huge population of wildlife calls the park home, including bears, lynx, mountain lions, mountain goats, otters, eagles, wolverines, dabbling ducks, elk, and pigmy shrews.
Visit America's National Parks with YMT Vacations
YMT's National Park Tours are some of our most popular because they offer the ultimate escape. You will experience natural beauty and an ageless sense of peace and quiet—and everyone could use more of that! Spend a few days in nature by joining us one of these tours. Call your travel consultant or YMT Vacations today at 1-888-756-9072.