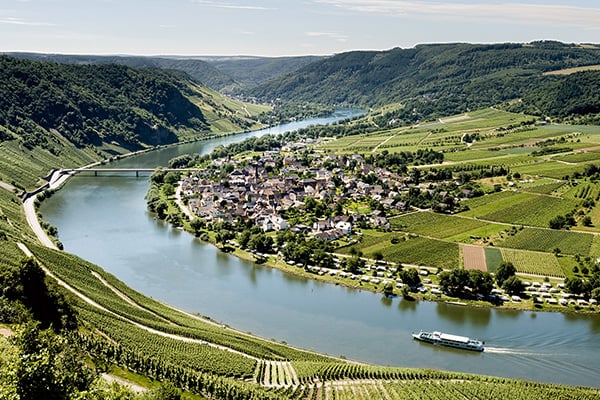 A river cruise is one of the best ways to see a lot of Europe's most stunning scenery on one easy and fun trip. Much like an ocean cruise, you get the benefit of living aboard a comfortable floating hotel. All your needs are taken care of on the water, and you get to enjoy port stops at the most iconic destinations along your route.
European river cruises enable you to get the most out of your time in Europe. They take travelers from great city to great city, past lush countryside, towering castles, ancient villages, and climbing vineyards. You will be able to see countless landmarks in style and comfort. River cruising is an exceptional way to travel.
Four of the best rivers to cruise in Europe are the Danube, the Rhone, the Rhine, and the Douro. Learn about these rivers, including what you can see as you cruise down them with YMT Vacations.



Danube River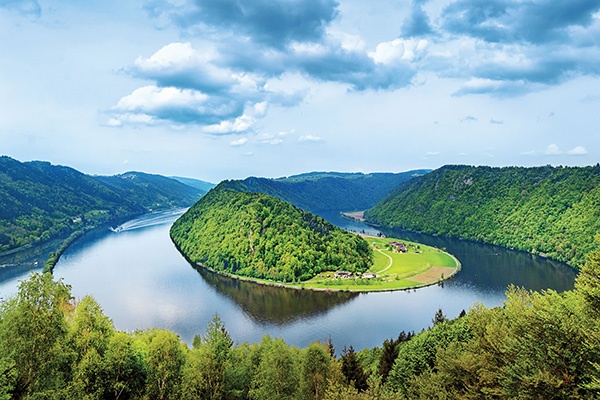 The second largest river in Europe, the Danube flows through huge swaths of Central and Southeastern Europe. The Danube originates in Germany and flows through ten countries en route to the Black Sea.
What to See on the Danube
There are countless landmarks and four capital cities on the Danube. Here are just a few of the highlights you can look forward to on a Danube River cruise:
Vienna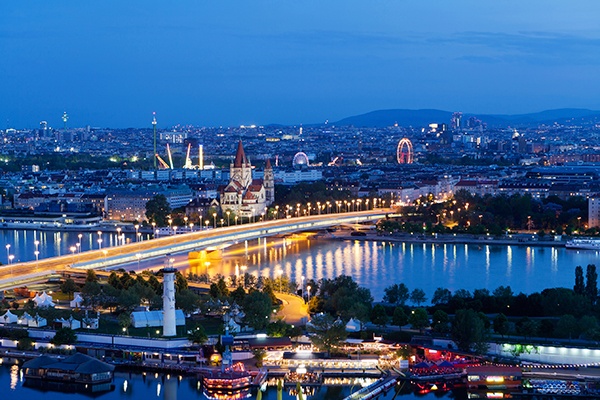 Vienna is one of history's greatest cities, whose impact on the world's music and culture cannot be overstated. Ample evidence remains of the role it played as the grand setting for classical performances by Mozart, Ludwig van Beethoven, and Johannes Brahms.
It is home to opulent palaces like the Hofburg and Schönbrunn. In addition, Vienna is full of museums: you can find institutions devoted to music, art, history, dance, the Habsburgs, and of course Sigmund Freud, the Vienna-based neurologist whose controversial theories on psychology became infamous.
Bratizlava
One of Slovakia's prime destinations is the beautiful riverside city of Bratislava. Explore the ancient palaces and stunningly colorful Old Town of this forest-ringed capital. Bordered by the Small Carpathia mountains and beautiful lowland vineyards, Bratislava is one of Europe's most appealing destinations, despite its under-the-radar reputation.
Budapest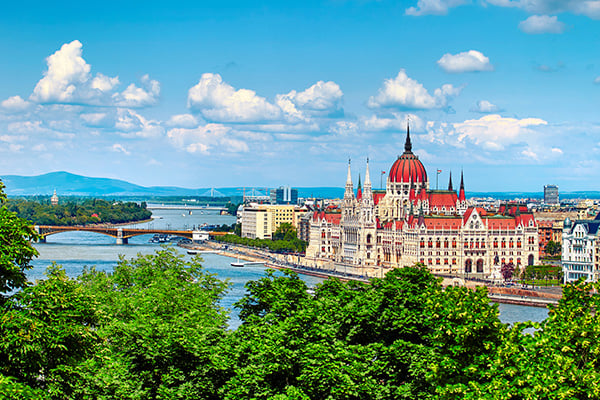 Budapest was once two distinct cities on opposite sides of the Danube—Buda, on one bank, was characterized by rolling hills and valleys; and Pest, on the other, with its flatter landscape, offered a panoramic view over the banks of the Danube. Everywhere you look, experience fascinating history, spectacular architecture, and fantastic natural beauty—not to mention delicious regional cuisine.
Rhone River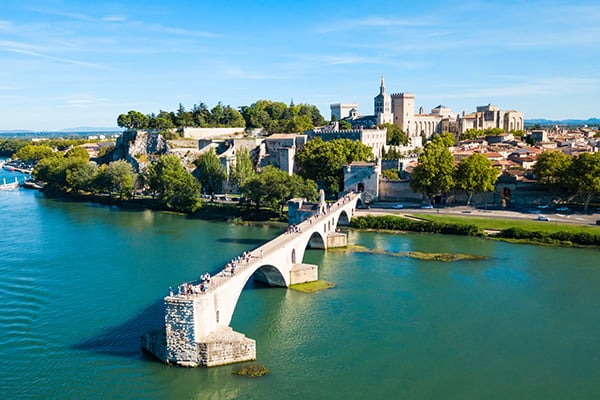 The Rhone cuts across Switzerland and France. Cold and clear, it travels from the Rhone Glacier in the Swiss Alps to the Mediterranean Sea. The Rhone was an important trade route for ancient Romans. The fast-flowing river was one of the keys to spreading their culture and engineering through Europe.
What to See on the Rhone River
If the French countryside appeals to your sense of romance, then a cruise through the Rhone river's cities, villages, and towns promises to be your dream trip.
Lyon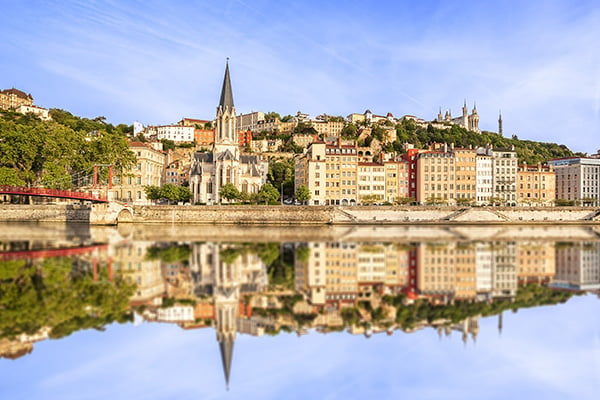 The old town Vieux Lyon is a UNESCO World Heritage Site that features Renaissance houses and the medieval Cathédrale Saint-Jean-Baptiste, which is noted for its ornate astronomical clock. Lyon is also known for its high-quality silk products and the Basilica of Notre- Dame de Fourvière, which sits above the city.
Arles
You'll be able to recognize Arles from some of the world's most famous paintings; Vincent van Gogh painted Arles in 187 of his works. Long before Van Gogh, the Romans had discovered Arles' beauty and made it their provincial capital, and the town still has several impressive Roman monuments. The earliest – the arena, the Roman theatre, and the cryptoporticus – date back to the 1st century B.C.
Rhine River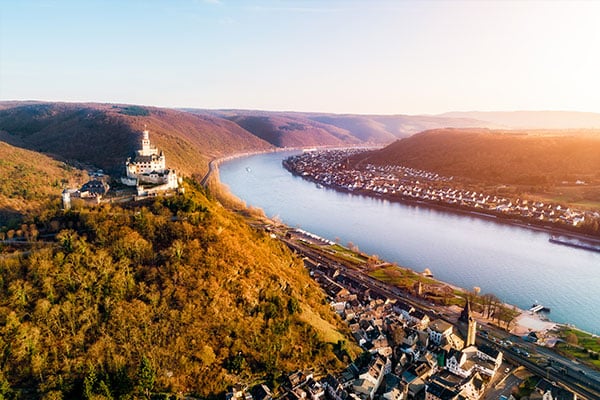 The Rhine is an 800-mile-long waterway that winds from the Swiss Alps to Amsterdam. It is rich with fairytale scenery, and peppered with major cities. Museum lovers, oenophiles, and virtually everyone else will find something to enjoy a Rhine River cruise along this route that separates France and Germany.
What to See on the Rhine River
Amsterdam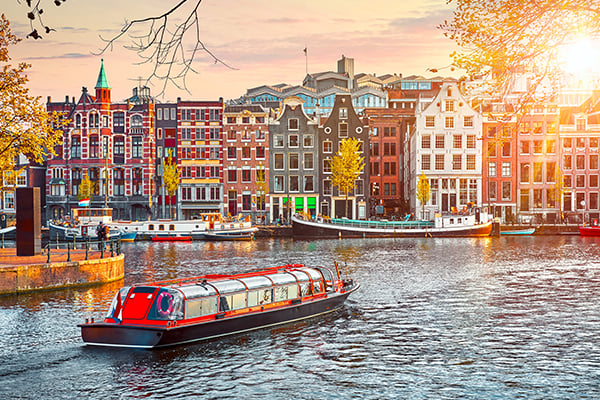 Discover the charm of the renowned Amsterdam canals, which provide an ideal vantage point to see the city's wonderful architecture. The capital of the Netherlands is widely considered one of Europe's most sophisticated cities, and the ultimate destination for art lovers. Visit museums devoted to Vincent van Gogh, modern street art, and contemporary art. Be sure not to miss one of the finest museums in the world, the 200-year-old Rijksmuseum. It is overflowing with spectacular pieces, including works from Dutch masters like Rembrandt, Johannes Vermeer, and of course, van Gogh.
Rüdesheim
Rüdesheim is famous for its Roman-era vineyards and breathtaking views of the Rhine. The Drosselgasse, the central area of Rüdesheim's lively Old Town. This petite street holds many of Rudesheim's most visited landmark. See the historic alleyway's charming shops and many beer and wine taverns. Make a point to look up at the chiming bells that punctuate daily life in Rüdesheim. The town has two massive carillon bells.
Cologne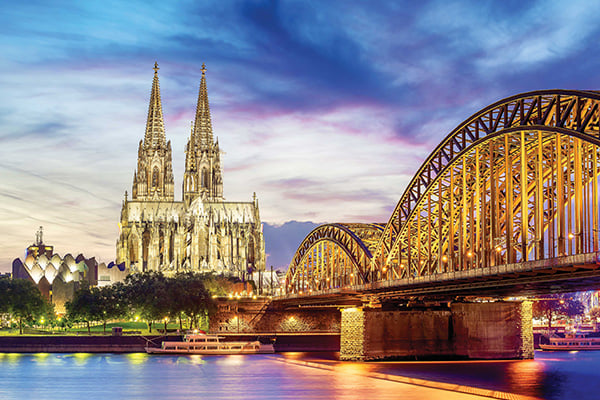 Virtually all of Cologne's buildings were built after WWII, and today's landscape is characterized by simple and modest post-war buildings. There are just a few pre-war buildings that were either rebuilt or were miraculously untouched during Allied air raids. Don't miss the spectacularly spired Cathedral Church of Saint Peter, a UNESCO World Heritage Site and Germany's most visited landmark. In addition, we recommend partaking in Kölsch, Cologne's official beer. "Zum wohl" means "to your health," and is a traditional toast.
Douro RIver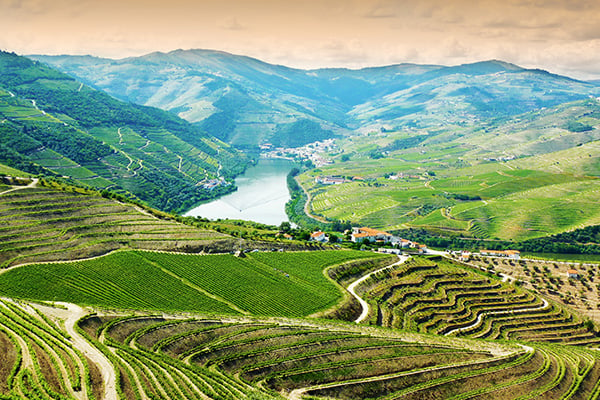 The 557-mile Douro River flows across Portugal and Spain. The name of the river is derived from the Portuguese word for "golden," and the title couldn't be more fitting. Douro River cruises flow through gold-colored countryside, past medieval villages, and the verdant vineyards in which Port wine is grown.
What to See on the Douro River
Porto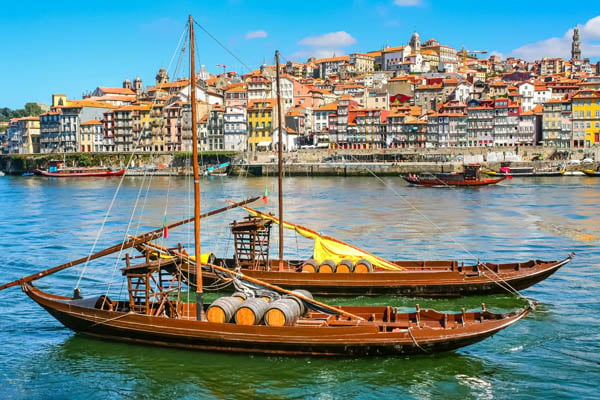 Porto was first settled around 300 BC, and since then has been captured by the Romans, the Moors, and even Napoleon. Its historic center, a sprawling UNESCO World Heritage Site, retains much of its ancient history.
Intrepid foodies can try Tripas à Moda do Porto, the town's signature dish. The recipe dates back to the 15th century, and you can still order a steaming plate overflowing with cow's foot, pig's ear, white beans, and plenty of freshly boiled tripe. Less adventurous eaters will find just as much joy in Porto's excellent cuisine, especially when they wash it down with a glass of Port wine—named after the town itself and a beloved local specialty.
Bitetos
Bitetos is a tiny village teeming with Roman-era ruins. The must-see attraction for visitors is the Benedectine Monastery of Alpendura. Rarely open to the public for tours, the easiest way into the 13th century monastery is with a lunch or dinner reservation—it doubles as one of the village's top restaurants!
Vega de Terron
Vega de Terrón is a classically Spanish community with quiet streets, friendly people, and delicious food. Visitors love its proximity to Salamanca, a popular 12th century tourist destination known for having intricate sandstone architecture, and for its UNESCO-recognized Old City.
Take a European River Cruise with YMT Vacations
If these European river cruise destinations are on your bucket list, now is the perfect time to book your river cruise with YMT Vacations. Our fully guided tours combine great value with amazing experiences. We offer amazing river cruises down the Rhine, Rhone, Danube, and Douro. To book, contact your travel professional or call YMT Vacations at 1-888-756-9072.