---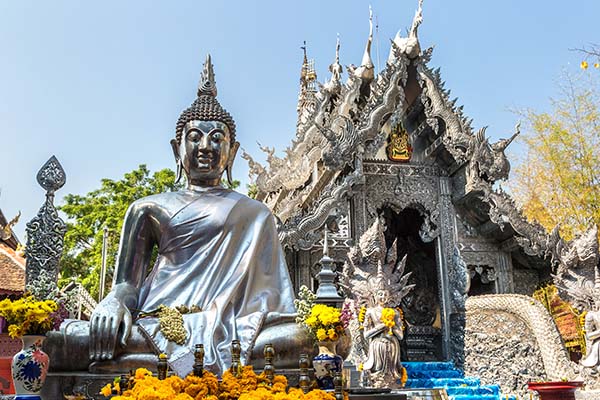 Thailand's temples, or wats, are among its most popular tourist attractions. There are over 30,000 Buddhist and Hindu wats found across this Southeast Asian country. They are sacred places that many people visit every day to pray, meditate, and seek counsel from monks.
Thailand's wats are colorful, ornately decorated complexes that are as beautiful as they are sacred. With multi-layered roofs, bell-shaped stupa towers, holy relics, and elaborate ornamentation, they are some of the most impressive religious structures in the world.
With so many options, how do you choose which Thailand temples to visit? Easy. You start with this list.
Top 12 Thailand Temples
Each of these temples offers something special and memorable to visitors. If you're worried that one temple is the same as another, these 12 stand outs will show you how much variety you can find in Thai temple art and architecture.
Please note that most temples have a dress code. Men and women alike must cover their shoulders and wear full length pants, skirts, or dresses
1. Temple of the Reclining Buddha (Wat Pho), Bangkok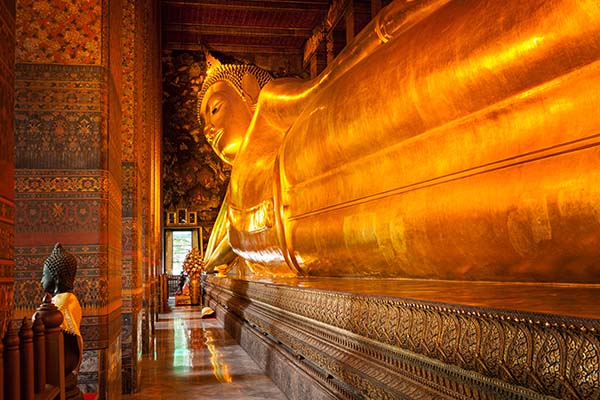 This stunning complex next door to the Grand Palace houses the breathtaking Reclining Buddha. The gold-plated sculpture measures 150 feet long and is a colossal representation of Buddha at the moment he enters into Nirvana. Wat Pho is also the home to 394 Buddhas, the most of any Thailand Buddha temple.
Hours: 8:30 AM–6:30 PM
Admission: ฿200
Don't Miss: Indulge in a massage from one of the students of the Reclining Buddha Thailand school of Thai medicine. Traditional Thai massage was first developed at Wat Pho, where it is still taught and practiced.
2. Emerald Temple (Wat Phra Kaew), Bangkok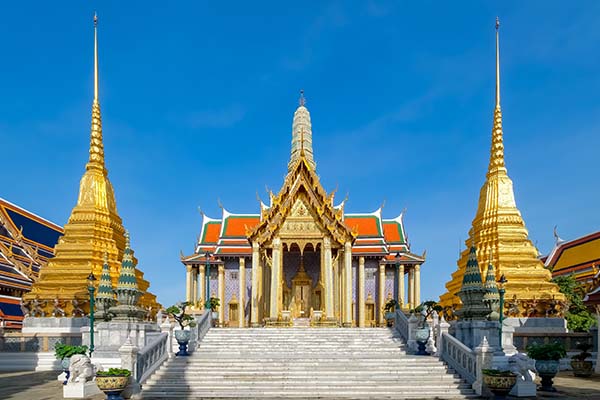 Bangkok's most popular tourist attraction is also one of Buddhism's holiest sites. The Wat Phra Kaew temple complex was built in 1782 to provide a fittingly grand home for the Emerald Buddha. The 26-inch-tall statue carved from green jasper was known to perform miracles and provide divine protection. Whoever possessed the statue was considered the legitimate ruler of 18th century Thailand, which is why despite its size, it has been so revered. Even today, the king, the designated protector of Thailand's Buddhist faith, is the only person permitted to touch the Emerald Buddha.
Hours: 8:30 AM–3:30 PM
Admission: ฿500
3. Temple of Dawn (Wat Arun), Bangkok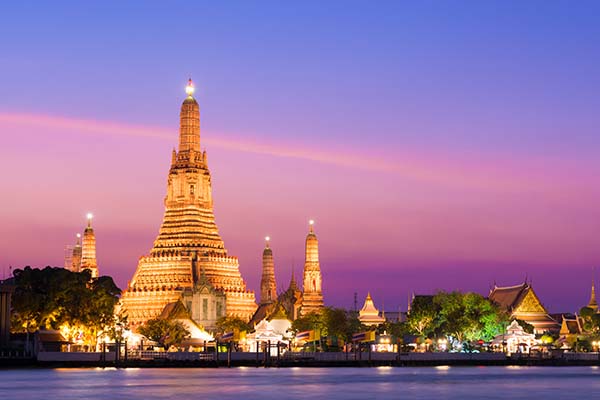 Rising high above the Chao Phraya River, the Temple of Dawn looks like a Thai version of the Eiffel Tower. Wat Arun's iconic central spire is a defining feature of Bangkok's skyline, standing 270 feet above the city. The Hindu temple is covered in a mosaic of seashells and Chinese porcelain, which light up like pearls at sunset and sunrise.
Hours: 8:00 AM–6:30 PM
Admission: ฿50
4. Temple of the Golden Mount (Wat Saket), Bangkok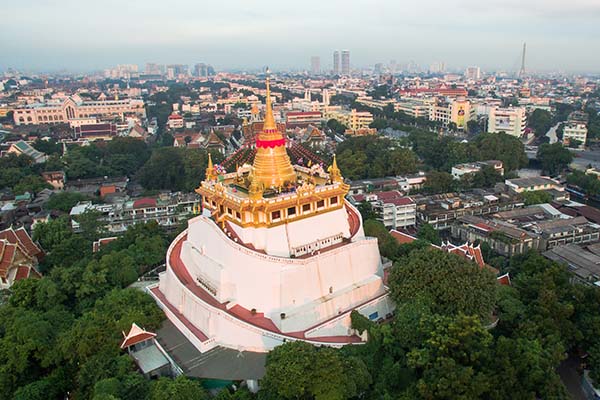 Wat Saket is a sacred pilgrimage site standing tall over the city of Bangkok. It is built on a 240-foot-tall manmade hill that King Rama III commissioned during his 19th century reign. Wat Saket is crowned by a golden chedi, which pilgrims reach after taking a grueling walk up 300 steps that wind around the immense central structure. At the top, you'll find numerous historic relics, a garden with mature trees, and a spectacular view of Old Town Bangkok.
Hours: 8:00 AM–5:00 PM
Admission: ฿50
5. Blue Temple (Wat Rong Suea Ten), Chiang Rai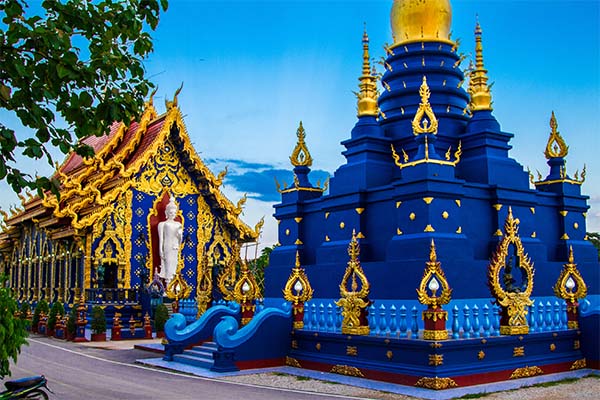 The newest temple in Chiang Rai isn't really a temple. It is a nondenominational devotional center—a sacred quiet space for prayer, yoga, meditation, or to catch up on your reading—painted in a highly symbolic and utterly brilliant shade of sapphire. Built between 2005–2011, Wat Rong Suea Ten's statues, walls, columns, roof, and even its floor are bathed in a color that represents wisdom, purity, and anti-materialism. Still, despite its symbolic gravitas, it's not technically a place of worship. So, feel free to snap a selfie against the fantastically interesting background.
Hours: 7:00 AM–8:00 PM
Admission: Free
6. White Temple (Wat Rong Khun), Chiang Rai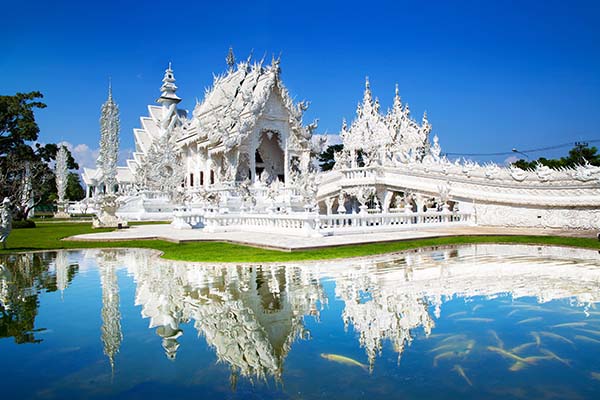 The elegant Wat Rong Khun is built to look like a lavish Buddhist temple, but this privately owned art museum is a calmingly spiritual, but not necessarily religious escape. The goal of the site is to provide a beautiful respite—which the White Temple Thailand does in spectacular fashion. The almost blindingly white building is covered with glass and mirrors that make it shine and sparkle in the sun. Under the moonlight, its striking design makes for a hauntingly beautiful beacon in the dark. The many ivory buildings and gorgeously landscaped 6-acre grounds contain a wide collection of peculiar sculptures and murals—this is an art museum, after all. An ornately decorated gold building next to the main temple houses the loveliest bathroom in Thailand.
Hours: 8:00 AM–5:00 PM
Admission: ฿50
7. Black Temple (Baan Dam Museum), Chiang Rai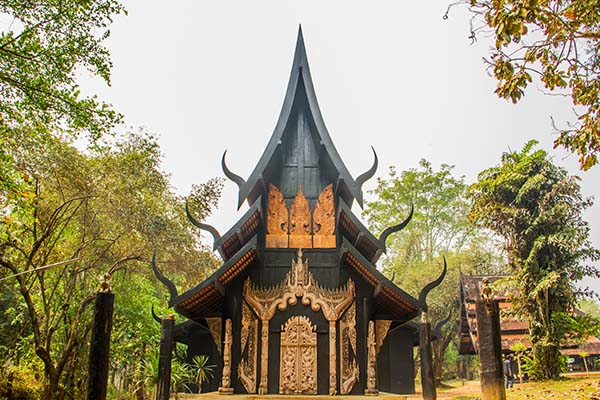 The Black Temple is a macabre art museum/studio/installation that combines elegant Thai architecture with the irreverent art of Thawan Duchanee. Also known as the Baan Dam Museum, the complex of 40 buildings is spread around a large, lovely garden. The traditional buildings are painted in flat black and stuffed with surreal artwork consisting of massive taxidermy displays and unusual statues.
Hours: 8:00 AM–5:00 PM
Admission: ฿80
8. Wat Phra That Doi Suthep, Chiang Mai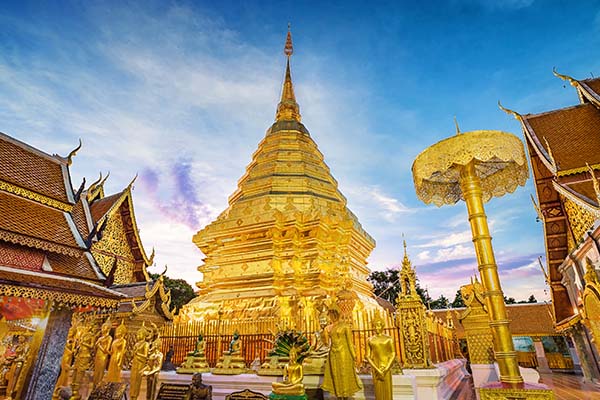 You'll feel on top of the world at Wat Phra That Doi Suthep, a gorgeous and highly sacred temple overlooking Chiang Mai. At the top of a mountain, up a 306-steps staircase, the 14th century northern Thai-style temple is topped by an immense golden cheti that holds numerous statues and holy relics. The grounds are simple yet beautiful and offer some of the best views of the city.
Hours: 5:00 AM–5:00 PM
Admission: ฿30
9. Silver Temple (Wat Sri Suphan), Chiang Mai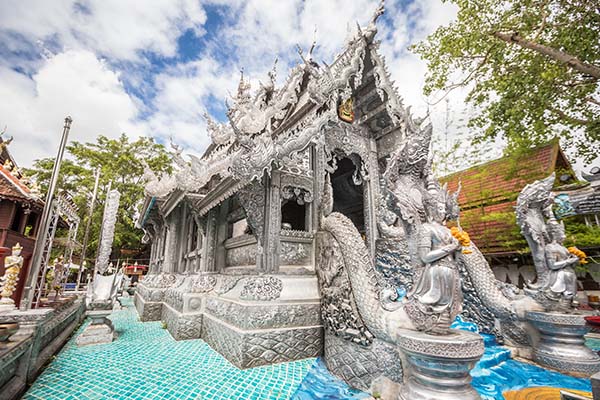 This 16th century complex is a largely unremarkable temple in a region with so many. What sets Wat Sri Suphan apart is its central shrine covered in blindingly bright silver. The surrounding community has a long tradition of silversmithing, and local craftspeople were commissioned to cover the ordination hall with intricately embossed silver panels. Detailed carvings cover the walls, floors, and ceilings. You'll see silver statues and gorgeous architectural elements both inside and outside this main prayer hall. The only problem is that the silver shrine has a strict no girls allowed policy. The rest of the complex is open to all, but because the monks here maintain a very traditional Buddhist lifestyle, the sacred ordination hall is off limits to women.
Hours: 6:00 AM–5:30 PM
Admission: ฿50
Don't Miss: Monk chats are held each Tuesday, Thursday, and Friday evening. These friendly ascetics welcome questions!
10. Wat Chaiwatthanaram, Ayutthaya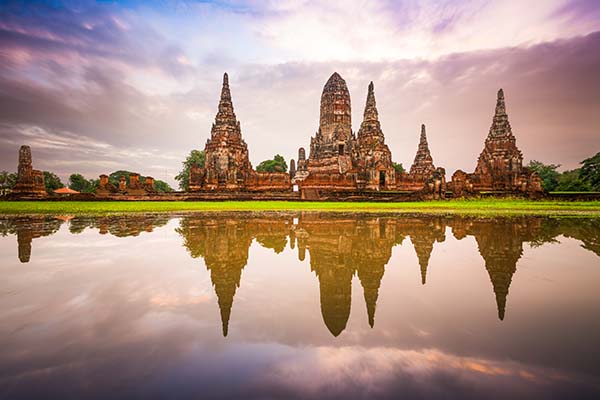 The 17th century Wat Chaiwatthanaram is found just outside of Ayutthaya Historical Park and is a hugely popular site for visitors to central Thailand. Designed in the Khmer style, Chaiwatthanaram was built as a royal temple that showed off the strength of the Ayutthaya Kingdom. It was heavily damaged by the Burmese army in 1767, but despite the ravages of time and war, its 100-foot-tall central prang and surrounding structures remain a testament to ancient Siam's artistic and engineering abilities.
Hours: 8:00 AM–5:00 PM
Admission: ฿50
11. Sanctuary of Truth, Pattaya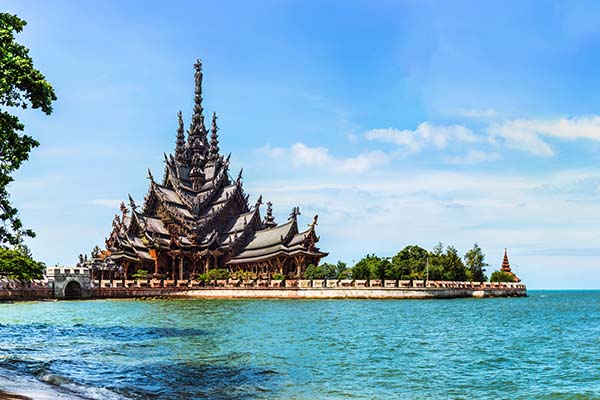 The wooden Sanctuary of Truth is a carved teak museum that fuses the aesthetics of traditional temples, castles, and Ayutthaya-style architecture. The all-wood complex spills out onto a sandy beach overlooking the Gulf of Thailand. The water laps just feet from the sanctuary, providing a gorgeous view and relentless weather damage. The tallest structure is a massive wooden spire that stands more than 300-feet above the waves. Visitors are provided hard hats (it's a permanent construction zone), but protection against splinters is up to you
Hours: 8:00 AM–6:00 PM
Admission: ฿500 for entrance and hourlong guided tour
12. Temple of a Million Bottles (Wat Pa Maha Chedi Kaew), Sisaket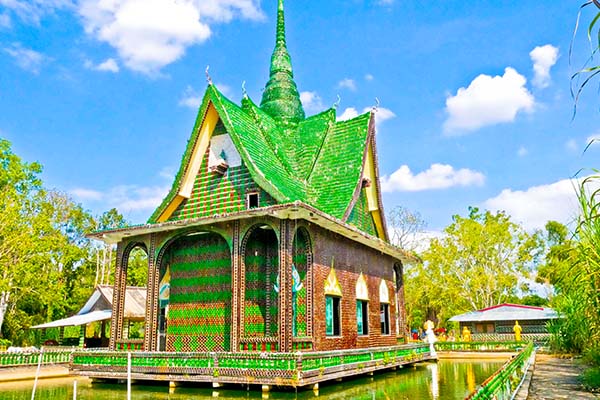 Arguably Thailand's quirkiest wat, the Temple of a Million Bottles is the result of the world's most productive game of 99 Bottles of Beer on the Wall. In 1984, Buddhist monks challenged themselves to do something useful with the countless discarded beer bottles they picked up on their walks through the quiet countryside. Using concrete and a million and a half donated glass bottles, the monks have so far built 20 buildings across their ever-expanding Wat Pa Maha Chedi Kaew complex.
Hours: 8:00 AM–5:00 PM
Visit thailand with YMT Vacations
If these incredible temples, museums, and exhibits are intriguing, you'll have a chance to see many of them in person with YMT Vacations. Our guided tours take the guesswork out of international travel, allowing you to focus on the incredible, essential sights and experiences that make up our tours. To join us on our Jewels of Thailand tour, call your travel professional or YMT Vacations today at 1-888-756-9072.
---