---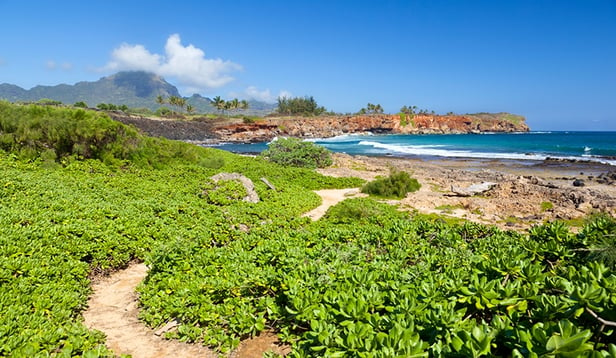 Kauai is known for hiking. In fact, some of the world's most picturesque trails snake their way across this Hawaiian island. From coastal treks to mountain peaks, through rain forests and valley trails that make their way to majestic waterfalls, Kauai has something for everyone. With trails for all levels, the island offers many tempting day outings. However, if you're thinking of hiking Kauai as a beginner, there are a few tips you'll need to keep in mind to make the most of your time and ensure your safety:
---
Start Easy -- While there are certainly plenty of rugged and challenging options, beginners should stick to easy trails until they are certain they are in shape for the terrain. Begin by asking the concierge at your hotel for suggestions and directions. The Mahaulepu Heritage Trail is an easy hike along a picturesque stretch of shoreline. Four miles round trip, it begins near Poipu's Grand Hyatt Kauai Resort and makes its way to Kawailoa Bay.
Wear Proper Foot Gear -- Make sure to bring along sturdy hiking boots and proper socks for your trek.
Hydrate -- You'll need more water than you think, especially at higher altitudes and under the Hawaiian sun. Most half-day hikes require 2-3 liters.
Munchies Are A Must -- Be sure to pack snacks to munch on mid-hike. It will help you refuel and curb the hunger you're sure to feel after a satisfying day on the trails.
Bring a Phone -- Make sure to bring along your cell phone to use the GPS feature and to call home in case you get injured or lost.
Lather Up -- Sunscreen is vital in Hawaii. Make sure to apply before you begin and reapply every few hours. A good sunhat and sunglasses are also helpful.
Poles are Useful -- Trekking poles can be used to test the ground, splint an injured leg, or help steady you on uneven terrain.
Weather Watch -- Always avoid bad weather conditions. Rain can make the trails slippery and dangerous, clouds hamper visibility, and bad weather will make the views nonexistence once you summit the top.
Phone a Friend -- Always tell a friend, family member, or your tour guide where you will be hiking and alert them when you've returned.
Stick to Designated Trails -- The safest way to hike is on marked, sanctioned trails.
Watch the Time -- Since Hawaii is so close to the Equator, it gets dark quickly -- giving you very little time before night descends. Plan your hikes so you can return before 6 p.m in the winter and 7 p.m. during the summer months.
Lock Up -- Make sure to lock your car and keep valuables out of sight at the trailheads in order to avoid theft.
---
You can capture the beauty of Hawaii and its legendary landscape on YMT Vacations' Best of Hawaii Four Island Tour. This 13-day trip takes you from Waikiki Beach to the mystical Fern Grotto, the Black Sand Beach to Hawaii's Volcanoes National Park. See Thurston's Lava Tube and the USS Arizona Memorial at Pearl Harbor. To join this journey, call your travel agent or YMT Vacations at 1-888-756-9072.
---