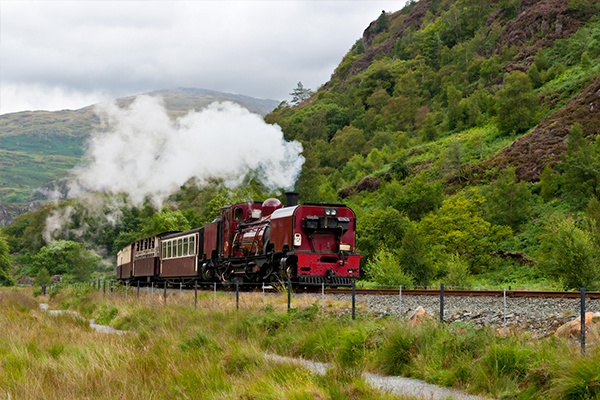 The Ffestiniog Railroad is the oldest surviving railroad company in the world, employing a vintage steam engine in operation since 1832. Located in Gwynedd, Wales inside the Snowdonia National Park, this narrow-gauge heritage railway was created to run slate from the small mining town of Blaenau Ffestiniog to the Welsh coast to be loaded onto ships for export.
For years the rail flourished, until the slate industry fell into decline and it was forced to close in 1946. Fortunately, a group of railroad enthusiasts got together to save the line and restore the faithful old engine to working order. It was able to re-open as a tourist attraction, offering passengers an unforgettable journey through the incredible scenery of the national park.
Today, you can ride the rails through the stunning forests and mountainous scenery. The 13.5 mile journey runs along an embankment locals call the Cob, where it offers spectacular views, skirting past Harlech Castle and transporting you back to a more magical time.
A bucket list experience for any rail lover, the Ffestiniog Railway can be enjoyed on YMT Vacations' Essential Britain tour. This 10-day journey features city tours of London, Bath and Edinburgh. You'll see Stonehenge and Westminster Abbey, the Tower of London, and Edinburgh Castle, just to name a few. For information on how to join, call your travel agent or YMT Vacations at 1-888-756-9072.