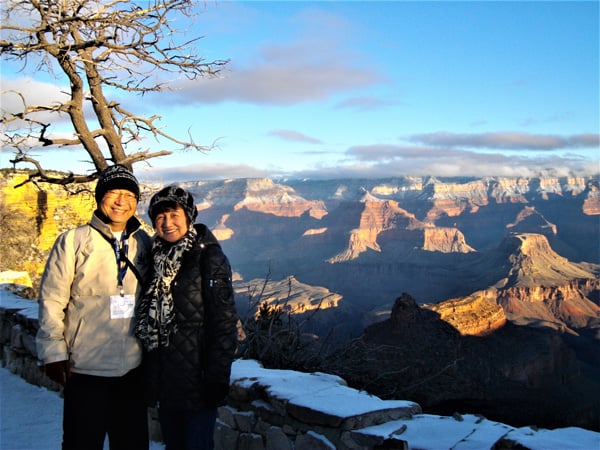 Romeo and Lunesa Fernandez have spent the last 25 years—half of their joyful marriage—seeing the world. One of their favorite ways to travel is on guided tours with YMT Vacations, which they have done six times since 2005. They appreciate the ease we provide—how well the tours are organized, and that everything is arranged by the time they arrive—and they plan on taking more trips, as many as possible, while they're both still healthy. As Romeo says, "To us, traveling is the best form of education a person might have in his or her lifetime," and these constant learners don't plan on retiring from life at sea and the road anytime soon.
They have spent most of their lives in Canada after both immigrating from the Phillippines. Lunesa—named after lunes, the Spanish word for Monday, the day she was born—worked as a chemist for the National Reference Laboratory of the Canadian Red Cross before staying at home after their two sons were born. Romeo worked for many decades for Ontario Public Service—which provides government services to Canada's largest province—before taking early retirement in the 1990s, while Lunesa returned to work as a volunteer for the local hospital 15 years ago.
After their youngest son moved out for college, Lunesa and Romeo tried YMT Vacations for the first time in 2005. They'd never been to Hawaii before, and were interested in our 4-island itinerary. They decided that if they were going to go all the way to Hawaii, they might as well make the most of it and see a few of the most popular islands. After reading reviews about YMT's tour, they decided to travel with us.

Unsurprisingly, they loved the experience. The scenery was as beautiful as they had hoped, and they really enjoyed the value they got from YMT. From the inclusions to the lodging, they felt that the benefit of YMT's many years of close relationships with local vendors was passed along to them. They also loved the feeling of not having to worry about planning and logistics. They went to Hawaii to relax, and enjoy some romantic time together. According to Romeo, "just walking on the beach is quality time for us," and their adventure in paradise more than delivered.
Since then, Lunesa and Romeo have taken several more cruise and land tours with YMT. Between 2015 and 2017, they enjoyed our Rocky Mountains and Western Frontiers, Grand European Cruise, Grand Americas Cruise & Land Tour, and Rose Parade, Grand Canyon Sunrise & Red Rocks Tour, where Lunesa got to shop in Las Vegas and Romeo had a memorable excursion to Zion National Park. They even spoke to YMT back in 2017 about their best travel tips for senior travelers! Their most recent tour was the Heart of Texas & New Orleans tour.
They chose this trip because, as a pair of lifelong American history buffs, they were very eager to visit this part of the South. Their leader was Mary Reed, an experienced tour guide whose insight and wealth of knowledge really enhanced their vacation. They explained, "Everyone enjoyed the tour because of Mary's leadership and patience." In addition, she knew the region well enough to both speak about the destinations that their group of 48 was visiting, and to point out some of the more unusual, hidden points of interest that they would otherwise have missed on the way.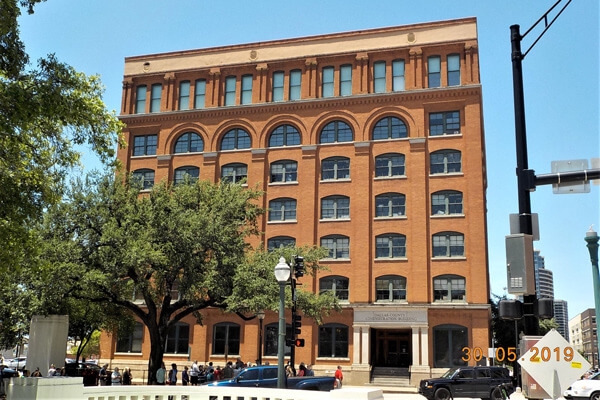 For Lunesa and Romeo, the trip was packed with highlights. Lunesa loved how Mary played the group videos en route to their destinations, which made everyone feel prepared for the day's stops. Lunesa also really enjoyed the Sixth Floor Museum at Dealey Plaza in Dallas. Learning about President Kennedy's assassination—news she vividly remembers hearing when she was still in college in the Philippines—was powerful, especially in the precise place the assassination allegedly took place.
Romeo really enjoyed the Alamo and Space Center Houston, but his favorite stop of the trip was the Oak Alley Plantation in Vacherie, Louisiana. An elegant compound on the banks of the Mississippi, Romeo found the antebellum architecture and sprawling grounds beautiful, and the history—especially the Civil War tent—disturbing and fascinating.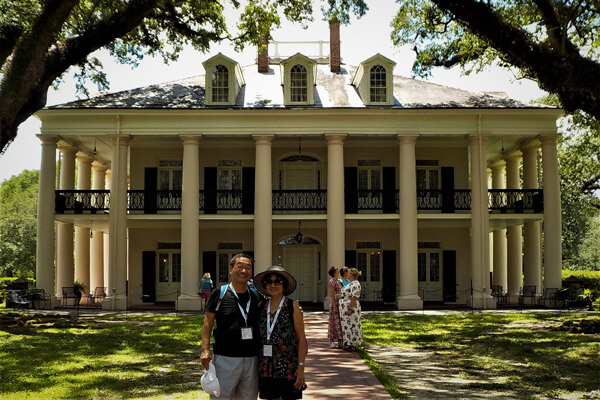 Lunesa and Romeo both loved New Orleans—particularly their hotel, which was right in the middle of the city's bustling French Quarter. They could walk to the world-famous Canal Street, and enjoyed seeing the city's colonial home and cemeteries while they strolled.
They're looking forward to traveling again with us, but it won't be for a while. They are celebrating both their 50th wedding anniversary and the birth of a grandchild in 2019, so they're needed at home in Toronto. But after that? It's a great big world out there, and this active couple plans to see as much of it as they can!