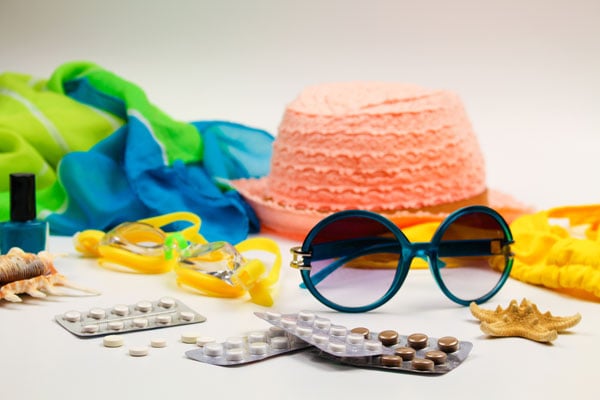 If you're planning a trip abroad and you take prescription medication, don't just toss your bottles into your bags. You'll want to ensure you know the rules about traveling and flying with medication and do some pre-planning. Read below to find out what you need to know before you hit the road.
Tips for Traveling with Prescriptions
To save yourself from having to deal with stressful or unexpected issues related to your medication, follow these tips for packing and traveling with prescription medication.
Store Medicine at the Right Temperature
Some medication, such as insulin, requires refrigeration. If your medicine can't be stored at room temperature, look into getting a medical travel cooler and ice packs.
Be Strategic About Which Medications You Bring
If you take a combination of prescription medications and over-the-counter medicine, always prioritize any medications that are absolutely essential for your health and functioning. If you need to leave something at home, leave over-the-counter ones, such as Tylenol, that you'll be able to easily obtain at your travel destination.
Always Pack Medicine in Your Carry-On
It's best to keep medications in your carry-on bags. This way, if your checked baggage gets lost, you will still have your prescription medications with you. Also, some aircraft cargo holds are not temperature-controlled and can negatively affect medications that are sensitive to temperature.
Take Extra Medication with You
For long trips, it's a good idea to bring twice the amount of medicine you need. In this case, it's ok to pack your extra supply in your checked in luggage (unless temperature will be an issue). Separating the bottles between your carry-on and your personal items will be helpful in case there are any troubles, such as changes or delays in flights that result in an unplanned longer stay.
Create a Schedule for Your Medication
If your medications need to be taken at specific times of the day, create a medical itinerary that matches up with your daily travel itinerary. This is especially helpful in staying organized and on top of your medication needs when in another time zone.
Tip: Do you have medication that needs to be taken with food? Keep easily transportable, non-perishable snacks, such as granola bars, on you at all times.
Rules for Taking Prescription Drugs on Airplanes
Can you take medicine on a plane? The short answer is, yes. You'll want to keep medication in its original packaging, including the label, and carry your prescription(s). Familiarize yourself with the following rules for taking medicine on airplanes so you can relax when checking in at the airport.
Storing Medication that Needs to be Refrigerated
If you have medication that needs to be refrigerated, like insulin, TSA regulations allow gel-cooling packs if they are frozen at the time they are presented to security for domestic travel. For international travel, you'll want to check the regulations in place for the country you're traveling to.
Traveling with Liquid Medications
Any liquid medication, whether prescription or over-the-counter, are not subject to the TSA's three-ounce limits. However, you will be required to make security officers aware of any medication you're carrying that is over the limit and present it for inspection.
Traveling with Items that Accompany Your Medication
If your medication requires additional items, such as syringes or IV bags, you will need to make security aware of them before the screening process starts. Note that these items will be X-rayed, unless you request a manual inspection.
Traveling Internationally with Medication

When traveling to Europe with medications, or any other international destination, you'll want to research the country's specific rules for traveling with medication, as each country has its own guidelines about which medicines are legal. Medicines that are commonly prescribed or available over the counter in the United States could be considered unlicensed or controlled substances in other countries.

In addition to researching the rules in place at your destination, you can follow the tips earlier in this article, as well as the following additional ones:
Ensure your medication is in the original bottle and is clearly labeled with your full passport name, doctor's name, generic and brand name, and exact dosage.
Bring copies of all prescriptions for medicines, including the brand and generic names, to show customs officers and other officials, if necessary.
Leave a copy of your prescriptions at home with a friend or relative in case you lose your copy or need an emergency refill.
For controlled substances and injectable medicines, pack a note on letterhead stationery from the prescribing doctor. If applicable, try to have it translated into the language understood at your destination.
Before traveling abroad, you'll also want to check your current health insurance coverage to find out whether or not you are covered while traveling abroad for any overseas treatments or emergencies. Travel insurance can provide coverage for medical expenses incurred during your trip and emergency transportation. Travel insurance can also cover costs for last minute trip cancellations if you fall ill before departure.
Travel Abroad with Ease
YMT Vacations offers a wide array of fully guided tour vacations, with domestic and international packages (including our wildly popular European vacations). To join us or get more information about any of our vacation packages, call your travel consultant or YMT Vacations at 1-888-756-9072.