---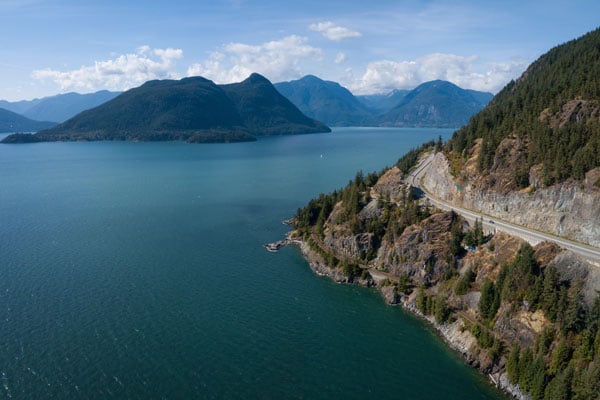 Climbing up from Horseshoe Bay through the rainforests and coastal mountains of British Columbia is one of the Canada's most breathtaking drives, the Sea to Sky Highway. Rich with wildlife and jaw-dropping views, Highway 99 follows an ancient trade route used by aboriginal coastal tribes and inland people groups. And while the name implies a journey of ascent, there's no accounting for the views as you make your way down from the mountaintop village of Whistler. With the sea spread out before you, the descent toward Vancouver affords you spectacular glimpses of the coast blanketed out below you.
Whichever direction you travel, the Sea to Sky Highway is surely the road trip of a lifetime. No longer the precarious two-lanes that squeezed around blind corners and hugged sheer cliffs, it is now an easy, accessible scenic drive thanks to millions of dollars in improvements for the 2010 Olympics. However, despite the face-lift and the area's popularity, the villages, recreational sites, and pull-offs still retain a bit of the nostalgic charm of their past.
Beyond the natural landscapes and outdoor thrills that pepper the route, there is an abundance of wildlife to enjoy. Keep your eyes peeled for the deer, bear, and eagles that nestle in the towering trees and feed on the wildflowers that carpet the forests. You can also pull over for one of the many hikes, a tour of a quaint mountain town or even to watch adventurous climbers scaling the intimidating rock faces that surround the sites.
Be sure to look for the interpretive kiosks that line the roadway. Housed in buildings with distinctive roofs shaped like traditional cedar-bark hats, these Cultural Journey kiosks showcase the mythology and native lives of two of the Canadian Rockies First Nations.
---
Whether you're looking to explore British Columbia's past, planning an outdoor adventure or simply hoping to enjoy an unforgettable summer getaway, the Sea to Sky Highway offers plenty of highlights.
---