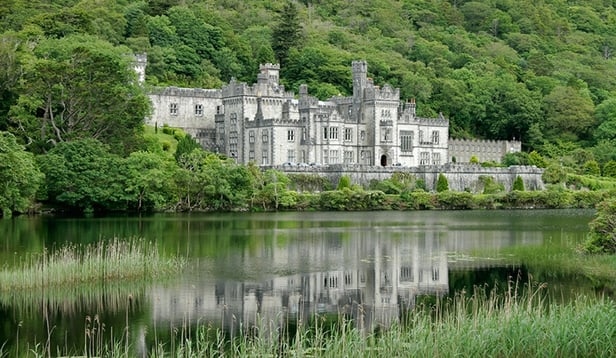 Lauded by poets and authors, Connemara is a remote corner of Ireland beloved for its romantic landscapes and majestic scenery. With rusty peat bogs and miles of desolate coastline, glittering black lakes and soaring mountains, it is Ireland as Ireland used to be. Visitors come to this region on the edge of Europe in County Galway to wander amidst the startling landscapes, take in the untamed wonders of scenic byways, and explore the quaint villages that pepper the region. Here are just some of the top things to do when traveling to Connemara.
1. Drive Along The Sky Road Loop
One of Ireland's most lovely and less-traveled drives, the Sky Road twists and turns along a section of coastline that rises to meet the clouds. Along the route you'll glimpse the Twelve Bens, a dozen soaring grey peaks at the center of Connemara National Park. Set among sprawling heaths and grasslands, the park offers Ireland's best hiking trails and affords sightings of red deer, mountain lambs and Connemara ponies.
2. Visit Kylemore Abbey
This jaw-dropping manor is home to a monastery for Benedictine nuns as well as an exclusive boarding school and is home to a 6-acre Victorian Garden. On YMT's Best of Ireland Tour, this is an included stop on day 8.
3. See the Killary Harbour
Nestled in between mountains on both sides, this quaint harbor is the perfect place to watch the floats that farm local mussels or step back in time on a stroll through the small village of Leenane.
4. visit Clifdon
This market town at the head of the Sky Road Loop welcomes visitors to the Far West of Ireland. Here, the dazzling light and billowy clouds shift to repaint the landscape with every change of the fickle weather. It's the perfect base for exploring the lakes, rivers, beaches, bogs and mountains of the Connemara area.
You can experience Connemara for yourself on the YMT Vacations Best of Ireland Tour. This 12-day journey takes you from Dublin to the Cliffs of Moher, the Giant's Causeway to Belfast and beyond. To learn more, or to make your plans to join us, call your travel consultant or YMT Vacations at 1-800-816-9752.