---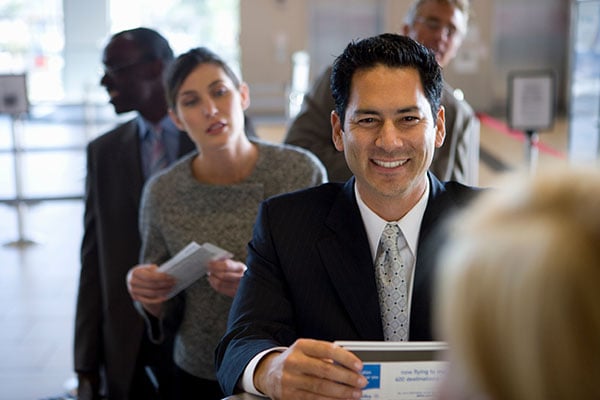 When traveling to the airport, it's essential to factor in extra time for the security line. But what if you could bypass the line and cut your waiting time in half? There are three types of airport security clearances that will make your trip less of a hassle:
TSA PreCheck
Global Entry
Clear
Each option will help you get through security faster, but there are significant differences between them.
TSA PreCheck
With TSA PreCheck, you can expedite the security check process. As a member, you'll receive a Known Traveler Number that you'll provide when booking your flight. A special designation will be added to your ticket that lets airport security staff know you have TSA PreCheck.
When you arrive at the screening area, show your ticket to the security staff. They'll let you join a separate boarding pass line. After your ID and boarding pass is checked, you'll proceed through a simpler screening process in a separate line. You won't have to remove your shoes or coat, and your liquids and laptop can remain in your carry-on bag.
TSA PreCheck Application Process
To apply for TSA PreCheck, you'll need to fill out the paperwork online and schedule a short in-person appointment. The appointment will involve a background check and fingerprinting. After you finish, you should be approved in two to three weeks.
Your membership will be good for five years before you need to renew and go through the same process again. Whether you are paying for the first time or renewing, the cost is $85. If you're bringing along your grandkids, they are free under the age of 13 and do not need to apply for TSA PreCheck.
TSA PreCheck Available Airports
TSA PreCheck is widely available at over 200 different domestic airports. It's also accepted at airports in the United States territories of Guam, Puerto Rico, and the Virgin Islands. If you're flying out of a smaller regional location, you may not be able to use it. Always check the airport security rules before your trip. TSA PreCheck also doesn't work internationally, so it won't help you in other countries. For trips abroad, you will need to purchase Global Entry.
Global Entry
For domestic flights, Global Entry works like TSA PreCheck. You'll have access to TSA PreCheck's shorter security lines and simpler screening process anywhere that TSA PreCheck is offered. The main difference between the two airline security clearances is that Global Entry provides benefits when you travel internationally.
In addition to simplifying your trip through security, Global Entry lets you skip much of the customs process. When you arrive in a new country, head straight to a kiosk. You'll get to avoid paperwork and customs interviews. You will still have to follow customs restrictions, including rules on what foods you can bring into the country.
Global Entry Application Process
The application process for Global Entry is very similar to TSA PreCheck. Start by filling out the online application, then schedule your in-person appointment for a background check and fingerprinting. Because you'll be using Global Entry for international access, you will need to bring a current passport to your appointment. Getting approved can take up to six months, so be sure to start the process early.
Global Entry requires an application fee of $100. The cost is a bit higher than TSA PreCheck because of the program's international benefits. The program is good for five years, at which time you'll have to renew your membership. You will have to pay $100 again, but you may be able to avoid the interview. Every member of your traveling party will also need to pay the application fee and go through the Global Entry interview process.
Global Entry Available Airports
If you're traveling internationally and want to skip the customs process, you'll need to make sure your destination airport accepts Global Entry. There are several popular airports with Global Entry kiosks, but the program isn't universally available. If you're using Global Entry to get through the security line faster, you'll be able to use it anywhere TSA PreCheck is accepted.
Clear
Clear works very differently from TSA PreCheck and Global Entry. Instead of joining a line to have your ID checked and your boarding pass scanned before heading to security, you will stop by a Clear kiosk. After scanning your iris and fingerprint, a staff member will escort you to the actual security screening alongside everyone else.
Using Clear, you won't have access to TSA PreCheck's easier security screening process. You can only skip the ID and boarding pass line. This line can get very long in some airports, so this step will save you time.
Clear Application Process
You must fill out an application form for Clear, but you can do so either online or at a Clear airport kiosk. Once you've filled out your paperwork, your irises and fingerprints will be scanned at the kiosk. You don't need to make an appointment if you applied online. Simply head to the kiosk when you arrive at the airport. Once you've completed these steps, you'll be approved instantly. Because you can apply for Clear at the airport and get immediate approval, it's easy to join the day of your flight. The application process will only take a few minutes, meaning you won't risk missing your flight.
While the other two security clearances are valid for five years, Clear expires every year. It also has a much steeper price tag, costing $179 per year. There is a money-saving family plan that only costs $50 per additional adult. Grandchildren are easy to bring along, as everyone under 18 is free.
Clear is Available Airports and Stadiums
Despite the higher price tag, Clear only operates at about 30 airports. But unlike the other two security clearances, Clear works at venues other than airports. You can use Clear to access some stadiums and ballparks. If you attend several sporting events throughout the year, you'll enjoy this added perk. Clear also offers a venue-only option, which is free but will not work at the airport.
TSA PreCheck vs. Global Entry vs. Clear – Which One Is Best?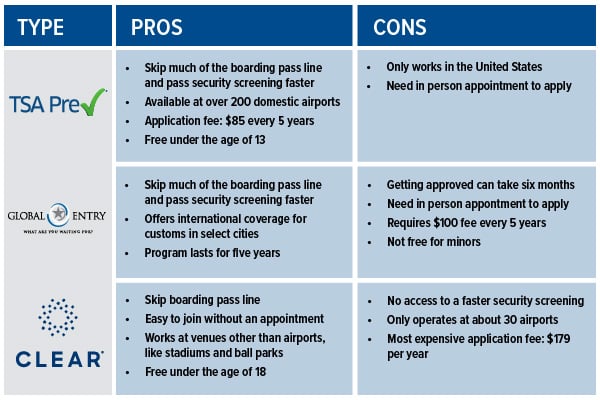 Both TSA Precheck and Global Entry allow you to skip much of the boarding pass line and get through the security screening line faster. But TSA PreCheck only works in the United States, while Global Entry offers international coverage for customs in select cities. If you plan to travel outside of the United States, spend the extra $15 to get Global Entry.
Clear's has a high price tag that may not make sense for some travelers. It's much more expensive than TSA PreCheck and Global Entry and works at a fraction of the airports. Plus, Clear doesn't save you time during the security screening process. It only enables you to skip the boarding pass line. However, if you regularly visit stadiums and ballparks that accept Clear, then the program may be right for you.
You can always double up and get both Clear and either TSA PreCheck or Global Entry. That way, you can skip the boarding pass line entirely and enjoy a quicker security screening. It's a matter of how much you want to spend and how you prefer to travel.
To learn more about YMT Vacations guided tour destinations, call our Travel Consultants at 1-888-756-9072.
---