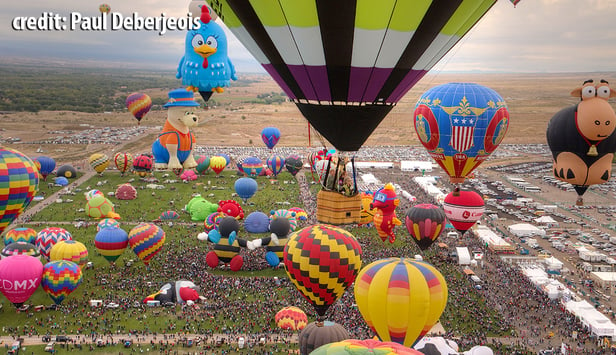 As opening day approaches, Balloon Fiesta Park becomes a parking lot of semitrailers and panel trucks. In this makeshift city volunteers rush to set up booths in anticipation of the 900,000 people who will soon be looking skyward, snapping photos and shopping for everything from T-shirts to soda, folk art to funnel cake.
---
This year about 600 balloons will take flight in Albuquerque -- a far cry from the 13 that first launched from the parking lot of a local mall in 1972. As the world's most prestigious ballooning event, the Fiesta tops many travelers' bucket list for very good reason. Here are a few interesting facts and travel tips sure to balloon your interest:
The Dawn Patrol first launched in 1978 when two balloonists developed a system that made night flight possible. Don't miss this pre-dawn spectacle set to music.
The "Albuquerque Box" is a phenomenon of weather patterns and geography that make this area ideal for balloon launches.
The Mass Ascension begins when a lead balloon takes off flying the American flag. As the "Star Spangled Banner" plays, hundreds of balloons launch into the sky.
This is one of the only events in the world where attendees can walk among the balloons and talk with the pilots—expert sources for ballooning facts and festival history. Also, if you're especially nice you may convince a pilot to let you take the perfect balloon-selfie.
Albuquerque is over 5,000 feet above sea level, so prepare for the altitude by drinking plenty of water before and during the event. Also, be sure to wear extra sunscreen, as the higher elevation increases your risk of sunburn.
The launch field sits on over 80 acres, so wear comfortable walking shoes.
When snapping pictures, avoid shooting directly at the balloons. Instead, watch the wind to predict when they will enter your field of vision. This lets you prepare your camera, strike a pose, and be ready for the perfect pic.
Since mornings and evenings are around freezing and daytime highs approach 70 degrees, wear layers you can take on and off as the weather changes.
Bring cash. ATMs are available, but they charge hefty fees and many of the vendors are cash only.
Download the festival App for a calendar of events, locations, food vendor maps and even weather conditions.
You can experience this bucket-list event on YMT Vacations' Albuquerque Balloon Fiesta & Southwestern Tour. You'll also experience White Sands National Monument and the mystery of Roswell, the limestone landscape of Carlsbad Caverns and the rich art scene of Santa Fe. For information, or to make reservations for this 10-day journey, call your travel professional or YMT Vacations at 888-978-7406.