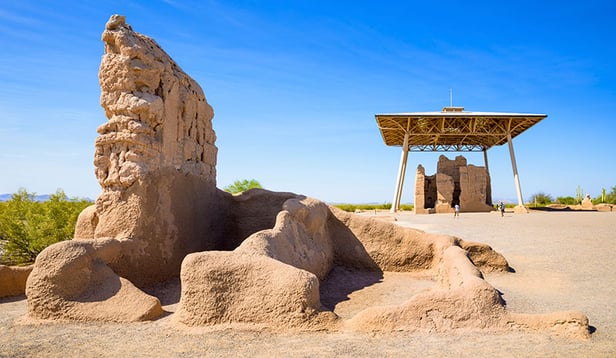 The Albuquerque Balloon Fiesta is without a doubt a once-in-a-lifetime experience. From the thousands of colorful orbs that paint the skies and cast shadows across the desert floor to the flaming fires of a nighttime launch, the most photographed event on the planet does not disappoint. But what's next? As you prepare to leave the Valley of the Sun en route to the balloon fiesta, we recommend you take a bit of time to stop off at the Casa Grande Ruins.
---
The Mystery of the Casa Grande Ruins
Dating back to 1350, the "Great House" is one of the largest prehistoric structures ever built in North America. However, what makes it most fascinating is that the purpose of these earthen ruins is unknown and the reason the site was abandoned by the Sonoran Desert people in 1450 remains a mystery.
Since these ancient farming people pre-dated a written language, there are no historic accounts of the area -- just an extensive network of communities and irrigation canals amidst the Casa Grande which served as a large gathering place for the Sonoran people. Later on explorers, philanthropists, and anthropologists discovered the fascinating site and it became the nation's first archaeological reserve in 1892 and was soon declared a national monument in 1918.
Today, visitors can explore the compound on guided tours and at the interpretive center, which offers insight into the ruins and poses more than a few questions about the mysteries of our history.
That's just one of the exciting things there are for you to discover on the YMT Vacations' Albuquerque Balloon Fiesta & Southwestern Tour. You'll visit the White Sands National Monument in New Mexico and the mystery of Roswell, the otherworldly limestone landscape of the Carlsbad Caverns and the rich art scene of Santa Fe. Take a sunrise balloon flight or watch the "After Glow" party in the Old Town Plaza before enjoying a spectacular fireworks display in the desert sky.
---
For information, or to request information on this 10-day journey, call your travel professional or YMT Vacations at 888-978-7406.
---