---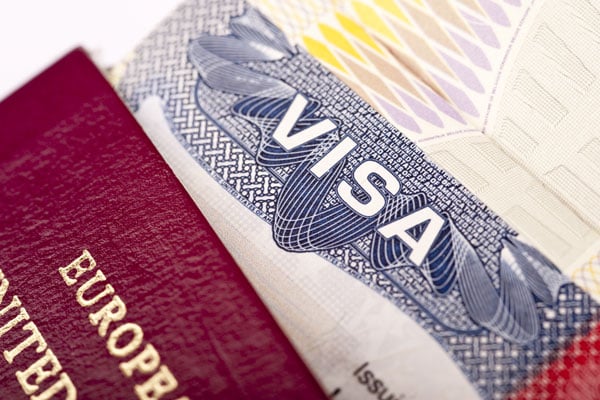 International vacation planning can be a lot of fun: picking out where to go, what to do, and when to eat. But overseas travel also involves a lot of documentation. You'll need passports, boarding passes, local currency, and, depending on your destination, you may need a travel visa. Travel visas can seem pretty intimidating, and the rules for getting visas vary a lot by country. With a little bit of knowledge and realistic expectations, visas don't have to be scary at all.
The Purpose of a Travel Visa
Travel visas are
Documentation, either paper or electronic
Proof of permission to enter a country
for a specific reason
for a predetermined amount of time.
Formats for Visas
There are three kinds of visas: paper visas, electronic visas, or on-arrival visas. The last type is generally only issued in unexpected circumstances, such as in the event of an unforeseen plane diversion. The type of visa you'll need varies by country.
When You Need a Visa
Visa requirements consider:
The nation you visit
The amount of time you'll be there
Your reason for visiting
The country's relation to your home country
A week long Australian vacation package has different visa requirements than a 10-month work assignment on a sustainable emu farm.
Here is a simple checklist on when you may need a visa:
Determine the approximate length of your trip and the type of visa (tourist visa, work visa, etc.)
Go online to check your government's foreign travel website
Research the precise visa requirements you need to fulfill before your journey begins.
Note that after you start your journey, if necessary you can usually pay to extend your visa.
How to Get a Visa: Requirements for a Visa Application
First, you must apply for your visa. Depending on where you're going, you might need to do this several months in advance.
You will need to show that you have a passport with at least six months of remaining validity and at least one blank page, you will need proof of a return ticket, and you will need to pay a fee. Depending on the country you're visiting, you may need two passport-sized photos, proof of immunization, financial data, or other additional information.
In addition to paying the application fee, you will need to provide the following:
A passport with at least 6 months of remaining validity
At least one blank page in your passport
Proof of a return ticket
Depending on the destination, you may need additional information such as:
Two passport-sized photos
Proof of immunization
Financial data
How Much a Travel Visa Will Cost
Costs for American citizens to obtain travel visas range from $15-160. That includes postage, notarization, or other additional fees.
Visa agencies can expedite the visa process or assist you in filling out necessary paperwork. These services are not cheap. If you need a visa in a hurry, or you find the paperwork or the process too challenging, visa agencies can be very much worth the price. When traveling to countries with difficult or complicated visa processes like China or Russia it may be best to use a visa agency.
When You Don't Need a Visa
US Citizens traveling for short periods to the following destinations:
The Americas (Canada, Mexico and most South America countries)
Southern Africa
Select Asia countries (detailed in another section)
In the list above, a passport will suffice.
Note that requirements for certain countries within these areas differ (example: Cuba). Always check ahead of time to be safe.
When You Need a Travel Visa
You will most likely need a travel visa if you are traveling outside of the list above, traveling for work, or for more than a few months.
Travel Visa Requirements: Europe
American citizens traveling to the European Union do not currently need a visa. However, beginning in 2021, you will need to obtain an authorization called the European Travel Information and Authorization System (ETIAS).
You will submit your information through an online application ahead of your arrival. This enables pre-travel assessment of irregular migration risks, security, and public health risks. Approval may only take 20 minutes; however, you should apply 2 months before your departure date. This gives you ample time to resolve any potential complications.
You will need ETIAS authorization to visit:
Austria
Belgium
Czech Republic
Denmark
Estonia
Finland
France
Germany
Greece
Hungary
Iceland
Italy
Latvia

Liechtenstein
Lithuania
Luxembourg
Malta
Netherlands
Norway
Poland
Portugal
Slovakia
Slovenia
Spain
Sweden
Switzerland
You will apply online with a valid passport, an email address, and a debit or credit card to pay the 7-euro application fee. Forms are then processed through automated checks across various EU and international databases, and are screened for health or security risks. The process takes minutes and is valid for three years or until your passport expires.
Travel Visa Requirements: Russia
To enter Russia, you must possess a valid passport and visa issued by a Russian Embassy or Consulate—the tourist visa costs $160. Your visa must include your entry and exit dates, which means you will need to know the dates of your trip before applying for your visa. You also need a letter of invitation: a necessary document issued by a Russian person, institution, hotel, or business who has invited you to visit them. A Russian family member, business, or hotel where you will be staying can provide you with the letter.
The visa process for Russia is complicated and time-consuming. It's often much easier to get your visa through an agency like the Russian Visa Center. If you plan on entering Russia on a shore excursion with an approved cruise ship, you do not need a visa; the cruise line will arrange permission. However, you must remain with the authorized tour group at all times while ashore.
Travel Visa Requirements: Australia and New Zealand
To visit Australia and New Zealand, you need an Electronic Travel Authority (ETA). ETAs are electronically stored authorizations for travel, meaning you don't need paper documentation or a stamp in your passport. These visas are under $50.
Travel Visa Requirements: South America
American residents need a visa to enter these South American countries:
Most of other South America countries will allow tourist stays of between 30 and 180 days.
Travel Visa Requirements: Asia
Most Asian countries require American tourists to obtain visas.
The following places in Asia do not require a travel visa for Americans:
Hong Kong
Japan
Singapore
South Korea
Visiting China
Travel visas to China cost approximately $140, excluding rush fees or agency fees. Visa applications must be submitted to the Chinese embassy or consulate general offices in person. They cannot be mailed, which is one of the reasons we recommend the services of a visa agent when you visit China.
Visiting Vietnam
Vietnam tourist visas are issued for vacations of up to one month, although you can easily extend your stay by an additional month, if required.
Travel Visa Requirements: Africa
You will need a visa to enter most African countries.
There are exceptions. You currently do not need a travel visa for these African countries:
Morocco
Senegal
Lesotho
Rwanda
Malawi
Namibia
Botswana
South Africa
You don't need a visa to visit Seychelles if you have proof of a hotel reservation. Mauritius will allow entry without a visa if you have proof of funds and a return ticket to your home country.
Important Considerations for Obtaining a Travel Visa
The most important thing when it comes to attaining a visa is to do your research. Know what to expect: how long the process will take and what additional information might be required. It takes time to acquire an international certificate of vaccination, fingerprinting, financial documentation, and proof of residency. Don't forget that to get a paper travel visa you must send in your actual passport or even visit an embassy in person. The process can range from an hour for an online visa to several months—and you don't want to be caught off guard or to run out of time.
Don't Let a Visa Stop You From Traveling
When you know that to expect, it's easy to be confident about obtaining a visa. You may have to jump through a few hopes, but the information you need to succeed is right at your fingertips. And the results will be worth it!
Still feeling overwhelming planning and preparing for your vacation? Consider a guided tour with YMT Vacations. To learn more about our guided tour destinations, call our Travel Consultants at 1-888-756-9072.
---