---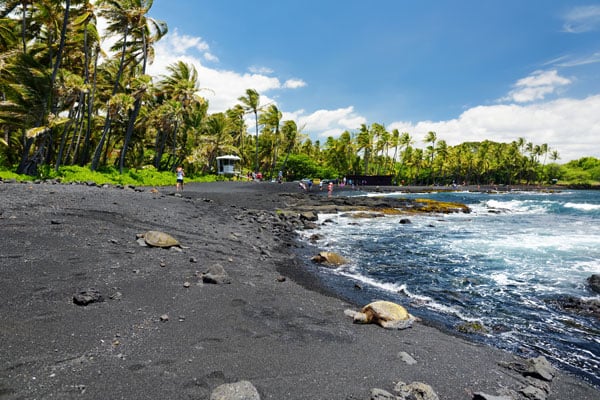 The black sands that cover some of Hawaii's most spectacular beaches are the result of volcanic activity. As hot, molten lava hits the water it instantly cools and hardens. Then, the waves continue to pound the lava until it begins to shatter into tiny pieces of volcanic ash which eventually becomes sand.
Since only the islands with the most recent volcanic activity have these ebony-tainted beaches, you find them on the islands of Maui and Hawaii, or the Big Island.
Punalu'u Beach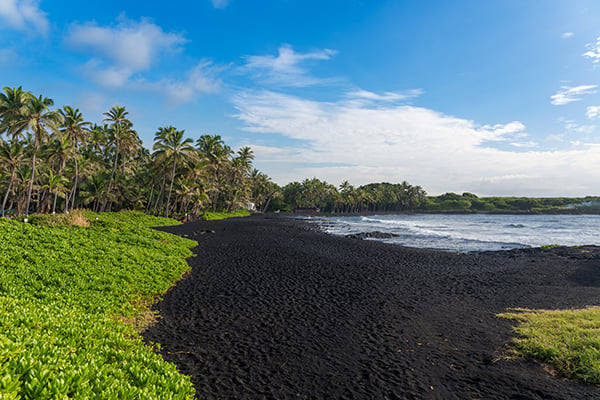 Punalu'u Beach is the most famous of the black beaches of Hawaii. Great for swimming, snorkeling and hiking, the palm-lined beach is broad and expansive -- allowing for plenty of room to wander and explore.
You'll notice that the dark coloring of the sand retains heat, one of the reasons the sea turtles love to make their way to this beach to lay their eggs. That being the case, you'll want to bring along flip flops or water shoes if you plan to be walking the coastline.
Watch out for the strong currents off shore or enjoy the easy walk to Ninole Cove where the surf is sheltered and much calmer.
Wainapanapa State Park
Wainapanapa State Park is located on the eastern side of the island of Maui and features black sands that are the legacy of the now dormant Mt. Haleakala. Besides snorkeling and swimming, visitors love to explore the area's cave.
Legend has it that King Ka'akea killed his wife here when he found her hiding from him in the cave. The tiny red shrimp that breed in these waters every spring, painting the waters red, only serve to further the island story.
One thing to remember when vacationing near Hawaii's black sand beaches is to never remove the sand. While it may seem like a unique and unforgettable souvenir, the sand is finite and not easily replenished the way white sand from coral is. In short, enjoy it but don't take it with you.
Explore the gorgeous black sand beach in Hawaii
You can explore the wonder and curiosity of the black sand beaches on YMT Vacations' Hawaii Four-Island Tour. This 13-day journey takes you to world-famous Waikiki Beach and on to Pearl Harbor, to the wonder of Volcanoes National Park and the mystical Fern Grotto.
To make your plans to join this once-in-a-lifetime trip, call your travel consultant or YMT Vacations at 1-888-756-9072.