---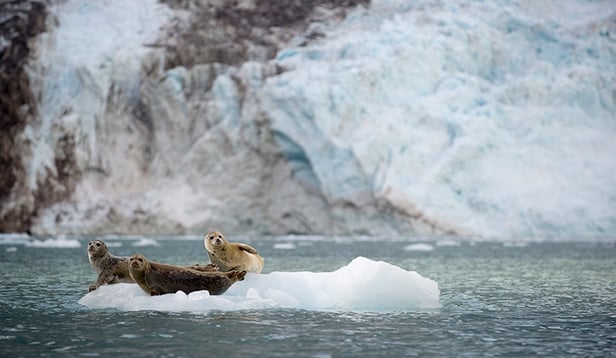 Snow and ice blanket nearly 60 percent of Alaska's Kenai Fjords National Park, one of the nation's most fascinating and impenetrable wildernesses. The area evolved over time by glaciers, earthquakes, and ocean tempests that shaped and reshaped the fjords, constantly shifting the Earth's topography. Intensely wild and somewhat foreboding, the area's otherworldly landscape is as desolate as it is beautiful and a must-see for any visit to Alaska.
---
Hugging the edge of the park is the Harding Icefield, where more than 700 miles of ice up to a mile thick feeds nearly three dozen glaciers. It is these tidewater glaciers that break off of the ice sheet carving valleys that soon fill with seawater and give birth to the stunning fjords and icebergs the park is known for. These cuts create habitats for throngs of sea animals -- from harbor seals and sea lions to otters and porpoises.
Inside Kenai you'll also find Exit Glacier, a half-mile wide river of ice, as well as the rugged coastline, which is home to tidewater glaciers and an abundance of marine wildlife. Look for the bald eagles and peregrine falcons, which live in the towering cliffs and float on the thermal currents, or the clown-faced puffins that wander the snowy banks. Keep your eyes open for the surefooted mountain goats as they traipse across the treeless cliffs and the moose, black bears, and wolverines that hug the narrow strips of land between the water and the icefield.
---
From hiking to fishing, kayaking to wildlife cruises, there are many ways to spend a summer day in Kenai Fjords National Park. To explore this Alaskan wilderness for yourself, join YMT Vacations on our Alaskan Discovery Tour. This 10-day journey includes stops in Denali National Park, Fairbanks, and the Iditarod Sled Dog Headquarters. It is just one of the many itineraries we offer to celebrate the centennial anniversary of America's National Parks System. To join this tour, or any of our other National Parks adventures, call your travel professional or YMT Vacations at 1-888-756-9072.
---