---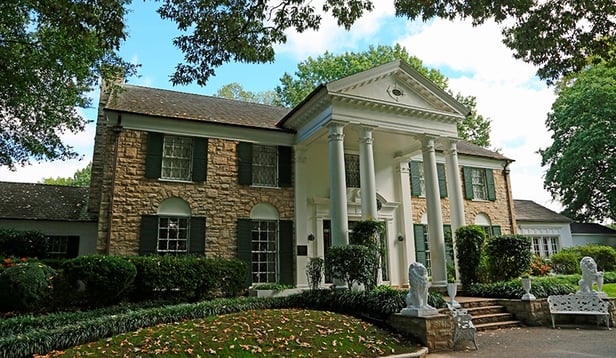 It was 40 years ago when the music died at Graceland. The home that Elvis Presley bought in 1957 so that he and his mamma and dad could "stretch out in," would never be the same. Following a $137 million expansion project this year, the famous home is welcoming visitors once again. In addition, the campus features two museums, a performance sound stage, and multiple shops and restaurants -- all honoring the life and legacy of Memphis' famous son. Here's what to see and do at Graceland:
---
Graceland Mansions -- Actor John Stamos directs you through the ground floor of the 23-room mansion. See the basement where Elvis screened his movies and the Jungle Room with its shag carpeted ceiling, which served as a recording studio for two of his albums. Wander through the family kitchen and see where Elvis was laid to rest.
Elvis: The Entertainer -- This 20,000-square-foot museum focuses on the star's music and movie careers, featuring items like his gold and platinum records and signature flashy jumpsuits.
ICONS: The Influence of Elvis Presley -- Artists from around the globe owe some aspect of their career to the influence of Elvis. This exhibit highlights the impact he had on many musicians including Bruce Springsteen, Elton John, and Jimi Hendrix whose costumes and instruments are featured here.
Presley Cycles and Motors -- See the king's large collection of vintage motorcycles and sport bikes as well as more than 20 Elvis-owned classic automobiles, including his iconic pink Cadillac.
The Guest House at Graceland -- Last year the first phase of the Graceland expansion opened with the Guest House, a Four-Diamond-rated 450-room hotel.
Private Presley -- This compelling exhibit lets you browse artifacts from Elvis' time in the U.S. Army -- from basic training photos to reminders from his time in Germany.
---
Graceland is just one of the stops on YMT Vacations' Southern Music & Dixieland Tour. Join up and grab yourself a heapin' helpin' of great food, southern hospitality and the unique Dixie sounds of New Orleans, Mobile, Memphis and Nashville. To make your plans to join this trip, call your travel consultant or YMT Vacations at 1-888-756-9072.
---