---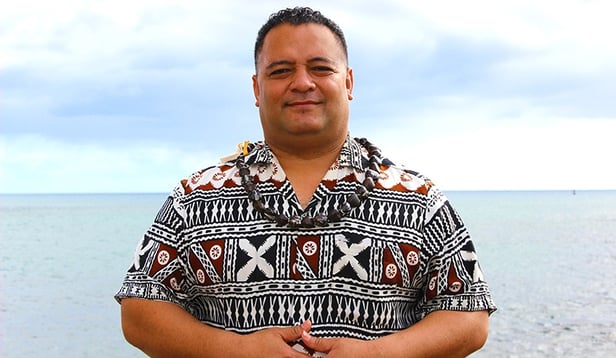 It's hard to miss the Polynesian man in the sulu sarong. The grass skirt the tour guide wears has been passed down for generations from his grandmother who wove the coconut hind herself. It's just one of the ways Walter Tonga stays connected to the islands and his own rich cultural heritage.
---
Tonga is a 16-year veteran of the travel business and one of the most popular Tour Directors at YMT Vacations, the former Your Man Tours organization that got its start arranging tours to Hawaii for Veterans of Foreign Wars. Besides knowing the islands inside and out, Tonga embodies the "aloha spirt." Here's what he had to say about living and working in Hawaii, and why the best way to experience the islands is with YMT Vacations:
How do you find excitement in a tour you've given many times before?
While I may have seen these sights a thousand times, I know that this may be a lifelong dream for someone else. I never forget how special it is to learn hula for the first time or to stand on top of our volcano -- the youngest place on the planet.
Do Hawaiians really eat SPAM?
Of course! It's a staple. You can even find it at McDonalds. You have to remember, everyone who has come to Hawaii -- from the GIs with their SPAM rations to the Japanese with their sushi -- has left something behind.
What are the people like on the Islands?
The people here are the same on the clock as they are in their own homes. We're not paid to smile and be kind; it's who we are. That's the spirit of "aloha."
What is your favorite place to share with visitors?
My favorite thing to do is to take guests to a small, insignificant building in the Polynesian Village. The "Old Folks Home" is one of the most important places in Hawaii. You see in old times, we never had a written history; everything was passed down orally from elders to children. We believe that as long as you're alive, you have knowledge to give. Every day you get older, but you're also a day smarter. I often have well-seasoned travelers and I encourage them to take this lesson home: share an old fishing trick or a family recipe with their grandkids just like we do in Hawaii.
Many of your former guests say you treated them like family. How so?
Where I'm from we believe that how you treat people when they visit you is how your relatives will be treated elsewhere. It's sort of like travel karma. So my customers are not guests, they're someone's grandfather, sister or favorite uncle.
What is so special about Hawaii?
Hawaii is not just a tourist destination. It is what it is. When you strip away all the taglines and gimmicks, the sparkle and the fluff, it is still truly magical and beautiful.
---
You can explore the magic of the Aloha State on YMT Vacations Hawaii itineraries. Travel from from the world-famous Waikiki Beach to Volcanoes National Park, the mystical Fern Grotto to the moving site of the USS Arizona Memorial. To learn more, or to make your reservations to join us on an upcoming vacation, call your travel agent or 1-888-756-9072.
---