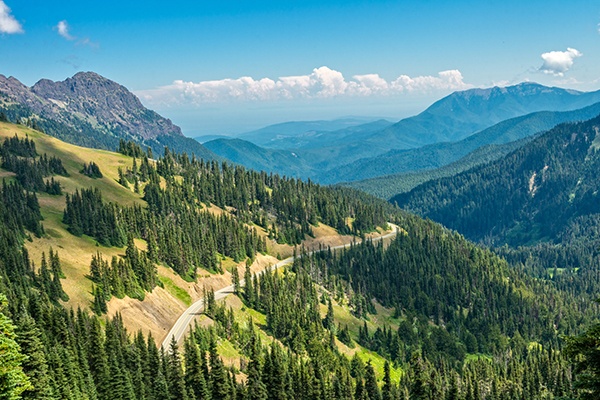 It's hard to predict the best time to visit Olympic National Park. With more than a million acres, this vast wilderness in Washington State stretches from the sandy beaches of the Pacific to the peaks of Mount Olympus, across a wide range of distinct ecosystems. Each area features its own weather patterns, with temperatures that vary from season to season and day to day. Imagine temperate rainforests, glacier-capped mountains, and 70 miles of rugged coastline. As a UNESCO World Heritage Site, Olympic National Park is an adventure no matter the season you visit.
The park is open year-round, but shifting weather patterns and temperatures can make for a vastly different experience depending on when you travel. Make sure to plan in advance, or stop by the Visitor Center, for the best sights for that particular season:
March, April and May
Spring generally means warmer weather, but it can still be unpredictable. Don't rule out late snow or heavy rain, especially at higher elevations. However, this is also the best time for viewing Roosevelt elk near the park's rainforests, and black bears along the river valleys where they gather for the early spring plant growth. Visitors should catch the spring bird migration, and head for the tide pools to see the giant green anemone.
June, July and August
Summer is the dry season, with temperatures ranging from the low 50s to the mid-70s, and most folks agree it's the best time to visit the park. As the snow melts, Olympic marmot, black-tailed deer, a large variety of birds, and mountain goats all come out to enjoy the sunshine and ripe wild berries. Hurricane Ridge offers up colorful displays of wildflowers for hikers to enjoy, astronomy programs show off the night skies, and photographers can head for the lowlands to capture nature's beauty. Visitors should be prepared for thunderstorms at higher elevations, and foggy conditions along the coast.
September and October
Autumn brings a dip in temperatures, along with an increase in snow and rain—expect the precipitation to pick as you head into late October, with freezing conditions forcing some campgrounds and roads close for the winter. However, this is the best time of year to avoid crowds and witness the peak of the park's spectacular fall colors.
Winter
About three-quarters of the park's annual precipitation falls during the six months from October through March, mostly on the Pacific side of the Olympic Peninsula. With all that rain comes lots of snow, which is great for downhill skiing along Hurricane Ridge and ranger-led snowshoe walks. However, you'll want to check the forecast for avalanche warnings before heading out.
You can visit Olympic National Park on YMT Vacations' Alaska Cruise & Pacific Northwest Tour. This 13-day journey features Mt. Hood National Forest, Portland, Seattle and Vancouver, BC. Plus, you'll also cruise the Inside Passage where you'll experience Glacier Bay. To make your plans to join the tour, call your travel consultant or YMT Vacations at 1-888-756-9072.