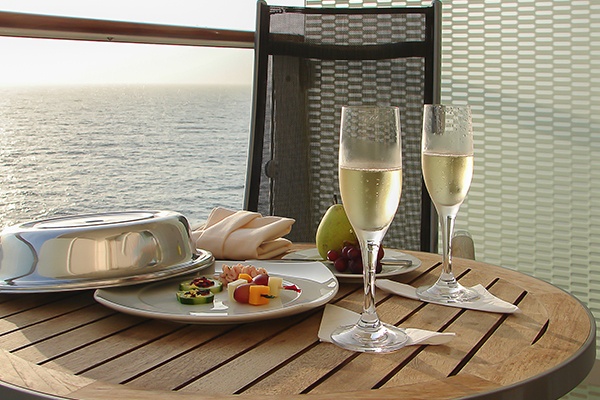 Just like you'd never expect a walk through Times Square to feel like a stroll in the Louvre, enjoying a European cruise isn't the same as taking an American one. To prepare yourself for cruising with a European line, here are a few tips and observations:
Expect to Hear Multiple Languages—Just like when traveling on land in Europe, cruising in this part of the world can make you feel like you're in the Tower of Babel. Don't be surprised to hear the staff and fellow guests speaking everything from Italian and German to French and Spanish. Since these ships cater to such a multi-lingual clientele, don't expect to hear regular announcements over the ship's intercom.
Enjoy the Local Food—As European cruise lines explode in popularity, part of their appeal are the authentic dishes they serve. So, relax and enjoy one of the best parts of travel – trying new foods. Like the saying goes, "when in Rome..."
Be Social—Europeans value meals as much more than just a time for eating. Expect to linger at the table and make conversation with the other passengers.
Slow down—It often comes as a surprise to American cruisers that Euro-sailings prioritize relaxation over planned activities. The Chicago Tribune had this to say: "the action on the pool deck is more Cannes than Coney Island and a stroll on promenade deck more Via Veneto than Rodeo Drive." So, where US sailings may feel a bit like a Vegas casino or sporting event, European ships are notably slower paced.
Cultural Differences—One of the main differences between American cruising and European cruising is the smoking, which is very common onboard European cruise ships. However, since it is mainly limited to the top decks on one side of the ship, it's also easy to avoid these areas.
Alter Your View of Customer Service—In a world where "it's my pleasure" has become a common catchphrase, Americans expect a certain level of friendliness from service personnel. Rather than enjoying a broad smile and direct eye contact, be aware that most Europeans prefer unobtrusive efficiency over friendly banter. And during meals, wait staff take a more standoffish approach so as not to bother guests while they enjoy their meal. This type of service should not be misunderstood as less than, as it is merely a different way for staff to show respect and care to cruisers.
You can enjoy an authentic experience as you sail to many European ports of call with YMT Vacations. To join one of our exciting journeys, call your travel consultant or YMT Vacations at 1-888-756-9072.