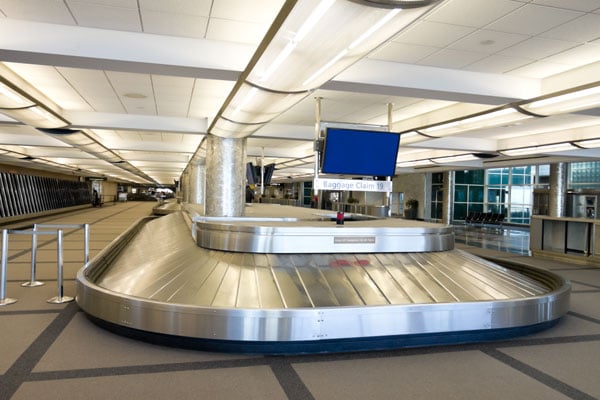 One of the most frustrating experiences for airline passengers is waiting for luggage at the baggage carousel, only to realize that your bags did not make it to your destination. According to a report from 2021, 3.5 bags per 1,000 were mishandled by airlines. While you can do your part to reduce confusion by removing old baggage tags, the situation will likely be out of your control. Here are tips on how to handle issues related to lost luggage:
Delayed Luggage:
Airlines have sophisticated tracking systems to find lost luggage and hopefully your bags are on the next flight. You could have them within a few hours. Unfortunately, if they have been sent to the wrong airport or have not been found, the process may take several days. Go to the airline counter in the baggage area to file a claim before exiting. It is always wise to travel with printed copies of your itinerary, and in this case, provide the attendant with a copy so they may call your hotel.
Get a reference number for your claim, a phone number to check the status of your luggage, and the name of the person who handled your case. Check your airline's lost luggage policy before traveling, as you may be reimbursed for toiletries and other essential items - just be sure to save your receipts. Airlines typically drop off luggage once found, but it is worth confirming with the attendant at the airport.
Lost Baggage:
If your bags cannot be found after a few days, file a written claim for damages from your airline. This will likely require a different form than the original claim you filed at the airport. Typically, the maximum an airline will pay for lost bags is $3,500 per passenger for flights within the U.S. Rates vary for international travel, and you will need to confirm with your airline.
As inconvenient as it may seem, the airline will likely request receipts to prove the value of items in your luggage. And even then, you will be reimbursed a depreciated value for those items. There is also a long list of items for which they will not be held responsible including jewelry and money, and it is best not to travel with these items. If you are packing valuable equipment in your luggage, consider purchasing "excess valuation" protection from your airline as a precaution.
Stolen Suitcases:
If your bag goes missing after you have left the baggage claim area or the airport, your point of contact is no longer the airline, but rather local authorities. This situation may be challenging, especially if you do not speak the local language. Ask your YMT tour guide to assist with translation if needed. Your travel insurance should cover the cost of stolen bags, but be sure to gather all the documentation needed for your claim.
Damaged Baggage:
Most airlines will not cover minor wear and tear. If your suitcase is badly damaged, report it to the airline customer service agent before leaving the airport. Get a reference number, as you will likely need to produce a receipt for repairs. Even then, you may be required to use airline-approved repair vendors. Ask the attendant for a list.
Trouble with lost luggage is a stressful way to begin or end your YMT vacation. When packing for your trip, exclude items that are irreplaceable or extremely valuable such as laptops or family heirlooms. Lost luggage is an inconvenience, but you do have some power over the process by ensuring the claim is filed immediately and by following up regularly with the airline.