---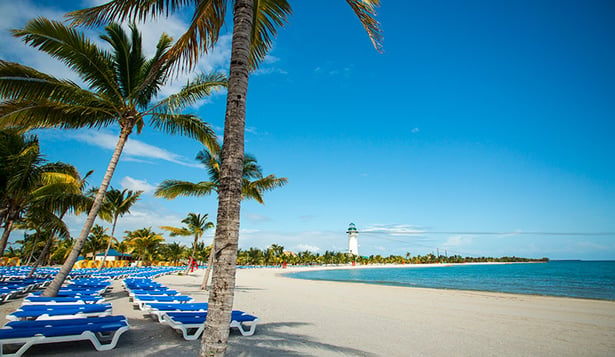 From atop a 3,000-foot zipline course, you get a bird's eye view of Harvest Caye, Norwegian Cruise Line's private island in Southern Belize and a stop on the YMT Vacations New Orleans & Western Caribbean Cruise tour. Gathering your courage, you close your eyes and jump, falling through the sky in an experience that will forever top your personal bucket list..and that's only the beginning. Besides tandem ziplining, free-fall jumps and soft-footed walks over dangling suspension bridges, Harvest Caye offers plenty of chances for adventure and just as many ways to relax.
---
Across the island in the shallow saltwater lagoon, a whole host of water activities await you -- from kayaking to stand-up paddleboarding, canoeing to swimming in the crystal waters of the natural sea pool. A bit further off the coast, an underwater world can be found teaming with marine life on the world's second-largest barrier reef. Afterward, guests can retire to a luxury, air conditioned villa where parties of up to 10 guests can relax and unwind, shower off or simply fall asleep to the sounds of the sea in one of the island hammocks.
There's also a 15,000-square-foot pool with a swim-up bar and poolside cabanas, a shopping village featuring local handicrafts and Belizean cuisine at the island's bar and grill. Interactive wildlife programs, manatee tours, and a butterfly garden are also available.
---
You can explore this recently-opened island paradise on YMT Vacations' New Orleans & Western Caribbean Cruise & Tour. Our itinerary takes you to the French Quarter of New Orleans, along the Mississippi River and to a beautiful antebellum plantation before heading off on a romantic 7-night cruise. To make your plans to join this 11-day land and sea journey, call your travel consultant or YMT Vacations at 1-888-756-9072
---