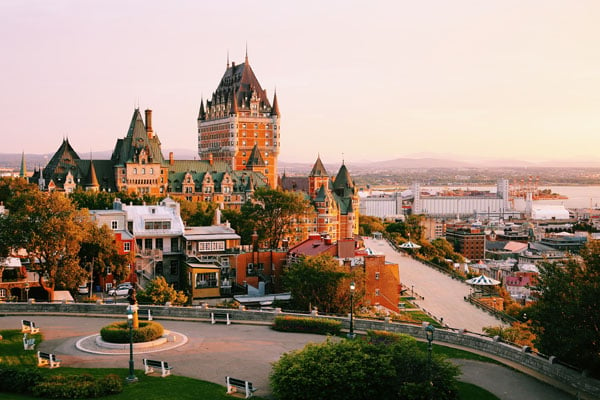 Visitors figuring out what to do in Quebec City have an embarrassment of riches to choose from. This French-speaking city at the confluence of the Saint Lawrence and Saint-Charles Rivers is teeming with history, culture, and both natural and man-made beauty.
About Quebec City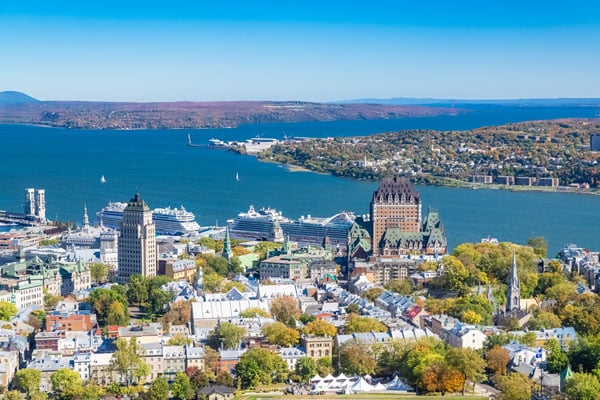 Quebec City, the provincial capital of Quebec, Canada, is one of North America's oldest European cities. It was founded in 1608 as part of New France, the North American land colonized by the French starting in the 16th century. Over the centuries, Quebec City has retained its French identity, and today feels very much like a classic European city.
Its historic center, known as Old Quebec City, earned UNESCO World Heritage Status for its beautiful French architecture and defensive structures that date to the city's earliest days.
In addition, Quebec City has numerous world-class museums, countless beautiful parks, exceptional shopping, and dining. Learn more fascinating facts about Quebec, Canada's landmarks, and history as you discover what to do in Quebec City.
Places Quebec City is Famous For
Quebec City is often featured in the best-of lists in travel publications. Small but charming, it's easy to love the historical European feel of Old City Quebec, the friendly people, the safe atmosphere, and the exceptional food. Here are some of the specific places Quebec City is famous for:
Fortifications of Old Quebec City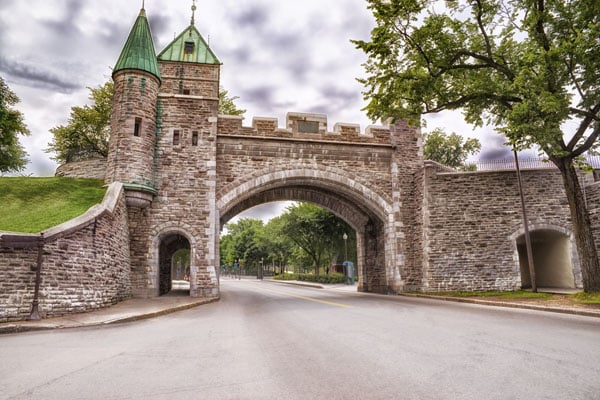 The fortifications of Quebec form a nearly 3-mile perimeter around the Old City's upper town. Work on the walls began in 1690 as a defense against Britain and continued throughout the 18th and 19th centuries. Even during 1763-1783, when the English took control of the city.
Quebec City's ramparts have stood through numerous sieges, extensions, improvements, and modifications for over 400 years.
They were granted government protection in the 1870s, and have been lovingly maintained and restored as a national treasure ever since. No trip to Quebec City is complete without a nice stroll along the only fortified city walls north of Mexico.
Château Frontenac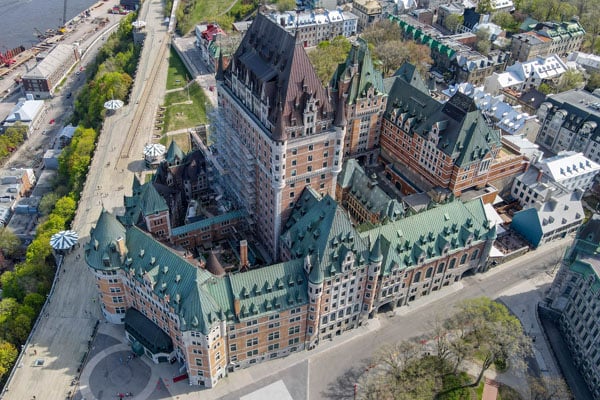 The Château Frontenac is Quebec City's finest resort—and allegedly the most photographed hotel in the world. It was built above the Saint Lawrence River in 1893 to serve as luxurious lodgings for wealthy rail passengers. The hotel was designed to resemble the chateaus of the Loire Valley, with a hint of Victorian drama in its towers, turrets, and steep roofs.
Its 18 floors house more than 600 gorgeous rooms, three restaurants, and a rooftop garden that supports 70,000 honeybees. The stunning structure dominates the skyline of Quebec City, reinforcing the luxuriously French feel of Old Quebec.
Montmorency Falls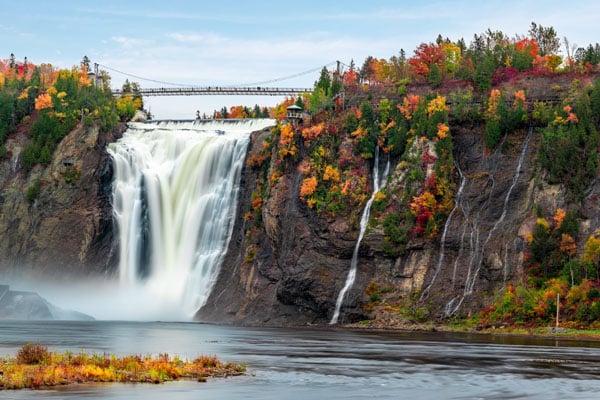 The 272-foot-tall Montmorency Falls thunders just a few miles outside of Quebec City. Surrounded by the lush Montmorency Falls Park, it provides a true natural oasis in the middle of Quebec, Canada's second-largest urban center. Visitors can enjoy hiking trails and other activities within the park. The truly intrepid are even invited to zipline across the falls or walk across a suspension bridge from one side to the other.
Petit Champlain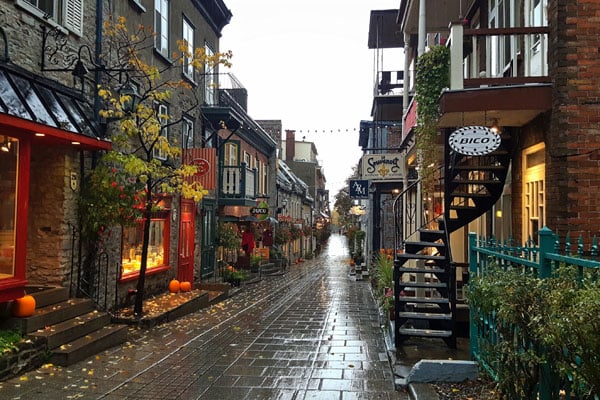 Quartier Petit Champlain is North America's oldest shopping district. Perched between the banks of the Saint Lawrence and the cliffs beneath Château Frontenac, the pedestrian district is the charming epicenter of Old Quebec. Its narrow cobblestone streets are lined by trees and historic stone buildings.
The European-style architecture has been impeccably maintained, and now houses everything from museums to tiny cafes with Parisian-style al fresco dining. In addition, the former homes and workshops of fur traders and sailors have been transformed into a shopper's paradise. You can find adorable clothing boutiques, chocolate shops, art galleries, and flower stalls.

Traveler Pro Tips Around Quebec City
Quebec City is an easy place to discover on your own, but it's always good to have some inside scoop on a new place. Here are a few pro tips for making the most of Quebec City.
Try Poutine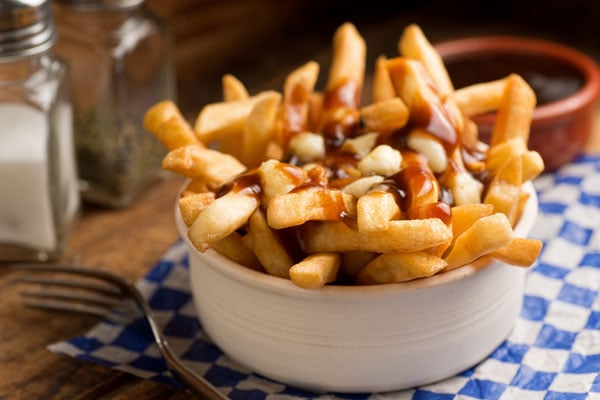 You can enjoy some of the world's best poutine, the unofficial Canadian national dish, right here in Quebec City. The tasty treat of French fries covered with cheese curds and gravy was first created in Quebec City's bars and snack shacks in the 1950s. Sample this beloved Canadian snack in its birthplace either from a classic casse-croûtes ("greasy spoon") or a trendy food truck.
Pack a Picnic
Old Quebec is a picnicker's paradise. Choose from shady benches by the fortifications, grassy hills on Upper Town near the Château Frontenac, or riverside picnic tables on the banks of the Saint Lawrence. Small shops sell exquisite local cheeses and fresh fruit, which pairs perfectly with fresh baked goods that are as good as any you'd find back in France.
Give French a Chance
Don't be nervous if your French isn't très bien, the people of Quebec City aren't going to judge. Almost everyone in the city speaks both French and English, but locals love when visitors at least try to speak the city's official language. If you're struggling, just remember:
"Je ne comprends pas" means I do not understand

"Parlez lentement, s'il vous plait" means speak slowly, please

And if you're ready to give up, "je ne parle pas français" means I do NOT speak French.
Visit Quebec City with YMT Vacations
Beauty, history, and a fascinating culture combine to make French-speaking Quebec City one of Canada's most appealing vacation destinations. It brings Old World European charm to North America, and you can visit Quebec City with YMT Vacations on our Best of Eastern Canada Tour. Join us for an unforgettable journey filled with dazzling nature, unique cultural experiences, and plenty of time to enjoy Canada's great cities including Montreal, Ottawa, Toronto, and Quebec City. Call your travel consultant or YMT Vacations at 1-888-756-9072 to book today!