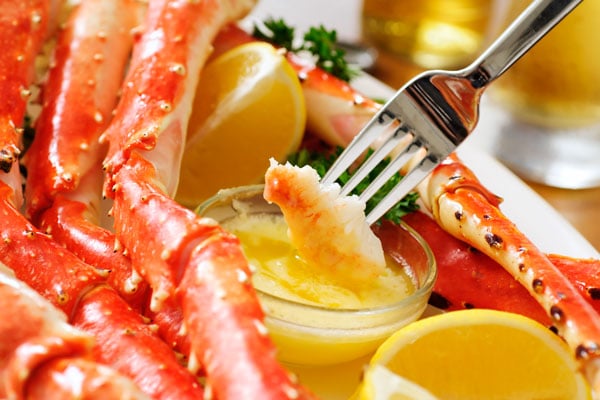 Before it became an urban trend in cities across America, Alaskans were consuming meat and produce no more than one step removed from the point of harvest. With some of the nation's most verdant landscapes and pristine waterways, eating local in Alaska also means eating very well.
So if you're planning a vacation to the Last Frontier, here are some tips on what you should be eating in Alaska.
Salmon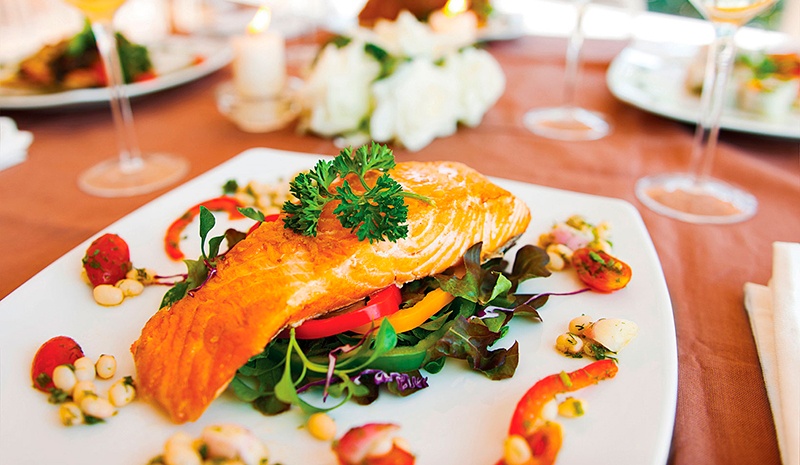 As the state's most important food source, Salmon and other cold-water seafood abounds. Locals here enjoy it smoked, cured, and even served sweetened in Indian salmon candy. There is salmon jerky, sashimi, salmon head broth and even crisped salmon skin.
Make sure to try the King, Coho, or prized Copper River Sockeye salmon varieties in the state's finer restaurants.
Alaskan King Crab
The icy cold waters of Alaska are the perfect breeding grounds for the famous Alaskan king crab. Unlike the smaller Dungeness or blue crabs of the lower 48, a single king crab can easily feed the entire table.
Caribou Meat
Otherwise known as reindeer, caribou meat has been a staple of the Alaskan diet since the late 1800s. However, what you may not know is that this game meat isn't native to the Last Frontier. As an import from Siberia it was brought in to accommodate whaling grounds that were running dry. Rich in flavor and healthy fats, the meat is most commonly served as sausage.
However, in places like Fairbank's Loose Moose Cafe and the Marx Brothers Cafe of Anchorage you can still find reindeer burgers, steaks and medallions on the menu. And reindeer sausage is a breakfast staple found at diners throughout the state.
Fresh, Local Produce
The chilly Alpine climate makes farming greens a bit tricky but culinary creatives are still finding plenty of ways to cultivate foraged produce. That means innovative ways to enjoy food and the introduction of lesser-known herbs.
With a short growing season, you can be sure that what's on the menu is at its peak and grown just around the corner. Potatoes, cabbage, peas and zucchini all grow fast and to staggering sizes under the long days of sunlight in the summer.
What's a Salmonberry?
From blueberries to lingonberries, mossberries to wild cranberries, berries are popping up in all sorts of Alaskan dishes. However, the one that might surprise you the most is the salmonberry.
This light-pink berry that resembles a blackberry is juicy, with a sweet and tart taste. They are used to boost the flavor of dressings, fish and dessert compotes while also taking center stage in the salmonberry pie.
Explore Alaska's Many Flavors
YMT Vacations offers three ways for you to explore Alaska and its many flavors. Choose from two affordable vacations that combine a land excursion with a relaxing Alaska cruise up the Inside Passage and across the Gulf of Alaska: Alaska Cruise & Canadian Rockies Tour, and the Grand Alaskan Cruise & Tour. Or, check out the Alaskan Discovery Tour for a more in-depth look at the interior from Fairbanks to Homer.
For information on how to join one of these exciting getaways, call your travel agent or YMT Vacations at 1-877-483-8845 and mention promo code I7014.