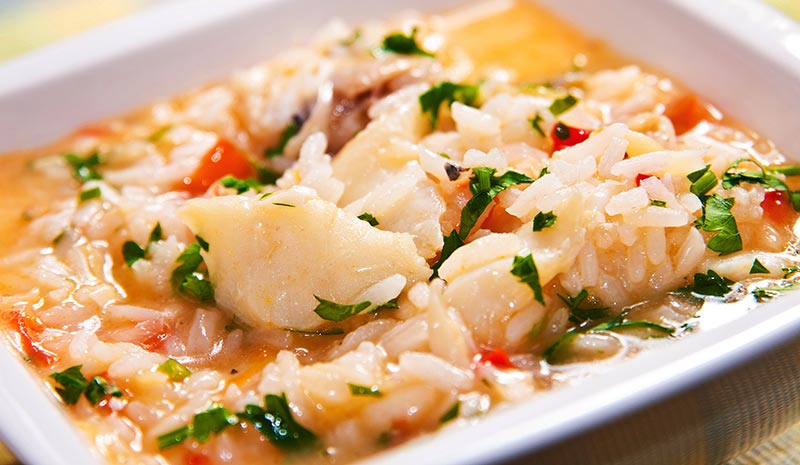 ---
Portuguese cuisine was born from trade routes and the country's perch overlooking the sea. Hearty peasant bread and stick-to-your-ribs rice dishes, sweet pastries and fresh sausages, round out a diet that is based largely on what can be pulled from the water. From neighborhood tascas serving up affordable homey dishes to fine dining establishments and bakeries, Portugal is full of good food. So grab a bottle of Madeira wine and pull up a seat at the table for the best things to eat in Lisbon:
---
Seafood -- With a huge stretch of coastline, seafood is a given in Portugal. From spider-crabs to oysters, giant tiger prawns to goose barnacles, there's plenty to enjoy. Don't pass up the chance to savor some grilled octopus, fresh sardines, or a scrambled egg and cod omelet known as bacalhau a bras.
Sausage -- From blood sausage and farinheira made with flour and red pepper paste, sausage is a classic dish in Lisbon. For a bit of butcher history, try the alheira, a chicken sausage that came about in the 16th century. In an attempt to blend in during the Portuguese Inquisition, the local Jews pretended to convert to Catholicism and hung "sausages" in their pantries made to look and smell like cured pork sausages.
Portuguese Rice -- A bit like risotto, Portuguese rice has more broth because of the cooking method that allows the rice to soak up all the flavors of the stock. Try a vegetarian version or a seafood one with fresh octopus.
Egg Tarts -- Pasteis de nata are served on every corner of Lisbon, however, the gold standard is found at Pasteis de Belem where they've been baking them since 1837. To get one that's piping hot, take the 30-minute train ride from the city center -- it's worth it.
Cheese -- The Portuguese love their cheeses, especially sheep cheese. Enjoy the creamy varieties as a starter, at the end of your meal, or just because.
Portuguese Stew -- Cozido is made from sausage, pork and beef chunks, potatoes, cabbage, green beans, and turnips. The stew is boiled until it looks less-than-appetizing but tastes simply delicious. Often, pasta or rice is cooked in the remaining broth and served alongside this typical Sunday meal.
Culinary Souvenirs -- Take home a bit of Lisbon with you by popping in the Mercado da Ribeira, a hundred-year old market that is now a hip food court. After you've perused the stalls and enjoyed a sampling of tapas at the communal-style tables, grab a bottle of Madeira wine along with some regional spices and local olive oil to ship to your foodie friends back home.
---
Explore the city of Lisbon on YMT Vacations' Big Apple, Bermuda & Gems of Europe. This 23-day transatlantic cruise tour begins in New York City before visiting Bermuda, the Azores and then onto Portugal, Spain, France and Italy aboard the MSC Divina. For information, or to make your plans to join this journey-of-a-lifetime, call your travel consultant or YMT Vacations at 1-888-756-9072.Congratulations! What a lovely list post you've created!
---