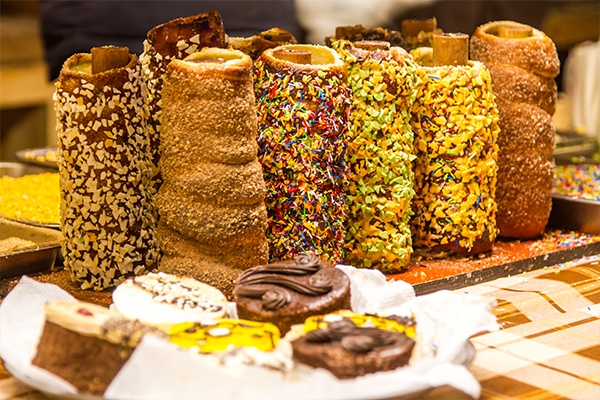 With people around the world discovering this iconic city, and a culinary awakening welcoming a flurry of new restaurants, it would seem the communist days of state-licensed dining are a thing of the past for Prague. Instead, travelers are welcomed by bustling pubs with hearty local fare, charming outdoor cafes and fine-dining restaurants aplenty. Here are a few tips on what to eat and what to know when dining out in the "city of a hundred spires":
What to order:
Palačinky—Crepe-like pancakes filled with jam, ice cream, fruit, cream or nuts. The savory versions are stuffed with meat, cheese and spinach.
Trdelník—A warm pastry topped with sugar, nuts or cinnamon and wrapped around a wooden dowel then roasted over an open flame.
Chlebicky—Traditional sausage
Grilované Klobásy—Grilled sausage tucked into a roll and served with savory sauces.
Smažený sýr—Warm, gooey deep-fried cheese sold at carts throughout the city.
Pivni sýr—Open-faced sandwiches perfect for snacking.
Vepřo-knedlo-zelo—Roast pork, bread dumplings and stewed cabbage that make for a hearty lunch or dinner.
What to know when dining out:
Book Ahead—Especially during the busy summer months, restaurants fill quickly. Guarantee a seat at the table by making reservations.
Hit the Road—The stalls on every street corner feature the favorite local meal: sausage. Grab a few and have a delicious meal on the go.
Weight Up—If you're wondering what the number is next to the listing for meat on the menu, it's a throw-back to the old regime. In those days, this weight measurement was given to reflect the communist rationing system. A bit of dining history.
Local Fare—If local comfort food is what you want, head to a pivnice, or local beer hall.
Seat Yourself—Feel free to seat yourself at small bars and eateries.
Make Friends—It's common for other diners to join a table when a bar or eatery is crowded. Simply smile and get to know your new friends.
The Tipping Point—The standard is 10 percent and it is typically added to the bill, not left on the table.
Explore the flavors of Prague on your YMT Vacations journey the Wonders of Iceland with Prague & Transatlantic Cruise. This once-in-a-lifetime trip features travel to 8 countries and a 17-night cruise. Explore the rugged landscapes of Iceland and the post-war sites of Berlin, the raucous of pubs of Belfast and the stone-age history of Southampton. For information on how you can join the fun, call your travel agent or YMT Vacations at 1-888-756-9072.