---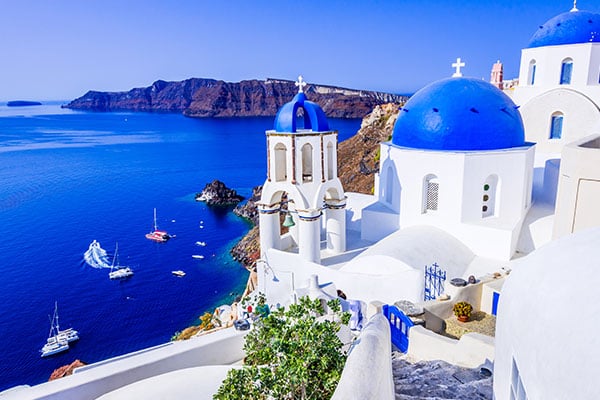 From April through September, the weather in Greece is ideal for traveling and sightseeing. You can expect sunny and dry conditions as you explore Athens, Mykonos, Santorini, and more.
To prepare for your trip, follow our packing list to make sure you bring all the essentials.
A Cultural Dress Code for Greece
The people of Greece are used to seeing tourists flock to their famous sites, but that doesn't mean you can't dress to blend in with the locals.
Sundresses and lightweight tops and bottoms are perfect for women. For men, think European "smart casual" like fitted trousers and collared shirts.
Tops
Lightweight, comfortable tops that breathe well are ideal for a summer day in Greece. Men can wear either long-sleeve or short-sleeve button-down shirts. Mix in some nicer tops depending on the activities or outings you have planned.
Dress like a local for your sightseeing excursion by choosing comfortable-fitting t-shirts in white and blue hues. Bring a zip-up sweatshirt in case the weather dips into the cooler temperatures at night.
Women can wear lighter sleeveless or short-sleeve tops paired with a light cardigan that you can tie around your waist. Don't forget to pack a few loose-fitting, long-sleeve tops in case of cooler weather at night. If you want to wear a look like the locals, long-sleeved tops with bell sleeves are quite popular.
Bathing Suits
The Greek islands offer plenty of opportunities to enjoy a refreshing swim. Both men and women should plan on packing at least two swimsuits.
To protect yourself from the sun, bring an oversized t-shirt or your favorite stylish cover-up.
Bottoms
Men should pack several pairs of light-colored pants (tan, light blue, etc.) for dressier outings. Smart-casual shorts and cargo shorts are ideal for active sightseeing or more laid-back days.
Women might want to pack a light dress for an evening dinner or a relaxing, sun-lit stroll in Santorini or Mykonos. Bring a pair of loose-fitting pants that will be comfortable during more active excursions like exploring the sites of Athens.
After a sandy beach excursion, high-waisted shorts and pants offer an additional way to cover up your swimsuit.
Shoes
Greece's terrain can be uneven and difficult to maneuver, which is why a pair of good walking shoes or sneakers is essential for both men and women. When traveling to Greece, you should also pack water shoes for water excursions.
For more dressed-up outings, men should bring sandals with straps for a more secure fit. Women should do the same and leave the heels at home; Santorini's cobblestone streets are difficult to navigate without the proper footwear.
Other Essentials
Remember to pack any necessary electronic devices and the adaptors you'll need to charge them. Greece has different plugs and outlets that require a three-pronged electrical adapter.
While packing your standard toiletries, include extra medications. Refill these before your trip and bring more than you need in case your return journey home is delayed.
A good bag can make all the difference when traveling. Opt for something light but sturdy. A messenger bag or cross-body bag is ideal for holding your money close to your body and potentially avoiding pickpockets.
Before visiting Greece, take some time to read about their customs and way of life to help you navigate interactions with locals.
Book a Guided Tour to Greece
Whether you're planning a trip to Greece or any other part of Europe, talk with one of our YMT Vacations experts.
Let us help you book your next guided tour to one of these fascinating regions of the world. To learn more about YMT Vacations guided tour destinations, call our Travel Consultants at 1-888-756-9072.
---