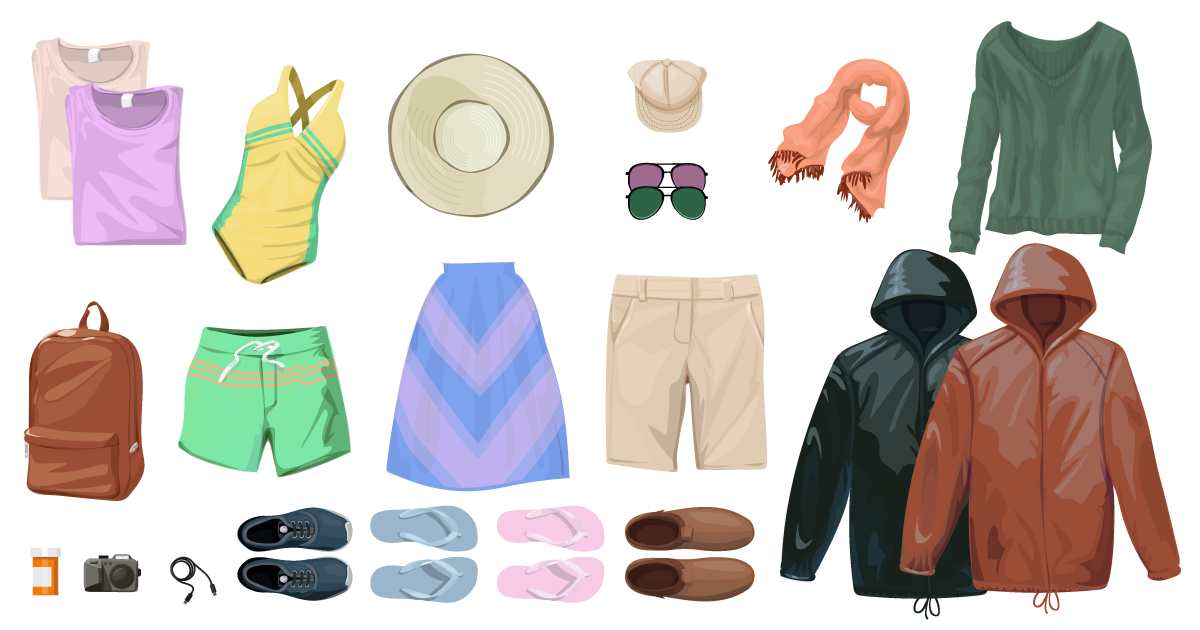 The ideal time for Australia and New Zealand tours is during their summer months of January and February. The days are long and sunny with highs around 90 degrees Fahrenheit, while the evenings are mild with temperatures in the 60s and 70s. Consistent weather means your packing list will be relatively straightforward. Here is a list of must-pack items for your summer land and cruise tour travels to New Zealand and Australia, whether you plan to stroll through the city, visit subtropical islands, or explore picturesque towns:
Short-sleeved tops – Pack a variety of short-sleeved tops that will pair well with pants and skirts. Include functional cotton tops that are lightweight, as well as quick dry options. You'll want to be as comfortable as possible since your tour will include a range of activities, from sightseeing trips in the city to visiting a geothermal park. Include several dressy tops in your luggage for nice dinners, or evenings on the town with your new friends.
Light layers – It is wise to pack a few light sweaters for Australia and New Zealand cruises that take place during the summer. Evenings may get down into the 60s and if you get cold easily, you'll have appropriate attire to remain warm. A light fleece is also recommended for days spent at coastal towns and islands that may be breezy during the night.
Pants and skirts – Take shorts as well as long pants on your escorted tour. Light material is advisable to keep you feeling airy during hot days. Women may also opt for skirts that add some variety to your wardrobe.
Light waterproof jacket – If you have the space in your luggage, consider packing a light waterproof jacket with a hood. Your tour consists of visits to many regions of New Zealand and this jacket may come in handy for unexpected drizzle or rain. There are many options on the market that are compact enough to fit in your hand luggage.
Scarf or shawl – A scarf or shawl is a great accessory for women because it is light enough to keep in your backpack. Shawls may be used for a variety of purposes, including keeping your neck and head covered in either hot or cool temperatures, tying around your waste at the beach, and giving a neutral outfit a bright pop of color.
Swimwear – Whether you utilize the pool on your cruise ship, dip into natural geothermal pools, or snorkel on the beaches of Sydney, a summer in Oceania definitely requires swimwear. Even if you do not plan to partake in water activities, wear your swimsuit to lounge near the pool or on the beach.
Footwear – Keep your feet pain-free with durable walking shoes. Pack shoes that you have already broken in, as you don't want to get blisters while on vacation. In addition to shoes for active excursions, bring a pair of flip-flops or sandals you can easily slip on or off for walks on the beach.
Travel backpack – When you are out each day taking in new sights and experiences, you'll want to have some essentials with you at all times. Wear a backpack that is comfortable and can fit all your important items. This may include your wallet, camera, glasses, medication, water, shawl, and snacks. Backpacks are a convenient option versus shoulder bags because they keep your hands free and will not put all the weight on one shoulder.
Chargers and adapters – Pack the chargers for all the electronics and gadgets you plan to take on your vacation, as well as an international travel adapter. You will be able to charge all your electronics, no matter which country you are in!
Toiletries and cosmetics – If space allows, gather the toiletries and cosmetics you use on a daily basis to take on your journey. This includes makeup, shampoo, conditioner, soap/body wash, deodorant, toothpaste, toothbrush, razor blades, floss, body lotion, etc. Insect repellent and hand wipes or sanitizer is also recommended.
Prescription medication – Take your prescription medication in your hand luggage so that you can have easy access to them at all times. Organize each one with the name, dosage, and usage instructions. Consider packing a few extra doses in your checked luggage as backup.
Sun protection – Protect yourself from extremely hot days with sun protection in the form on sunscreen, sunglasses, and a hat. Keep these items in your backpack so you can use them as needed throughout your day.
Now that you have your essential packing list for Australia and New Zealand, rest assured that you will have the items needed to be comfortable at all times during your land and cruise tour. Whether on land or at sea relax and enjoy the wonderful experiences that are part of your itinerary