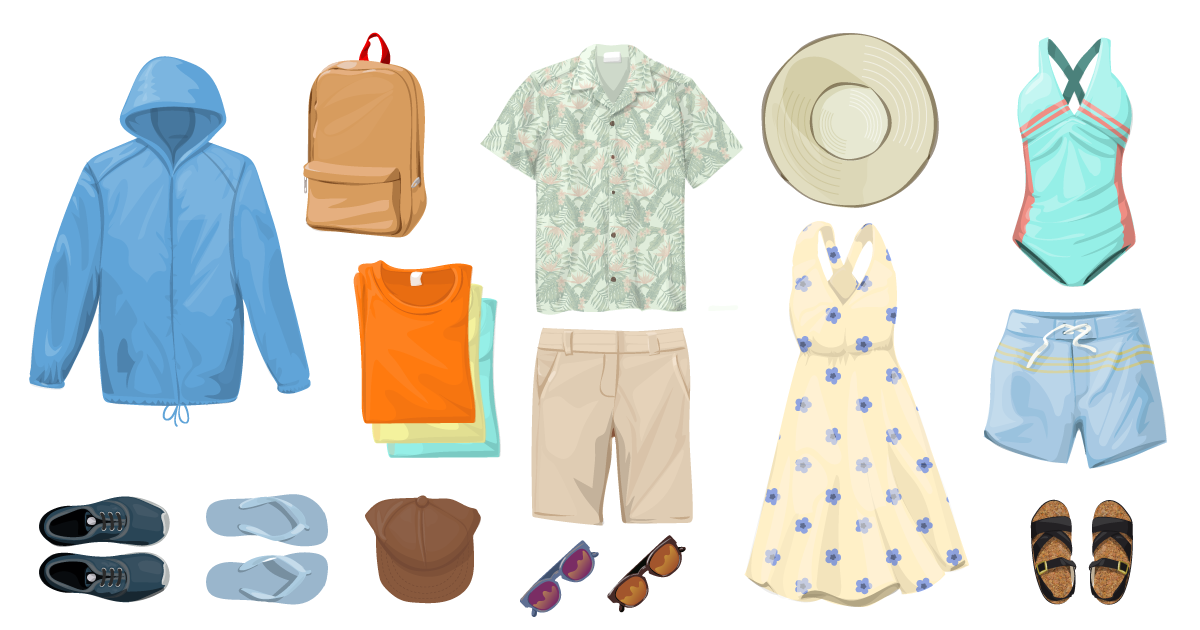 Aloha, Hawaii! With your vacation coming up, it's time to start thinking about what to pack for your trip to Hawaii. The good news for those living in cold or rainy areas is that you can say goodbye to your bulky clothing. Temperatures throughout the year and across various islands in Hawaii are consistent, with lows between 65-75 degrees Fahrenheit and highs between 80-89 degrees Fahrenheit. This means you can count on your packing list being straightforward, and avoid the stress of debating which items to take on your tour and which items to leave behind. In fact, if you use the suggestions below as inspiration, you'll be packing like a pro in no time.
Shorts

– Expect the norm to be casual attire for the majority of your tour. Ditch your full-length jeans and trousers for comfortable shorts. Whether you are lounging on the cruise deck, or strolling through the

streets of Honolulu

, you are on vacation and should feel comfortable. When thinking about what style of shorts to pack, consider lightweight quick-dry options. They will dry quickly should you get wet for any reason.

Casual tops

– Casual tops include options such as sleeveless tops, t-shirts, collared t-shirts, tank tops, and more. When deciding what tops to bring, consider what you feel most comfortable wearing during the summer. Your body will thank you for being practical.

Flip flops or sandals

– You'll definitely need a go-to pair of open-toed shoes for strolling on beautiful beaches and exploring places like

Lahaina

, the charming old whaling capital of the Pacific. Flip-flops are essential, but if you prefer footwear with extra cushion, pack a pair of comfortable sandals. Bring a second pair that can be worn for dinners and leisurely evenings spent out with friends from your tour.

Mesh slip-on water shoes

– This pair of shoes is a breathable option that will keep your feet airy, while providing traction and protection in wet conditions. They also do double-duty if you prefer to wear them while visiting gardens and waterfalls. Err on the side of caution and wear water shoes when making your way into the ocean for the first time, as you may not be able to tell if there are sharp rocks or jagged shells.

Attire for a nice evening out

– While the majority of your time will be spent relaxing, visiting museums, and enjoying nature, take one or two "dressy" outfits. For men, this could mean a short-sleeved Hawaiian shirt and slacks. Women may opt for dresses, skirts, or light slacks. Don't forget a pair of shoes that match!

Swimwear

– If you plan to make the most of pools and beaches, bring along swimwear. Even if you don't plan to get in the water, you'll need some beach-friendly attire while you soak up the sun on your lounge chair. Determine the number of swimsuits to bring by the length of your tour. And remember – you will be in a tropical destination so you can count on your swimsuit and swim shorts drying quickly.

Windbreaker

– A light, versatile windbreaker is handy for evenings when the temperature dips into the 60s. Your fellow tourists will admire your savvy packing as you whale watch in the early morning or have sunset drinks on the deck of your cruise ship.

Hat(s)

– If you sunburn easily, a hat is key to avoid burning the top of your head. A floppy hat for women is handy to protect your entire face while sitting near the water for extended periods of time. Baseball caps are also an easy option that will not take too much space in your luggage.

Sunscreen

– Don't spend your well-deserved vacation in pain due to sunburns. Protect exposed skin with sunscreen that is higher than what you typically wear. Be sure to take a brand you have used before to avoid unexpected skin irritation. It is also important for you to know that Hawaii's government recently passed a

ban on sunblocks

containing harmful chemicals, in an effort to protect fragile reefs. While the ban does not go into effect until 2021, many sporting goods stores and online retailers offer a variety of environmentally safe sunblocks.

Lightweight backpack

– Hawaii vacations are all about being lightweight! From your tops and shorts, to your daypack! Avoid being bogged down with heavy loads or purses because you may start to feel tired as you go from place to place. Select a backpack that can hold your camera, wallet, snacks, water, and sunscreen. Use the same pack as a beach bag to save room in your suitcase for all those souvenirs you plan to bring back home.

Toiletries and medicine

– This includes lip balm, mosquito repellent, shampoo, conditioner, soap, body lotion, eye drops, and other essentials you use on a regular basis. When it comes to your medicine, keep them within reach during your flights, and keep one or two dosages in your purse or backpack during the daytime.

Sunglasses

– Don't forget your sunglasses to protect your eyes and keep them shaded when the sun it at its peak. It is especially important to keep them nearby if you have an expensive custom pair, or prescription lenses.
If your trip includes any travel by motorcoach, be sure to note that busses often have different carry-on restrictions than planes, so check the allowed dimensions and pack accordingly!
Now that you have the essentials for your Hawaiian trip, you can look forward to a relaxing and fulfilling vacation!