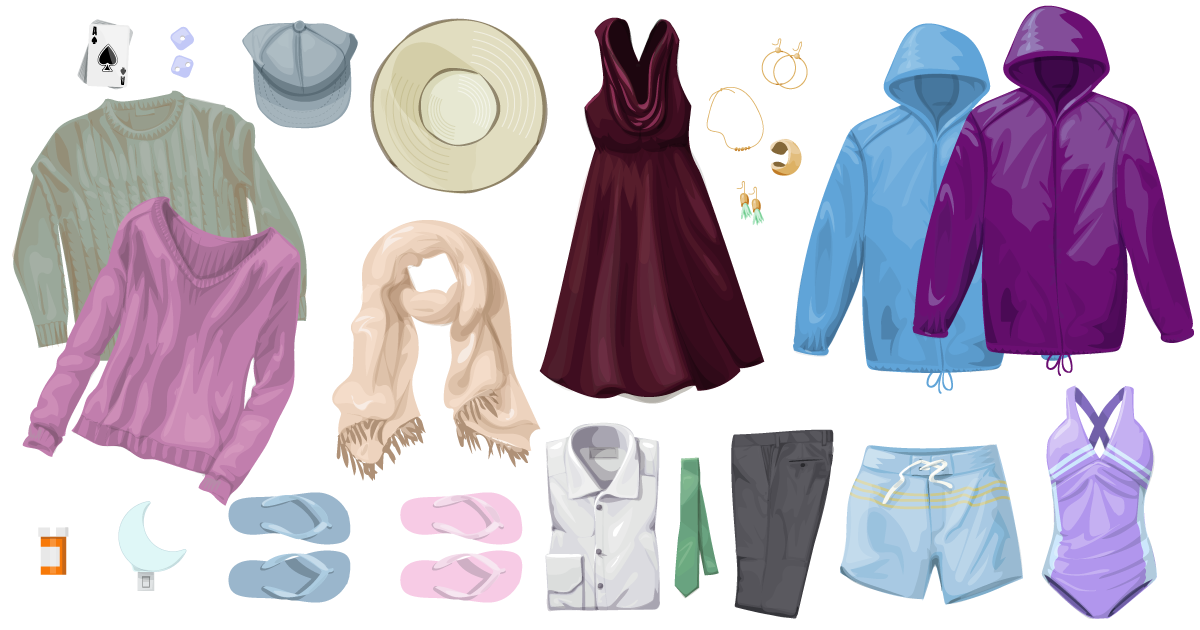 A transatlantic cruise is a once-in-a-lifetime trip! Whether your journey starts in the Americas or Europe, you'll see beautiful sights along the way and get to enjoy all the amenities onboard your vessel as it crosses the Atlantic Ocean. Your embarkation date can't come fast enough, but preparing for this journey presents a unique challenge because you will be away from home for three to four weeks. Deciding what to pack can be daunting, and we have compiled a guide to help alleviate your stress so you can focus on the amazing voyage.
Clothes that have the same color theme – Select a color theme for your trip. Whites, neutrals, or light gray tones are best if your journey includes the Caribbean. Once you have determined your color scheme, go through your closet and pick out pieces that work well together for your mixing and matching purposes. This strategy will save space in your suitcase, and eliminate the headache of remembering which top was meant to go with which bottom.
Accessories – The great thing about accessories is they don't take up a lot of space, and will add color to make your attire stand out. For women, this includes colorful bangles, necklaces, belts, and shawls to give the same outfit a completely different look. Men can do the same with belts, watches, ties, and shoes.
Lightweight waterproof jacket – Since your trip will happen either in early spring or autumn, a waterproof jacket is recommended for cool mornings and evenings. This is especially true if you cruise the Mediterranean from the Caribbean, as you will definitely experience a temperature difference. There are many lightweight options that do not take up much space, but have the added benefit of offering an extra layer of protection.
Cardigans and sweaters – You may experience a range of temperatures as you make your way across the Atlantic. Even when you bring a lightweight jacket, cardigans for women and sweaters for men provide an added layer of warmth and comfort. Packing layers will ensure you feel comfortable at all times. Select colors that contrast with your main color scheme to give you more mixing and matching options.
A shawl or two – Women will find that shawls are useful for many purposes. Drape it over your shoulders for an elegant look, wrap it around your head and neck to protect yourself from intense sunlight, wear it like a scarf in cool and breezy weather, wrap it around your waist in a sarong-like manner at the pool, lay it flat on the beach to create a clean space to sit, and then simply shake it off when you are done. Like accessories and cardigans, a shawl can provide multiple looks for the same outfit.
Two formal outfits – Your cruise line will have a dress code for evening attire and how dressed up you get is your personal preference. Women may opt for evening gowns, cocktail dresses, or fancy suits. Formal attire for men may include a suit, tuxedo, or military uniform. If your vessel does not have a strict dress code when it comes to formal attire, you may choose to wear your formal clothing on an evening out on the town, if your cruise includes a portion on land.
Swimwear – Crossing the Atlantic Ocean takes four to six days, and when you are on the ship for that stretch of time, you may end up at the pool for a fair amount of time.
Anti-wrinkle spray – Give your tops, pants, and dresses a refresh if they start to look crumpled. There are anti-wrinkle sprays you can purchase that do not require use of an iron.
Pack entertainment –The ship will have plenty of entertainment and games, but a deck of cards or travel-sized games will add some variety to your days. Games also act as a natural icebreaker, and you'll have some cruise ship friends before you know it.
Outlet adapter – If you have an iPhone, tablet, laptop, nightlight, camera, or other items that need to be charged, they will have to take turns. Outlet space may be a challenge, and you can maximize the number of plugs with an adapter. Just be sure it does not have a surge protector, which is not allowed on the ship.
Nightlight – Cabins can get very dark, especially if you have booked an interior room. Save yourself the pain of a stubbed toe when getting up in the middle of the night to use the bathroom.
Slip-resistant flip-flops or sandals – Poolside decks are always wet and the last thing you want is to accidentally fall. Invest in a sturdy (but comfortable) pair of open-toed footwear. Your feet will remain airy and protected.
Vitamins and medicines – Pack enough of your vitamins and medicines to last your entire trip, and for a few extra days in case you experience any travel delays. Keep a dose of your medicine on hand at all times, with clear instructions on dosage.
Toiletries – Think about the toiletries you use on a daily basis and save a section of your luggage for these items. This includes face wash, toothpaste, moisturizer, makeup, wipes, shampoo, conditioner, soap, lotion, sunscreen, etc. Packing toiletries you are familiar with will make you feel more at home.
While you can certainly buy many items from this list onboard your vessel or at port cities, they may not be the brands you love or the prices you expected. And since these are things you will need everyday during your tour, it is best to pack items you know will make your trip comfortable.
Bon Voyage!