---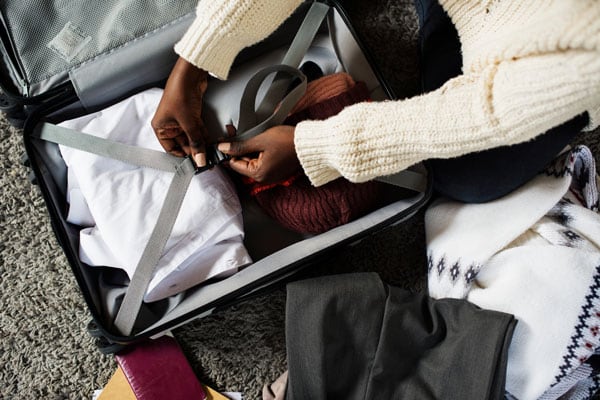 Millions of tourists visit California each year because the state has something for everyone.
Beautiful National Parks
Unique architecture
Diverse cuisines
The allure of Hollywood
Top tier sports teams
The iconic New Year's Day Rose Parade
The diverse landscape brings with it varying climates, and travelers need to pack accordingly. Packing for a trip to California may not be as straightforward as you think. In some places, you can go from sunny beaches to snowy mountains in the course of a day! Temperatures across cities vary, and may even fluctuate in the same city from morning to night.
What to Pack for Trips to California In the Winter
We've put together a core list of what to wear in California in January. This will ensure you pack the most appropriate items to enjoy your trip.
Pack a Variety of Tops
California is fairly laid back when it comes to attire. When packing your tops, variety is key for both men and women. Take a combination of tee shirts, light blouses or polo's, long-sleeved shirts, and a few dressy options for evenings on the town.
Additionally, include some pieces you can wear as a top layer during chilly winter mornings. This may include down vests, cardigans, and ponchos.
Pack Bottoms Based On Activities
Jeans are great because you can dress them up or down. Pair them with a sweatshirt or cardigan for casual days, or dress them up with a nice shirt or blouse.
For guided tours that include visits to National Parks, include khakis or cargo pants in your luggage. Shorts, yoga pants, and gym shorts are also helpful for warmer days when you engage in plenty of activities. Women may want to include a few skirts, as well.
When to Say "Yes" To Packing a Dress
Add some versatility to your wardrobe with a few dresses. Wearing pants exclusively during your vacation may feel cumbersome after a few days.
If you are looking for comfort, pack dresses that offer style and ease of movement. Opt for an elegant tunic dress when dining at a nice restaurant. Think you might take a stroll along the Hollywood Walk of Fame? A maxi or sweater dress is what to pack for Los Angeles in January.
Best Packing Strategy For California in the Winter
The best strategy comes down to layers.
San Francisco and Northern California see temperatures between the 50s and 60s in the winter. Believe it or not, temperatures in Los Angeles range from the 40s to 70s during the winter months. With temperature changes this drastic, you'll want the option to change up layers to stay comfortable.
Don't Leave Home Without a Jacket
A jacket is necessary to stay warm during cold spells or if you are participating in any early morning or late night activities. There are many options on the market for both men and women that fold into a small pouch.
Accessories For Taking a Trip to California
In addition to bringing layers, add these accessories to your packing checklist to make the most of your vacation and extend your wardrobe's versatility.
Swimwear and Protection From The Sun
Although it's winter, you're still going to want swimwear! Pack swimming shorts or a bathing suit for days you plan to relax at the beach, or at the pool if your California tour includes a cruise.
Even if temperatures are not high, you must protect your skin with sunscreen to avoid harsh UV rays. Sunglasses, a hat, and a cover-up will ensure additional protection for sunny days.
Transitional Shoes for Day and Evening
Shoes usually contribute the most weight to luggage, so you'll want to be as versatile as possible. Pack a pair of shoes that will keep your feet comfortable during hikes or walks. Include a pair of shoes that you can wear casually, but also transitions nicely for the evening. Pack a pair of fancy heels or dress shoes if you are attending a formal function, otherwise, leave them at home.
Don't Forget Your Toiletries!
While you can certainly purchase toiletries during your trip, you may not find your favorite brands. If you are allergic to specific active ingredients, it also makes sense to pack your own toiletries to avoid a reaction during your trip. Toiletries to consider include:
lotions
perfumes and colognes
makeup
shaving cream
toothpaste
Medication
Packing required medication is a must. Keep at least one dose of all required medications with you at all times. It may also be a good idea to pack a copy of all your prescriptions in your luggage in case you need them at any point during your vacation.
Additional Accessories
In addition to the list above, there are accessories you may want to pack if they make sense for you. For example, shawls and bold jewelry can give a neutral outfit a new look. Men may pack ties or cufflinks for upscale dinners. A camera would come in handy for the photography enthusiast; otherwise using a smartphone camera will suffice for others.
Guided Tours in California
You will have a wonderful time in California, even if the temperature is on the cooler side! Once you've booked your guided tour with YMT Vacations, check the weather in cities on your itinerary.
Guided tours with YMT Vacations give you the chance to explore everything from cities, mountains, deserts, and beaches. No matter which tour you end up booking, you will have wonderful stories to share with friends and family. Get in touch today with a YMT representative today to book your dream vacation to California.
---